2021 'Turtles on Parade' in the Courtyard
May 8, 2021 @ 9:00 am

-

2:00 pm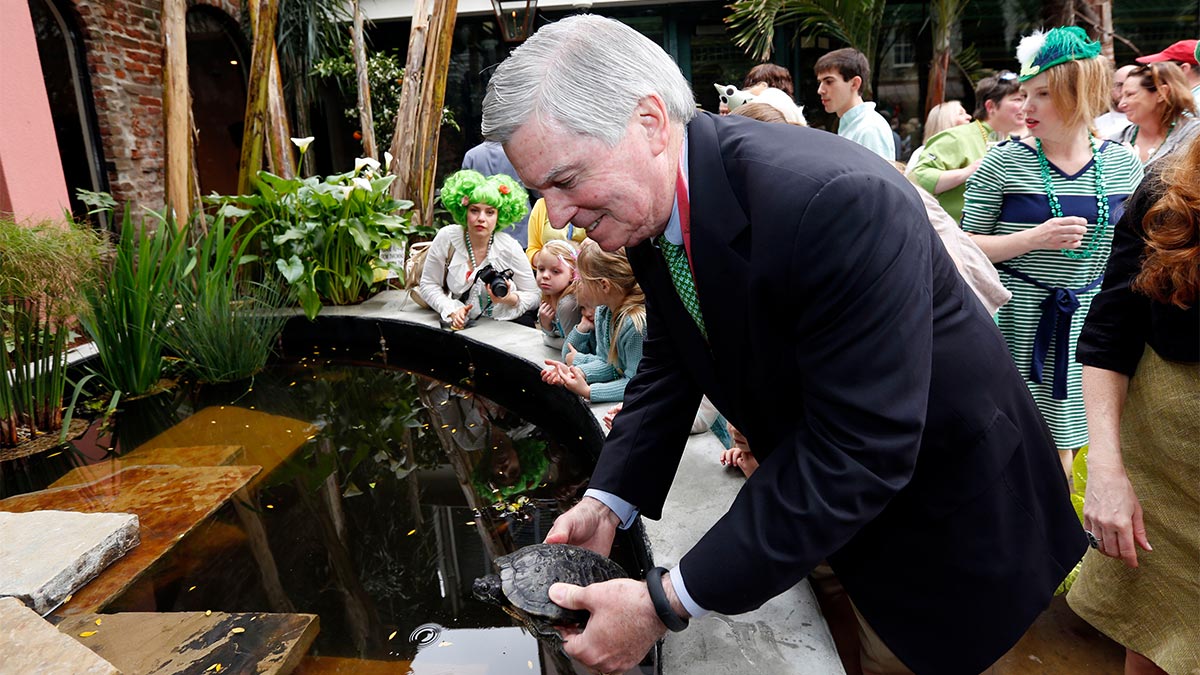 Saturday, May 8th – Brennan's Courtyard
"Turtles on Parade"
Join Brennan's for a festive brunch and float viewing. Several iconic floats from past Turtle Parades (AKA – "The Slowest Second Line on Earth") will be showcased on the green carpet on our beautiful courtyard. Come enjoy a cocktail, snap a photo and stay safe – We'll be back rolling down on our regular route with "The Mothas and the Othas" next year!
9 am – 2 pm: Float Viewing [past parade floats parked in the courtyard for viewing]
10:30 am: Turtle Blessing by Monsignor Christopher Nalty, St. Stephen Church
and Turtle Pardoning by Judge Lauren Lemmon, State District Court Judge
9 am – 2 pm: TIPSY TURTLE HAPPY HOUR!
HISTORY OF THE BRENNAN'S TURTLES:
The Tale of the Ten Turtles – As the story goes, Brennan's restaurant had the good fortune to adopt a family of turtles — ten of them to be exact, and as green as they come — who inhabit the fountain pool under a canopy of greenery in Brennan's legendary courtyard.
In March 2015, after 19 months of displacement in a makeshift home in the backyard of Ralph Brennan Restaurant Group executive chef Haley Bittermann, the Brennan's turtles were paraded down the streets of the French Quarter in "the slowest second line on earth". As the turtles rolled through the front doors of Brennan's down a custom-made green carpet on handmade wagon floats a new tradition was born.
The Brennan's team tapped into the traditions of New Orleans cooking, anointing five turtles with the harmonious names of the "Mother Sauces" of classical French cuisine: Béchamel, Espagnole, Hollandaise, Tomate, and Velouté. But more names were needed; hence, "The Muthas and the Othas" were born, with the five "othas" bearing the names of sauces that complete a New Orleans menu: Remoulade, Ravigote, Bordelaise, Mignonette, and Cocktail (the only male out of the ten.)
Related Events