2022 Irish Channel St. Patrick's Day Parade
March 12, 2022 @ 1:00 pm
FREE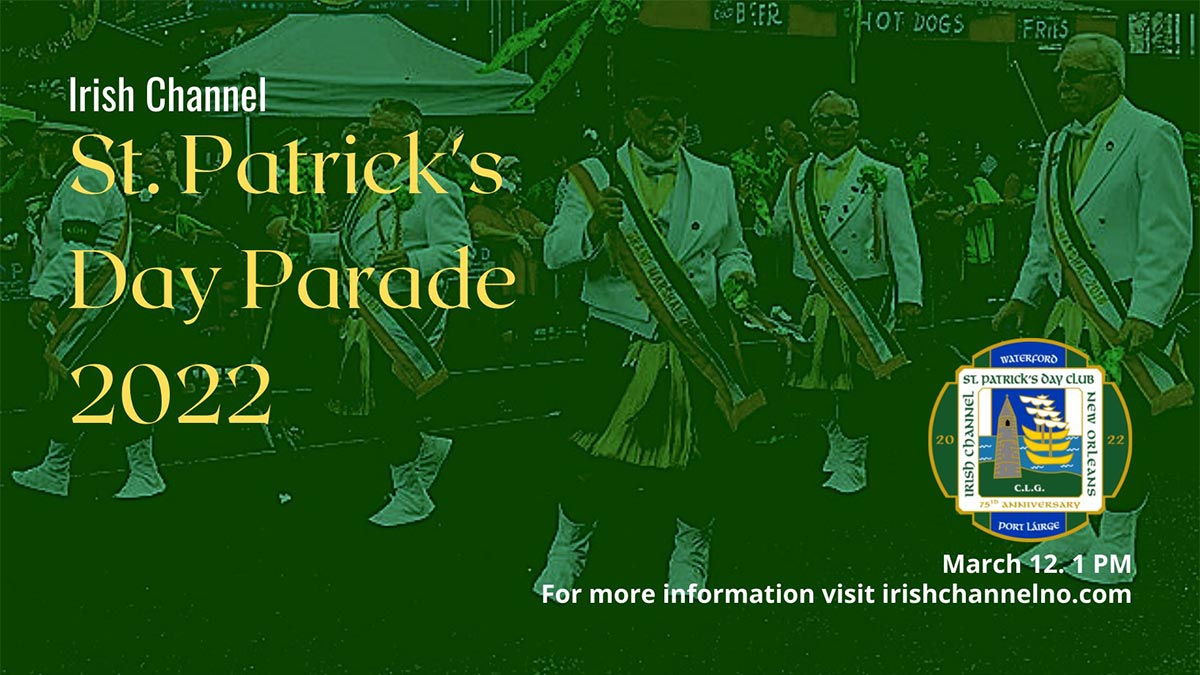 We plan to return in 2022!
Celebrate St. Patrick's Day New Orleans Style with the annual Irish Channel St. Patrick's Day Parade!
Don't miss this truly essential New Orleans St. Patrick's Day experience and enjoy our "throws" which include flowers, beads, kisses, cabbage, and much more!
The traditional Mass scheduled before the parade at St. Mary's Assumption Church (923 Josephine St. New Orleans, La.) is scheduled to begin at 12:00 pm on Saturday, March 12, 2022. This mass open to the public.
The Block Party benefitting St. Michael Special School is on Thursday, March 17, 2022.
The Irish Channel St. Patrick's Day Club will continue to provide New Orleans and our global guests with the vibrancy, deep culture, and strong sense of community the Irish Channel has instilled in us since well before our club began in 1947. Starting as a small celebration in the Irish Channel and growing to a global St. Patrick's Day experience with attendees in the hundreds of thousands, the Irish Channel St. Patrick's Day Club is proud to share our history, craic, and unique sense of Irish-American culture every year at one of our several events. Please follow us on social media for more events throughout the year.
We wish to greatly thank our members, supporters, participants, and guests for their support.
We look forward to seeing your smiling faces again on the route in 2022!