Arts Market New Orleans in City Park
December 19, 2020 @ 9:00 am

-

3:00 pm

|

Recurring Event

(See all)

One event on December 5, 2020 at 9:00 am

One event on December 12, 2020 at 9:00 am

One event on December 19, 2020 at 9:00 am

FREE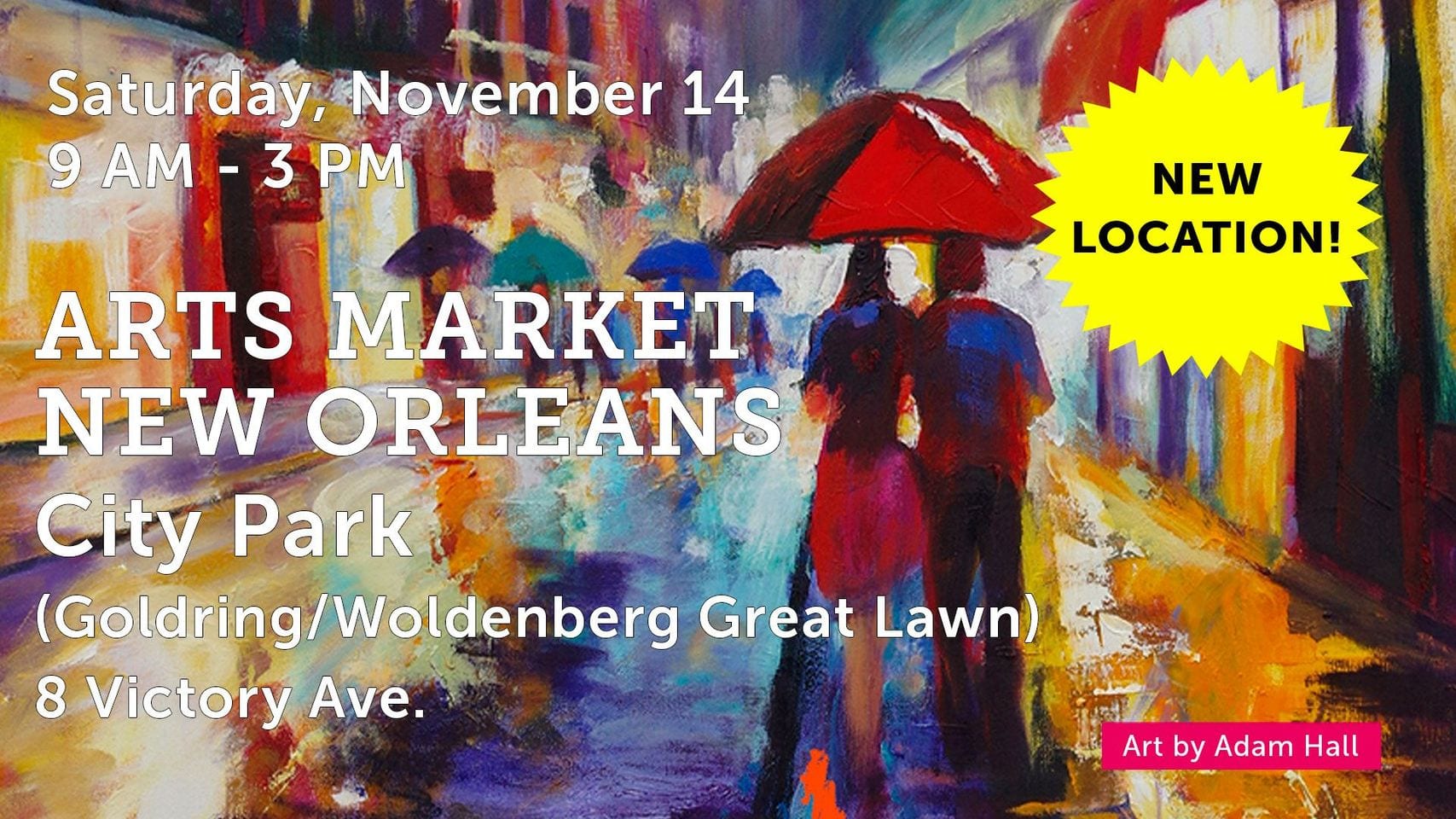 We're making our comeback in City Park.
𝗛𝗢𝗪 𝗪𝗘'𝗥𝗘 𝗞𝗘𝗘𝗣𝗜𝗡𝗚 𝗬𝗢𝗨 𝗦𝗔𝗙𝗘 & 𝗪𝗛𝗔𝗧 𝗧𝗢 𝗘𝗫𝗣𝗘𝗖𝗧:
All patrons must check-in to enter. Only 100 people are allowed to be in the bound market area at a time.
 Masks on for all within the bound market area.
 Contact tracing information will be obtained upon entry.
 Our 30 vendors will display in tents all spaced out for safe, socially distanced shopping.
 Hand sanitizer will be provided throughout the event.
We look forward to providing a safe shopping outlet for our artists and patrons. As expected with these times, our market will be for shopping exclusively and will not host any food, beverages, live music, children's crafts or congregational areas at this time.
𝗪𝗛𝗢'𝗦 𝗝𝗢𝗜𝗡𝗜𝗡𝗚 (List May  Change Weekly):
Shaun Aleman Art & Design
2 DYE 4
Forrest Bacigalupi of Arts Kinetic,
Megan Barnes
Rebecca Bordelon of Valois Designs
Holly Boynes of Slip Into Clay
Art by Jane Brewster
Measha Daynes of Mermaid's Purse
Krista DeJoseph of Queens Metal
New Orleans Art Assc.
Adam Hall
Pat Juneau of Juneau Metalworks
Suzanne Juneau of Juneau Metalworks
Kate Beck Textiles
Tim Kennedy, Artist
Darlene Langendonk of Art Impressions
Greg Levy of NOLA Pens
Greg Little Wood Art
Louisiana Crafts Guild
Funcky Love Designs LLC
Tone Lowe Creations
Susan Magliato of Dante's Masquerade
Ann Odell of Fit To Be Tied
Emily Rennie of Two Dog Designs
Pete's Paper Crafts
Jill Shampine
Handknit Styles by Lauren Thomas
Ridgewalker Glass
Joseph P. Walton Photography
Fred Weber of Elements of Stained Glass
Phillip Whitmore of Inexplicable Confetti
Holly Williams of small change finery
𝗡𝗘𝗪 𝗟𝗢𝗖𝗔𝗧𝗜𝗢𝗡 𝗜𝗡𝗙𝗢𝗥𝗠𝗔𝗧𝗜𝗢𝗡:
City Park
Goldring/Woldenberg Great Lawn (near City Putt and the Botanical Gardens)
8 Victory Ave.
New Orleans, La 70119
 Save the date for our future markets in City Park on Saturdays 11/14, 11/28, 12/05, 12/12, and 12/19 from 9 AM – 3 PM.
Join us in Kenner's Rivertown to shop more of the Arts Market New Orleans artists you know and love for Artists Sunday on 11/29 and 12/13 from 10 AM – 4 PM. More details coming soon! 
___________________________________________
We will update this event page and the market Facebook page in the event of inclement weather.
_____________________________________________
**PARKING & TRANSPORTATION TO THE ARTS MARKET**
Free Street Parking & Parking Lots are available in the immediate area surrounding City Park's Great Lawn.
Take the Streetcar The Arts Market is conveniently located at City Park near City Putt and the Botanical Gardens, in proximity to the 48-City Park/Museum streetcar.
Ride a Bike and soak up the sun! Bike parking is available in the park.
________________________________________
Interested in exhibiting as an Artist, Food Vendor, or Non-Profit at Arts Market New Orleans? Learn more here: 
http://www.artsneworleans.org/…/arts-market-of…/exhibit/
________________________________________
Arts Market New Orleans is presented by Arts New Orleans and managed by the Louisiana Crafts Guild (La Guild & Sans Souci Fine Crafts Gallery – Home of the Louisiana Crafts Guild).
Related Events