CRUSHED, A Painted Can Exhibition by Katie McCall
December 3, 2022 @ 5:00 pm

-

9:00 pm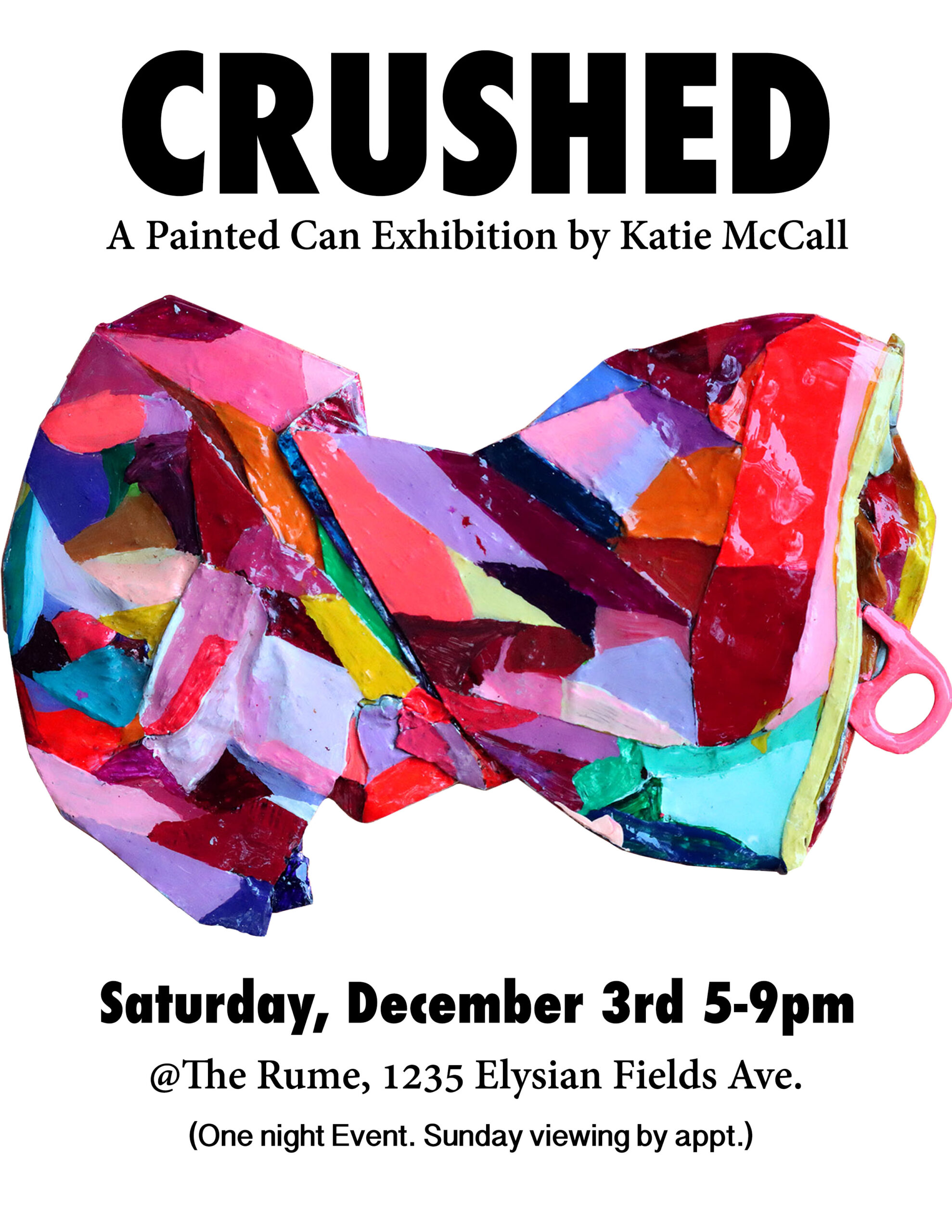 Katie McCall is a New Orleans artist and elementary art educator whose work is driven by a passion for up-cycling and an exploration of play. 
Her bodies of work vary based on the texture of her current preferred medium. Exploring themes of pattern, color, nature, playful characters, cute snacks, and local insects; these subjects present themselves within her work through an unconventionally modern lens. Whether transforming found objects, such as soda cans or tiny wearable art weavings, the artworks enjoy a tactile sensibility and a welcoming accessibility. Her collections of surreal Monster Skateboards, embroidered Garden Ghosts, meticulously painted patterns, and realistic female faces on smashed cans, all emphasize detail and authenticity.
Her most recent series, CRUSHED, uses crushed cans as canvas. She paints with acrylics on cans that were run over and found in streets, parking lots, sidewalks, dirt, etc. The work serves as an exploration of texture, pattern, and sustainability. Playing with the possibility of using these scrapped items as canvasses for contemporary painting. The rust and crinkled aesthetic paired with the crisp, clean edges of acrylic paint created an excitement that marked the beginning of her relationship with these discarded items.There are four distinguishable themes within this collection: Patterns, The Ladies, Color-Block, and Mid-Mod; which make up this collection that consists of over thirty pieces of work. Each can is resin coated and framed in a 2" shadow box.
Email [email protected] or DM @KatieMcCallArt for inquiries or Sunday scheduling.
Saturday, December 3rd 5-9pm 
The Rume Gallery, 1235 Elysian Fields Ave.
(One Night Only. Sunday viewing by appt.)
Related Events