Making Mardi Gras
January 6, 2022

-

May 8, 2022

Free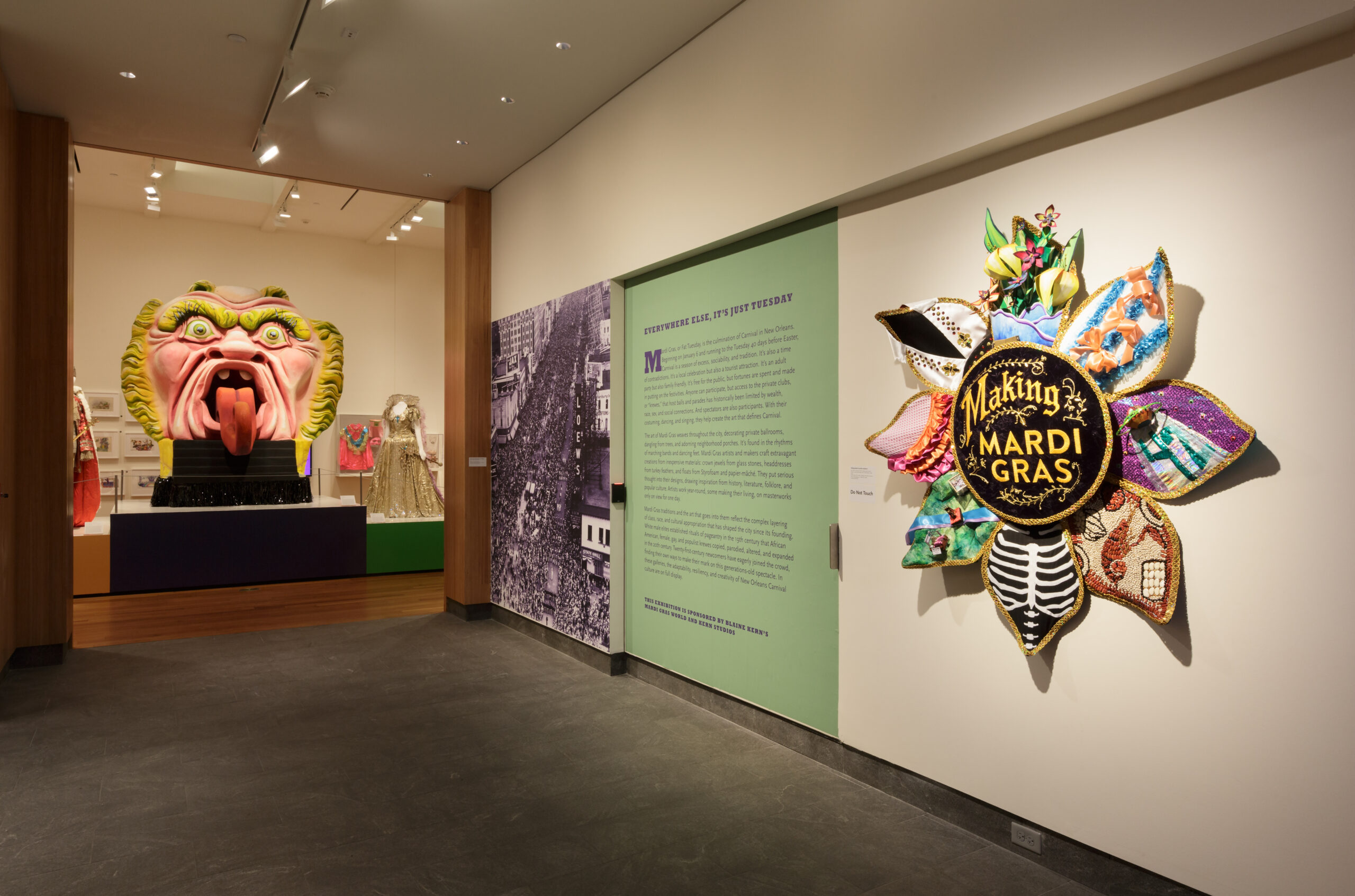 Everywhere else, it's just Tuesday, but the extravaganza of Mardi Gras in New Orleans doesn't come together overnight. The traditions underpinning the celebration and the usually unseen work of craftspeople, musicians, artists, and krewes large and small take center stage in "Making Mardi Gras," sponsored by Blaine Kern's Mardi Gras World and Kern Studios, on view at The Historic New Orleans Collection from January 6 to May 8, 2022.
This show stopping display invites visitors into the sprawling dens, late-night sewing sessions, and heart-pounding dance rehearsals where "The Greatest Free Show on Earth" is created and re-created each year among the city's diverse communities. Visitors can explore the vibrant expression that only Carnival season can muster, as they meet up with 19th-century float artists, dawn-breaking skeleton gangs, and homebound house-float creators—all while stopping to admire costumes, "royal" finery, and specialty parade throws such as Zulu's hand-painted coconuts. Gallery visitors will encounter the ballrooms and secretive float-making operations of the old-line krewes—along with the African American, female, LGBTQ, and populist krewes that have copied and/or parodied those models, pushing the boundaries of formal Carnival.
A companion exhibition, "Fit for a King: The Rex Archives at THNOC," marks the iconic Krewe of Rex's 150th anniversary with a display of THNOC's rarely seen holdings related to the Carnival organization, including jewels worn by kings and queens, favors received by ball guests at the turn of the 20th century, doubloons, and float designs.
Visitors may view "Making Mardi Gras" and "Fit for a King" Tuesday through Saturday, 9:30 a.m. to 4:30 p.m., and Sunday, 10:30 a.m. to 4:30 p.m. Admission is free, and THNOC's COVID-19 safety protocols — proof of COVID-19 vaccine or negative PCR test — will be in place. Advance reservations at my.hnoc.org are recommended.