Marine Forces Reserve Concert Band Concert
November 14, 2022 @ 7:00 pm
Free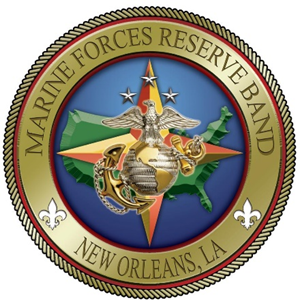 November 14, 2022 |
The Marine Forces Reserve Concert Band will perform a free concert on November 14, 2022, at 7:00 p.m. at Jefferson Performing Arts Center in Metairie with special guests Louisiana Poet Laureate Mona Lisa Saloy & Miss Louisiana KT Scannell
Louisiana Poet Laureate Mona Lisa Saloy will open the concert with a reading of poems honoring veterans. Miss Louisiana USA KT Scannell will then lead audience members in the Pledge of Allegiance before the music begins. The Marine Forces Reserve Band will perform under the direction of Officer in Charge Chief Warrant Officer 2 Stephen J. Talbot with Bandmaster Master Sergeant Justin A. Hauser.
The performance is free and open to the public and welcome to all ages.  Reservations are required and seating is limited.  To reserve your complimentary seat, visit https://www.jpas.org/performance/veterans-concert/ or call 504-885-2000. If you have questions about performers or media requests, contact Amy Kirk Duvoisin at [email protected] or 504-885-2000 ext. 212.
About the Band: Marine Forces Reserve Band was established October 1, 1978, and stands as one of ten Marine Corps field bands. The unit is comprised of active-duty Marines stationed aboard the Marine Corps Support Facility in New Orleans, Louisiana. The band is attached to Marine Forces Reserve, traveling to numerous stateside locations to provide musical support for all units of the Fourth Marine Logistics Group, Fourth Marine Aircraft Wing, Fourth Marine Division, and Force Headquarters Group. All members of the band are trained riflemen and fulfill Corps-wide physical fitness and combat training requirements, just like any other active-duty Marines.
About Mona Lisa Saloy: Author & Folklorist, Educator, and Scholar, Mona Lisa Saloy's work appears in many anthologies, journals.  An active Educator and Scholar, Dr. Mona Lisa Saloy is a noted speaker and storyteller, who consults to the Louisiana Endowment for the Humanities (LEH), the Louisiana Division of the Arts (LDOA), and is an active member of the Louisiana Folklore Society.   Saloy composed a praise song & performed for two presidents.
About KT Scannell: KT Scannell is 22 years old, a Livingston Parish native, and alumna of Mississippi College. She looks forward to becoming a Doctor of Chiropractic and helping her community find rest and wellness. Despite being raised in the capital city, she loves to experience Louisiana's unique wetlands and upland pine savannas. She connects most with her roots through beekeeping, hiking, and creole cooking. KT is the founder of Pollination Letters of Encouragement and uses this initiative to connect younger generations to veterans.
Related Events