Mr. Legs XXII
July 16, 2022 @ 7:00 pm

-

11:00 pm

$65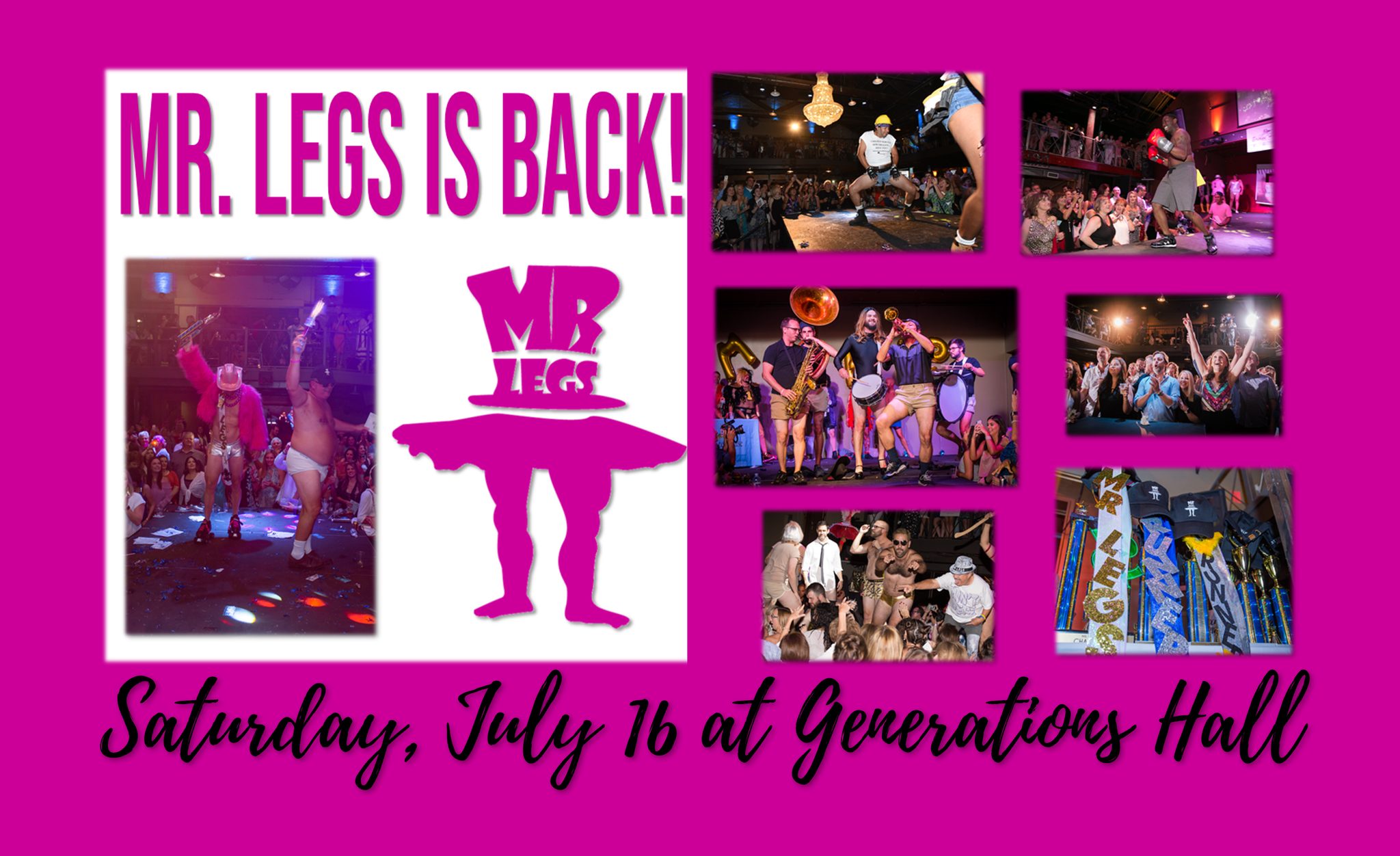 MR. LEGS IS BACK…join us on July 16 as Contestants return to Generations Hall!
All your favorites are returning to strut their stuff on stage, while seeing who will raise the most money for Bridge House / Grace House and take home the crown!
𝐆𝐞𝐧𝐞𝐫𝐚𝐥 𝐀𝐝𝐦𝐢𝐬𝐬𝐢𝐨𝐧 𝐓𝐢𝐜𝐤𝐞𝐭𝐬 𝐚𝐫𝐞 $𝟓𝟎 𝐢𝐧 𝐚𝐝𝐯𝐚𝐧𝐜𝐞 ($𝟔𝟓 𝐚𝐭 𝐭𝐡𝐞 𝐃𝐨𝐨𝐫) 𝐚𝐧𝐝 𝐕𝐈𝐏 𝐓𝐢𝐜𝐤𝐞𝐭𝐬 𝐚𝐫𝐞 $𝟏𝟎𝟎.
𝘛𝘪𝘤𝘬𝘦𝘵𝘴 𝘢𝘳𝘦 𝘢𝘷𝘢𝘪𝘭𝘢𝘣𝘭𝘦 𝘶𝘯𝘵𝘪𝘭 𝘛𝘩𝘶𝘳𝘴𝘥𝘢𝘺, 𝘑𝘶𝘭𝘺 14 𝘢𝘵 12𝘗𝘔. 𝘎𝘦𝘯𝘦𝘳𝘢𝘭 𝘈𝘥𝘮𝘪𝘴𝘴𝘪𝘰𝘯 𝘛𝘪𝘤𝘬𝘦𝘵𝘴 𝘖𝘕𝘓𝘠 𝘸𝘪𝘭𝘭 𝘣𝘦 𝘴𝘰𝘭𝘥 𝘢𝘵 𝘵𝘩𝘦 𝘥𝘰𝘰𝘳 𝘧𝘰𝘳 $65. *𝙑𝙄𝙋 𝙏𝙞𝙘𝙠𝙚𝙩𝙨 𝙖𝙧𝙚 𝙡𝙞𝙢𝙞𝙩𝙚𝙙 𝙖𝙣𝙙 𝙬𝙞𝙡𝙡 𝙨𝙚𝙡𝙡 𝙤𝙪𝙩 𝙥𝙧𝙞𝙤𝙧 𝙩𝙤 𝙏𝙝𝙪𝙧𝙨𝙙𝙖𝙮, 𝙅𝙪𝙡𝙮 14.*
Related Events