Music in the Garden: Mahmoud Chouki and Noah Young
November 20, 2020 @ 6:00 pm

-

9:00 pm

$17 – $20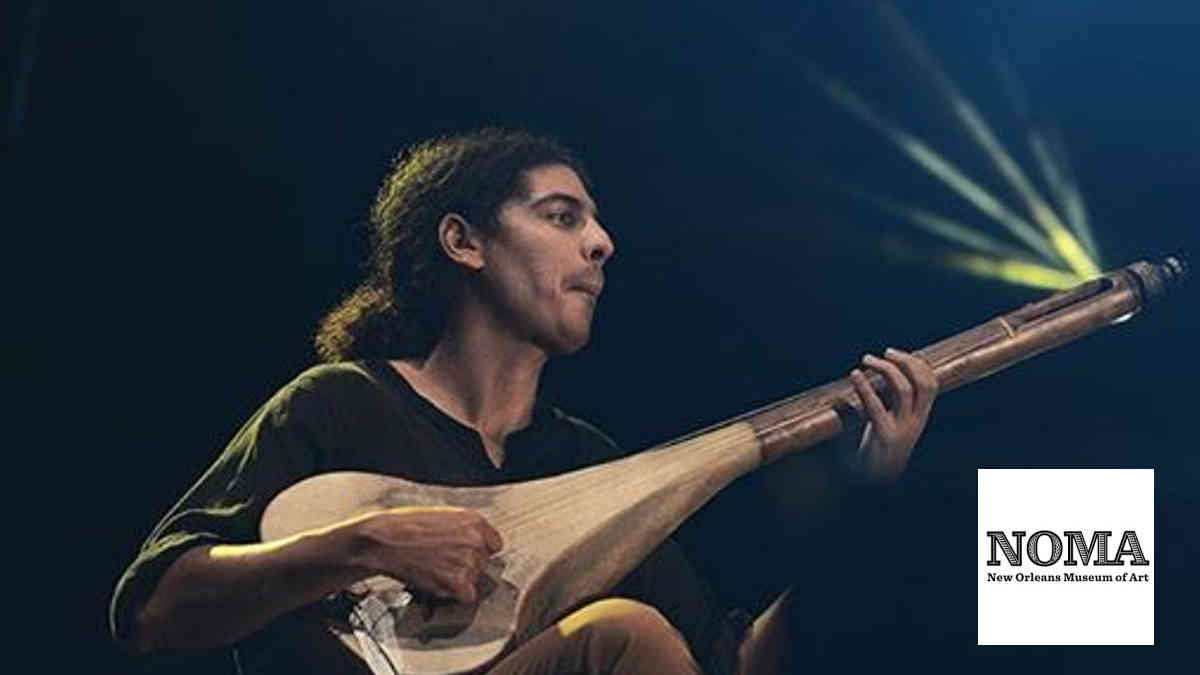 This fall, join the New Orleans musicians you love for intimate, socially distanced outdoor performances in NOMA's Besthoff Sculpture Garden, assembled by internationally renowned multi-instrumentalist and composer Mahmoud Chouki. Choose the an optional "Music Box" dinner by Café NOMA to enjoy during each performance.
NOMA is excited to present Mahmoud Chouki and Noah Young on Friday, November 20 for the Music in the Garden series.
Tickets are $20 General Admission | $17 NOMA Members JOIN NOW
A rain cancellation will be determined by 1 pm the day of the event. In the event of a rain cancellation, tickets will be refunded.
Café NOMA will offer a pre-order option of food and drink for the concert series ready upon your arrival. The menu and sales link will be posted closer to the concert date. Ticket buyers will be notified by email.
About Mahmoud Chouki and Noah Young
Mahmoud Chouki is a master guitarist, multi-instrumentalist and composer living and working in New Orleans. His art draws together music from many different international contexts to consider how music can speak across cultural divides. His own compositions incorporate musical influences from across the globe, ranging from European classical, Andalusian from Southern Spain, Levantine music from the Middle East, Maghrebian music from North Africa, Latin American music, and jazz from the Southern United States. Integrating sounds and rhythms from many different cultures, Chouki combines classical guitar with instruments such as the loutar, a traditional instrument of the Middle Atlas region of Morocco; the sintir, a Sub-Saharan instrument from the Sahel region (Mali); the oud, an oriental lute; the Algerian mandole, a steel-string fretted instrument resembling an elongated mandolin; the Bağlama saz, a Turkish long necked bowl-lute; the banjo, and a variety of percussion instruments. As artistic director of Rencontre Orient-Occident at Chateau Mercier in Sierre, Switzerland, Chouki has brought together a wide range of international musicians to envision new forms of dialogue between East and West, with music often the only common language between performers.
Best known as a founding member of jazz/funk band Naughty Professor, Noah Young is one of the most sought-after bassists in New Orleans. Having moved to the city to study jazz with a who's who of local legends, Young has stayed busy in his 8+ years of activity in the music scene composing, recording, and performing with numerous artists, including: David Shaw, George Porter Jr., Chali 2na, Big Freedia, Ivan Neville, Eric Bloom, Mike Dillon, Sasha Masakowski, Nigel Hall, Russell Batiste, Dee-1, The Stooges Brass Band, Leroy Jones, and many more. No wonder he garnered a nomination for "Best Bassist" in 2017 from OffBeat Magazine, New Orleans' largest music publication.
Ticket Limits
The purchase of Member tickets is limited by your membership level.
Individual: Limit 1
Friends & Family: Limit 2
Sustaining, Benefactors, Young Fellows, and Friends of the Sculpture Garden: Limit 4
Fellows and Circles: Limit 6
To upgrade your membership, please contact the membership office at [email protected] or (504) 658-4130.
Safety Guidelines
NOMA is committed to the health and safety of our community. We require that all registrants to this event wear face masks as per CDC, state, and city guidelines. All staff and participants will be wearing face masks, with the exception of the on-stage musicians. There will be a minimum of 10 ft from the edge of the stage to the beginning of seating.
Per city guidelines, capacity will be limited to 50 people.
No social gathering will be permitted. Please maintain a safe distance of at least 6ft from those not in your party.
NOMA staff will be on site to monitor social distancing and assist with seating spacing. The amphitheater is comprised of grass berms. If you would like other seating, you will need to bring your own outdoor chairs or blankets for this event.
If you are not feeling well, especially if you have a fever, please stay home and plan to attend a future concert. All refunds due to illness will be 100% refunded.
Questions?
Contact us at [email protected] or (504) 658-4100
Related Events