New Orleans Red Dress Run 2021 – Cancelled
August 14, 2021 @ 9:30 am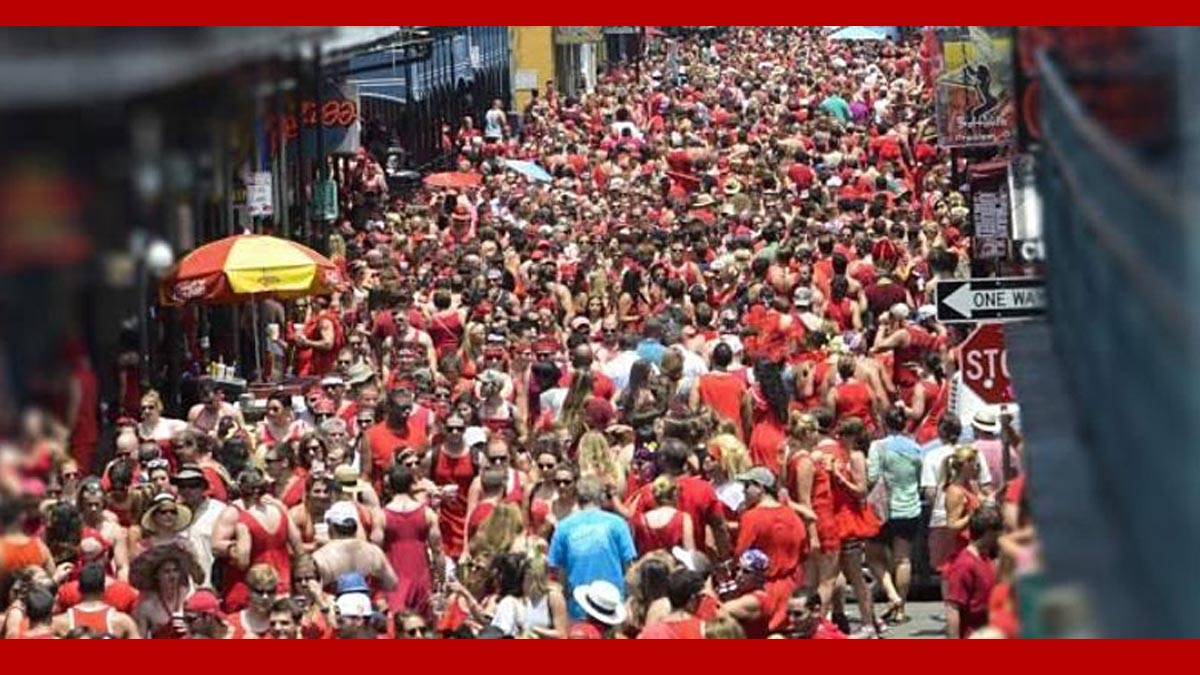 Every year on the second Saturday in August, the New Orleans Hash House Harriers (a local "drinking club with a running problem") host Red Dress Run, a charity "run" in the Crescent City. This yearly event is loved by locals and visitors alike, and is unlike any other run in the world. The run is just the beginning of a day full of red dress goers. On August 14, 2021, hit the streets in your head to toe red attire. Whether you're running or not, the day is filled with fun and excitement.
Red Dress Run 2021
The event begins at 9 a.m. at Crescent Park in the Bywater. The runners, with drinks in hand, start their route in the Marigny/ Bywater, working their way through the French Quarter. The route is about 2 miles long. Expect a sea of red throughout!
Lunch is served at 11:30 a.m. with live music to follow at noon. Spend the rest of the day exploring amongst the sea of red.
If running isn't your thing, watching from the sidelines is just as fun, and red dresses are still required! Party with your fellow fashionistas afterward on Bourbon Street and the surrounding area.
Registration: Participants are encouraged to sign up at the official website of Hash House Harriers. The early birds can sign up in advance and benefit from a lower cost. It's a charity run, so the registration includes donations to local charities, along with special live music and beers for the run.
Register Here – Early bird pricing is available.
Red Dress Run Rules
The major rule is that you must be 21 to participate, meaning that this party is for adults only. Everyone, both men and women have to dress up in their favorite red dress. Moreover, wearing the same attire two years in a row is considered bad manners. For repeat participants, there is a red dress swap to get a fresh look. The colorful attire the runners put on, lots of alcohol, and fun will ensure you have the party of a lifetime! However, it means so much more than just a red dress, so look through the webpage before you decide to participate.
Run Tips
Consider bringing your fanny pack not to be dragged down with your handbag. Make sure to put on a comfy and breathable pair of underwear is running about 5k on a hot day might be rough. Also, headbands and sweatbands are a brilliant idea to wipe off your moisture and from other tipsy runners bumping into you. On the run, check your laces to make sure noone, including you, trips over. If you are a true runner, please, hold your horses as it takes time to drink a beer or two at each corner and to interact with cheerful folks along the route.
Related Events