Pumpkin Parade
October 29, 2022 @ 6:00 pm

-

9:00 pm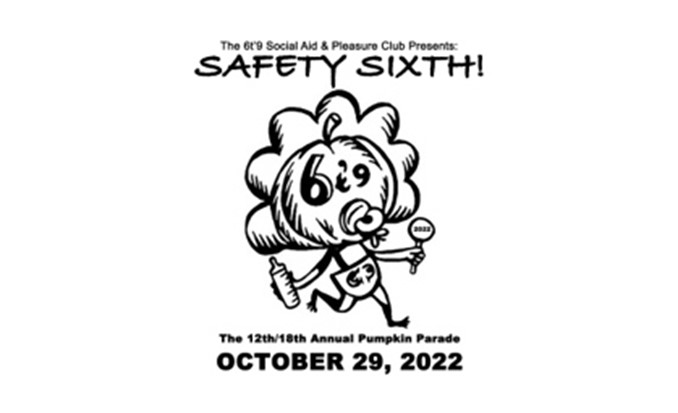 [UPDATE: The Route Is Out!] —On October 29, 2022, from 6 t' 9pm, the 6t'9 Social Aid & Pleasure Club will once again take to the streets for their 12th/18th Annual Pumpkin Parade— This year The 6t'9 Social Aid & Pleasure Club puts our City's apparent priorities in alarming order with its parade theme: "SAFETY SIXTH!"
Since the city will not allow parades in the French Quarter on Halloween weekend this year, 6t'9 tapped into the improvisational sprit of New Orleans and the generosity of our culture bearers to whoop up a fun, family-friendly, educational route rolling entirely in the 6th Ward! This year will be less of a parade for spectators and more of a second line for participants.
Leaving from its traditional spot, the parade will slowly wind its way through the neighborhood paying homage to people and places along the way: people and places long gone, newly arrived, and still here. The grand finale will be a guided tour of The Backstreet Cultural Museum's new location. Its founder, Sylvester Francis, was a friend and mentor of 6t'9 from the start.
6t'9 will be joined by Chief Victor Harris of Fi Yi Yi, The Treme Kids, and the Mystic Krewe of Conus, and immersed in the innovative Brass Band stylings of "Squeek and the Boyz" — In a time when parents are hesitant to let their children go trick-or-treating, get the word out to get the kids on the route and we'll bring the tricks and treats to them!
Route – 1020 Henriette Delille Street -> left on Barracks Street -> Left on Marais Street -> right on Governor Nicholls Street -> left on N Robertson St -> end at 1531 St. Philip Street (Backstreet Cultural Museum)
History – The 6t'9 Social Aid & Pleasure Club was founded in 2005, when it organized the first costumed parade after Hurricane Katrina. Once a three-hour, three-mile, three-block-long behemoth of a parade that went from the 6th Ward t' the 9th Ward from 6pm t'9pm—changes in the city's permitting policies currently limit it to twelve blocks and two hours, hopefully on temporarily. The 6t'9 Social Aid & Pleasure Club continues the 6t'9 Wrecking Krewe's eighteen-year Social Aid commitment to the House of Dance & Feathers in the lower 9th Ward with The Neighborhood Story Project.
Join – The 6t'9 Social Aid & Pleasure Club also welcomes new parade participants & members. This family-friendly parade brings together the city's funky collection of cross-generational makers and its unique second-line culture to inspire younger generations of New Orleanians to participate in the fine arts of parading.  To become a member of 6t'9 Social Aid & Pleasure Club, visit our Facebook Group or contact below. Costumed revelers from the public can register to parade with us via our Eventbrite page
Related Events