Revel On Royal Street
October 16, 2020 @ 6:00 pm

-

8:00 pm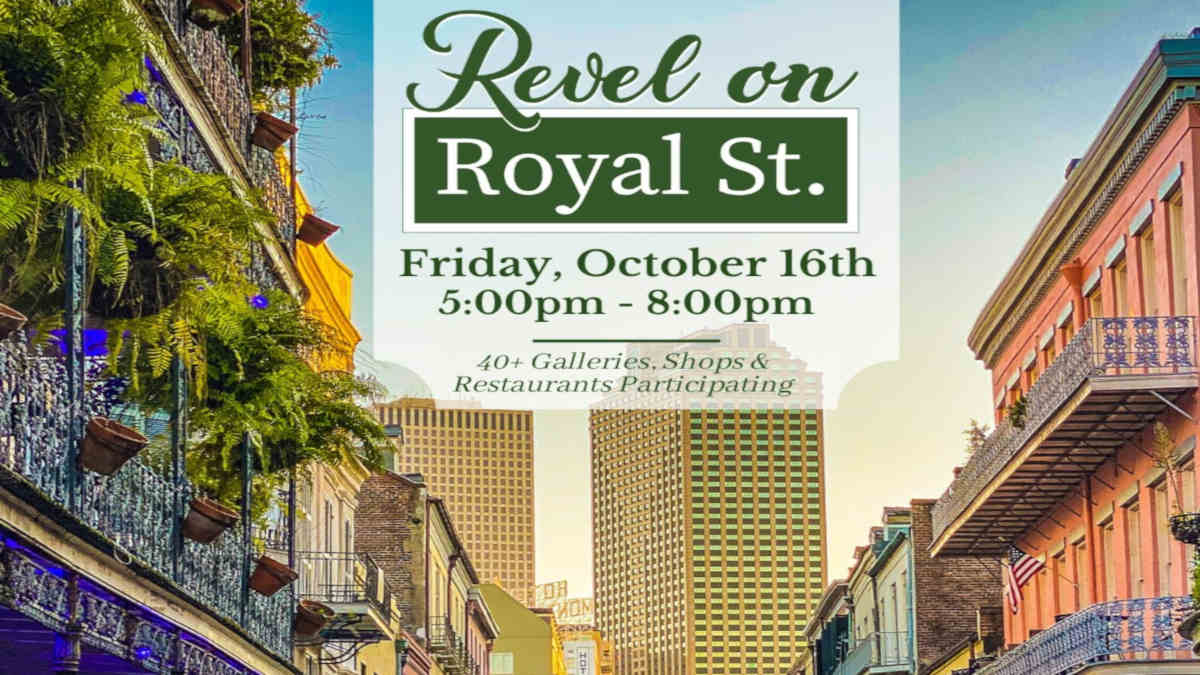 Revel On Royal Street
Welcome back to Royal Street! Please join us for an evening of shopping, music and revelry as we celebrate the many treasures this historic New Orleans thoroughfare has to offer!
More than 40 galleries, shops, restaurants and other venues will open their doors to revelers on this special evening. Enjoy street performances and music. Take advantage of special discounts and offers. New Orleans is re-opening and it's time to celebrate!
What You Need To Know
200-900 Blocks of Royal Street
Friday, October 16th
5:00 p.m. til 8:00 p.m.

Learn more about special discounts and offers from each participating shop here: https://landing.rauantiques.com/revel-on-royal/
All precautions based on current guidelines from the City of New Orleans will be in place to ensure a safe evening, with masks and social distancing required based on current guidelines from the City of New Orleans.
Revel on Royal participants include: Bevolo, Brennans, Court of Two Sisters, Craig Tracy Gallery, Elliott Art Gallery, Fawkes Fine Art, Fischer Gambino, Forever New Orleans. French Antiques, Shop, Inc., Galerie Rue Royale, Galerie Rue Toulouse, Gallery Arlo, Gallery Orange, Graphite Gallery, Harouni Gallery, Jack Sutton Fine Jewelry, James H. Cohen and Sons, Inc., Keil's Antiques, Kezic Gallery, Krewe, Le Petit Fleur, Lucky Rose Gallery, M.S. Rau, Martin Lawrence Galleries, Modernist Cuisine, Gallery Moss Antiques, Myth Gallery, Nola Jr., Nola Kids, Nola Rock Company, O'Neill Studios, Papier Plume, Rodrigue Studio, Royal Antiques, Royal Praline Company, Rue Royale, Sutton Galleries, The Giving Tree Gallery, Toulouse Royale Gifts, Valobra Jewelry, Wellington & Company Fine Jewelry, Wellington Galleries and more coming.

Related Events