SATCHMO SUMMERFEST 2021
July 31, 2021 @ 12:00 am
|
Recurring Event
(See all)
One event on August 1, 2021 at 12:00 am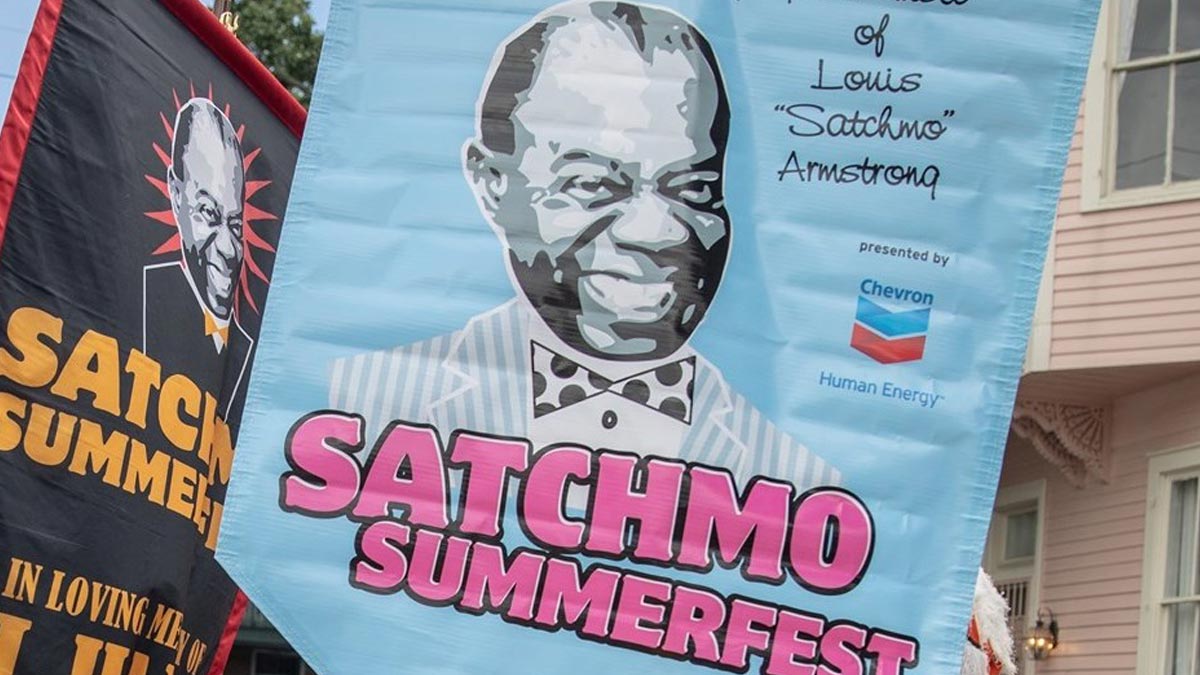 SATCHMO SUMMERFEST presented by CHEVRON
RETURNS TO THE NEW ORLEANS JAZZ MUSEUM JULY 31 – AUGUST 1!
Satchmo SummerFest celebrates the life, music, and legacy of Louis "Satchmo" Armstrong at the Louisiana State Museum's Old US Mint during the month of August. The four day festival features intellectual seminars from well-known jazz and music scholars along with two days of never ending music from a variety of genres ranging from traditional and contemporary jazz to brass bands and more.
Are you interested in presenting on the Satchmo Legacy Stage in 2021?
The Satchmo Legacy Stage features an impressive array of national and international speakers, including jazz scholars, people who knew and worked with Armstrong, historians, Armstrong House Museum faculty, and musicians. Past presentations have included discussions, live music, and film clips about New Orleans Jazz and the life and music of Louis Armstrong.
Saturday, July 31 – Sunday, August 1; 1pm-5pm
The Satchmo Legacy Stage in Memory of Joni Berry
Two days of fascinating discussions by renowned Armstrong scholars
Located on the 3rd floor inside the New Orleans Jazz Museum
Saturday, July 31
1:00pm – 2:00pm
Ricky Riccardi: The Complete Louis Armstrong Columbia and RCA Victor Studio Sessions, 1946-1966
Earlier this year, the famed label Mosaic Records released a limited edition 7-CD boxed set exploring the music Louis Armstrong made for Columbia and RCA Victory between 1946 and 1966, including timeless albums like Louis Armstrong Plays W. C. Handy, Satch Plays Fats and The Real Ambassadors. Ricky Riccardi, who co-produced the set and wrote the liner notes, will be on hand to discuss the making the release and will take listeners through some of the hours of previously unreleased Armstrong that has finally seen the light of day.
2:00pm – 3:00pm
Robin & Harris Parson: Louis Armstrong the Humanitarian
"Louis Armstrong the Humanitarian" highlights Mr. Armstrong spirit of giving back. Although Mr. Armstrong left New Orleans in 1922 to join his mentor King Joe Oliver in Chicago, he never forgot where he came from nor did he forget all of the people who helped him along his journey. Louis Armstrong the Humanitarian will focus on the continuation of Mr. Armstrong humanitarian contributions through the efforts of the Louis Armstrong Foundation, Inc.
3:00pm – 4:00pm
John McCusker: When Dippermouth Met Kid Ory
One of the more critical events in Armstrong's early life was the day he met band leader Edward Kid Ory in 1913. This meeting had implications that reverberated beyond the New Orleans music scene and continued through the 1920s jazz age. Kid Ory's life intersected with Louis' childhood, his early professional work and his ascendency to a featured recording and performing artist in Chicago. Their lives crossed paths in a variety of ways throughout the years, providing a story that tells us so much of what Armstrong's earliest professional work was like, and the direct bearing this meeting had on the man and musician he became.
4:00pm – 5:00pm
Ricky Riccardi: Video Pops: Heart Full of Rhythm: The Big Band Years of Louis Armstrong
Between 1929 and 1947, Louis Armstrong was the leader of a big band, recording pop tunes, appearing in movies, breaking down barriers for his race and creating some of the most timeless music of his career. These years are the subject of the award-winning new book, Heart Full of Rhythm and its author, Ricky Riccardi, will be on hand to show rare videos of Armstrong during this action-packed period of his career.
Sunday, August 1
1:00pm – 2:00pm
Maxine Gordon & Ricky Riccardi: Louis Armstrong on the Road in Louisiana in 1952
Maxine Gordon and Ricky Riccardi will discuss Louis Armstrong and the All Stars on tour in Louisiana in 1952. They appeared at Berro's Nightclub, in Eunice, LA and Steve Picou has interviewed his family members about the event and his first-hand experience helps us know how Louis Armstrong's band lived and performed in those days. Photos and music of that historic group will be included. Time will be allotted for questions from the audience.
2:00pm – 3:00pm
Christopher Renshaw: 'A Wonderful World', The Making of a Musical
This presentation will describe the development of the new Musical , A Wonderful World, which has its World Premiere in Miami in December. This musical tells the story of Louis Armstrong through the eyes of his four wives; Daisy Parker, Lil Hardin, Alpha Smith and Lucille Wilson. Christopher Renshaw is the Co-Conceiver and Director of A Wonderful World.
3:00pm – 4:00pm
Adonis Rose & Gwen Thompkins
Details coming soon.
4:00pm – 5:00pm
Ricky Riccardi: Video Pops: Louis's Last Hurrahs: Louis Armstrong in 1971
Louis Armstrong passed away 50 years ago this summer, but in his final months, he was determined to keep doing what he had always done: play the trumpet, sing, and entertain his adoring fans. Ricky Riccardi will tell the tale of Armstrong's final years, sharing videos of Armstrong's final TV appearances and chronicling how the trumpeter spent his final weeks at home in Corona, Queens.
Sunday, August 1; 10am
Jazz Mass at St. Augustine Catholic Church
The annual Sunday Jazz Mass will return to St. Augustine Catholic Church with a special musical tribute to Louis Armstrong. The mass will be livestreamed on Facebook.com/saintaugchurch.
Related Events