Sincerely Fantasy presents The Scholastic Book Faire!
June 13 @ 7:00 pm

-

9:00 pm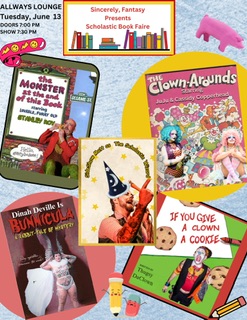 Sincerely, Fantasy!    At the Allways Lounge & Theater
Presents: The Scholastic Book Faire Fantasy
Tuesday, June 13th
Doors 7pm, Show at 730pm
https://SincerelyStanleyRoy.eventbrite.com
Remember when the Scholastic Book Faire rolled into your school like Ms. Frizzle and her Magic-ass School Bus?!? With books like Sweet Valley High, Choose your own Adventure, Judy Blume, Bunnicula, Goosebumps, Mad Libs, Garlfield book marks & and strange rubber pencil toppers?!?  Remember how excited and gay you felt that day?!?  Well…imagine feeling even gayer?  Join us as we revel in the foolishness and FANTASY of it all in this performance art panorama of theater, burlesque, live music, stories, and sideshow!  …Think Mister Rogers' Neighborhood but on Acid!!
Featuring ——> Cassidy Copperhead, JuJu, Stanley Roy, Sideshow Matt, Tsarina Hellfire & Thugsy DaClown 
For Tickets:
https://SincerelyStanleyRoy.eventbrite.com
OR
Email [email protected] 
Pop-up Art Shop
ChandarChandar – ChandarChandar.com
Related Events