Son of a Saint Gala
December 9, 2022 @ 7:00 pm
Sold Out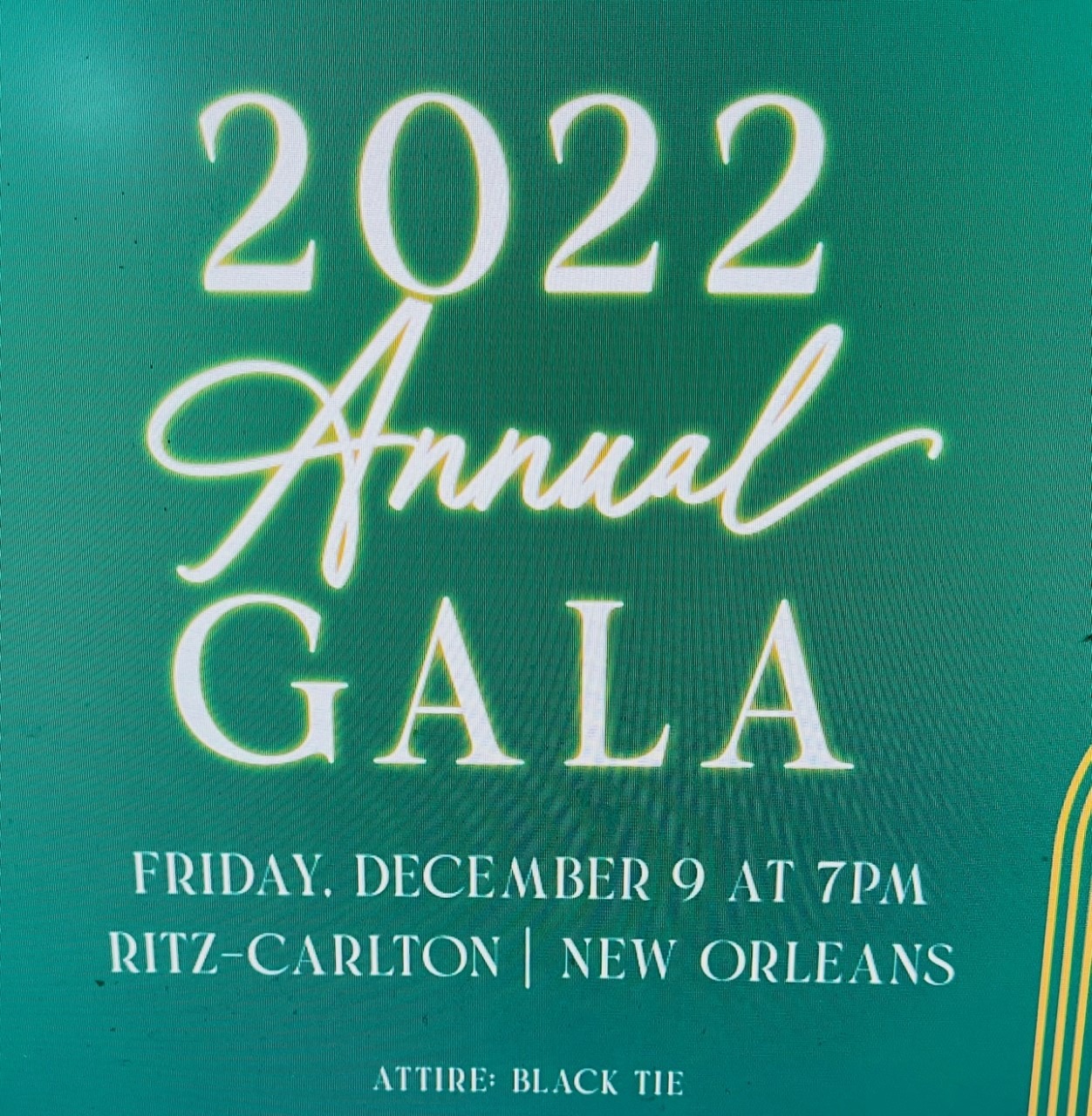 Son of a Saint to Host Annual Gala on December 9
Youth development nonprofit's signature event takes place 
at Ritz-Carlton New Orleans, and is presented by Ochsner Health
WHEN:
Friday, December 9, 2022
7 p.m.
WHERE:
The Ritz-Carlton New Orleans
921 Canal Street
New Orleans, LA 70112
MORE INFO: Son of a Saint will host its 2022 Annual Gala signature fundraising event on Friday, December 9th, in partnership with the Ritz-Carlton New Orleans. The gala is presented by Ochsner Health, and this year's event chair is Ochsner Health CEO Pete November. The sold-out Son of a Saint gala returns for the ninth time, raising critical funds to support the youth development nonprofit's myriad programming events, including providing holistic mentorship, life skills, and educational opportunities to hundreds of fatherless young men throughout Greater New Orleans.
Attendees will be welcomed with a patron cocktail party beginning at 7 p.m. presented by Moët-Hennessy, Brown-Forman, Jose Cuervo/Proximo Spirits, the Link Restaurant Group and the Link Stryjewski Foundation, preceding the main event.
Gala guests will then enjoy the official ceremony, featuring musical entertainment from the New Orleans Jazz Orchestra, along with a three-course dinner plus an open bar, as well as a live and silent auction.
The gala will also honor Son of a Saint Board of Directors Vice Chair Carol G. Asher with a special tribute award. As Son of a Saint continues its crucial work of enhancing the lives of more than 200 fatherless young men throughout the New Orleans area — its highest mentee enrollment to date — all proceeds generated from the event will directly support the organization's core mission and its future growth.
Marquee sponsors for the gala include Asher-Meyers, LLC, the Greg Keller Foundation, Latter & Blum, Inc., Physicians Group Laboratories, RYCARS Construction, and Window World of New Orleans.
Through generous in-kind sponsorship, Wink Design & Events will provide décor services. Audiovisual production will be overseen by Corporate Lighting and Audio. Brown-Forman is generously providing additional spirits and libations throughout the evening, along with the Jose Cuervo brand which supports the ongoing "Sonny's Margarita" citywide fundraising campaign.
Son of a Saint will host a dynamic afterparty experience immediately following the gala dinner, featuring a live performance by The Soul Rebels. All gala attendees will receive complimentary entry and access to the party's premium open bar, live music, and then will enjoy additional dance party entertainment by DJ RQ Away to close out the night.
For more information about Son of a Saint, please visit 
www.sonofasaint.org
 or call (504) 561-7508. Son of a Saint also welcomes other contributions, which can be mailed to: P.O. Box 19205, New Orleans, LA 70179.
About Son of a Saint
Son of a Saint launched in 2011 to address the burgeoning problem of fatherless boys in the New Orleans area. Under the direction of Bivian "Sonny" Lee, the 501(c)(3) organization is dedicated to its mission of enhancing the lives of young males through mentorship, emotional support, development of life skills, exposure to constructive experiences and formation of positive, lasting peer-to-peer relationships. For more information or to get involved, visit www.sonofasaint.org.
Related Events