Tai Chi Class For A Cause
September 19, 2020 @ 9:00 am

-

10:15 am

$45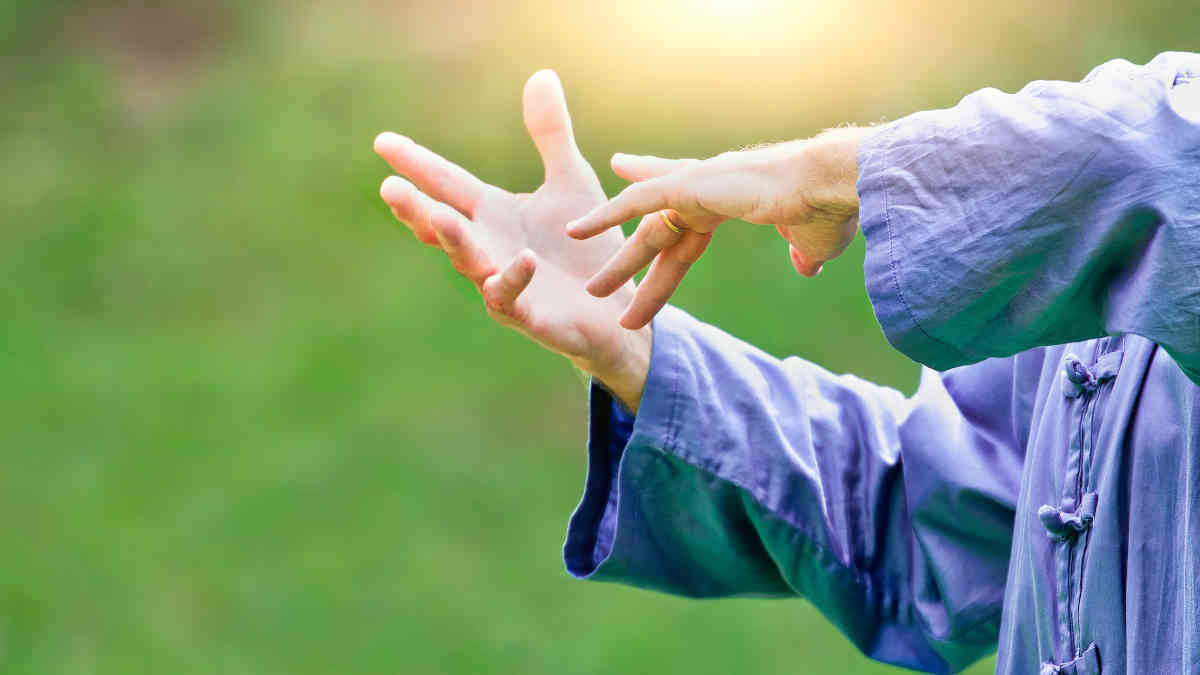 Tai Chi Class For A Cause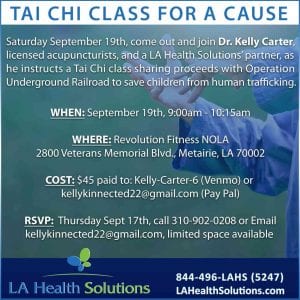 On Saturday, September 19, 2020, from 9:00am until 10:15am, Dr. Kelly Carter will be hosting a Tai Chi Class at Revolution Fitness located at 2800 Veterans Blvd. in Metairie. Dr. Carter is a Master Instructor and a licensed acupuncturist and LA Health Solutions' partner.  Some of the proceeds from the class will go to Operation Underground Railroad to save children from human trafficking. There is limited space so sign up today.
Tai Chi Class Details
What: Tai Chi Class
When: September 19, 2020, 9:00am – 10:15 am
Where: Revolution Fitness: 2800 Veterans Memorial Blkd. Metairie, LA 70002
When: September 19, 2020, 9:00am – 10:15 am
Who: Master Instructor Dr. Kelly Carter
Cost: $45 paid to Kelly-Carter-6 (Venmo) or [email protected] (PayPal)
Will Learn: 4-5 Simple, but Powerful Exercises
RSVP: Thursday, September 17, 2020. Call 310-902-0208 or email: [email protected]
Operation Underground Railroad
Operation Underground Railroad (O.U.R)'s goal is to pave the way for the permanent eradication of child sex trafficking through coordinated rescue and recovery planning. " In the past six years of existence, O.U.R. has rescued 4,100 victims and assisted in the arrests of more than 2,300 traffickers around the world. The partners we are empowering have collectively helped rescue the lives of more than 10,000 survivors who were enslaved, exploited or at risk." according to O.U.R. The O.U.R organization has rescued children around the world  from Cambodia to India to the USA. Learn more about the organization and its history on their website – Click HERE – https://ourrescue.org/about .
About Dr. Kelly Carter, L.Ac, DAOM
Kelly Carter, L.Ac., DAOM, has been practicing Tai Chi since 1989, and he has taught many seminars. He is Master Kimball Paul's first assigned Master of Tai Chi Chuan and is also recognized in China. To learn more about, visit kellykinnected.com. Dr. Carter wrote his doctoral dissertation on the "Efficacy of Tai Chi for the Treatment of Anxiety." It concluded, through research, how Tai Chi significantly reduces anxiety and depression. In this project substantial research was found on the efficacy of Tai Chi for arthritis, cardio-vascular health, balance improvement, pain of many kinds and that it helps to develop a strong immune system and more.
Related Events