United for Justice!
January 13 @ 6:00 pm

-

7:00 pm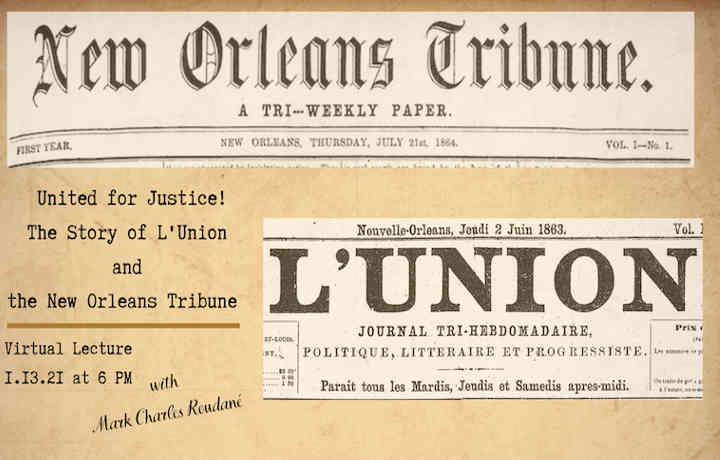 Wednesday, January 13, 2021 at 6 PM
"United for Justice! The Story of
L'Union and the New Orleans Tribune"
with Mark Charles Roudané
Did you know that the long arc of the civil rights movement began in New Orleans over 150 years ago? Drawing from years of research, Mark Roudané will reveal the little known history of L'Union, the South's first Black newspaper, and the New Orleans Tribune, America's first Black daily. A powerful and successful campaign for racial justice coalesced around these groundbreaking journals.
About the Speaker:
Mark Charles Roudané is a sixth generation New Orleanian. He is the great, great grandson of Dr. Louis Charles Roudanez, founder of the South's first Black newspaper, 
L'Union
, as well as the 
New Orleans Tribune
, America's first Black daily. Inspired by his heritage, Mark has spent the last decade passionately researching these groundbreaking journals in order to bring this inspirational and underrepresented history to the general public. His book, 
The New Orleans Tribune
,
 An Introduction to America's First Black Daily Newspaper
, has reached a wide audience. Roudané's articles have appeared in numerous journals including the South Atlantic Review, the Journal of the Louisiana Creole Research Association, New America, the Atlantic, and 64 Parishes. Mark has presented on 
L'Union
 and the Tribune at universities, museums, and cultural organizations throughout the United States. Follow his work on 
Facebook
 and his 
website
.
Pay what you can: We have made our lectures free to attend while in-person programming is paused, but we still have costs associated with putting on this program. We are accepting donations if you are in a position to support our museum. With this money, we will pay honoraria to all current and future presenters and cover overhead expenses such as Zoom and other technological services.
Related Events