World Naked Bike Ride New Orleans
June 13, 2020 @ 4:00 pm

-

8:00 pm

Free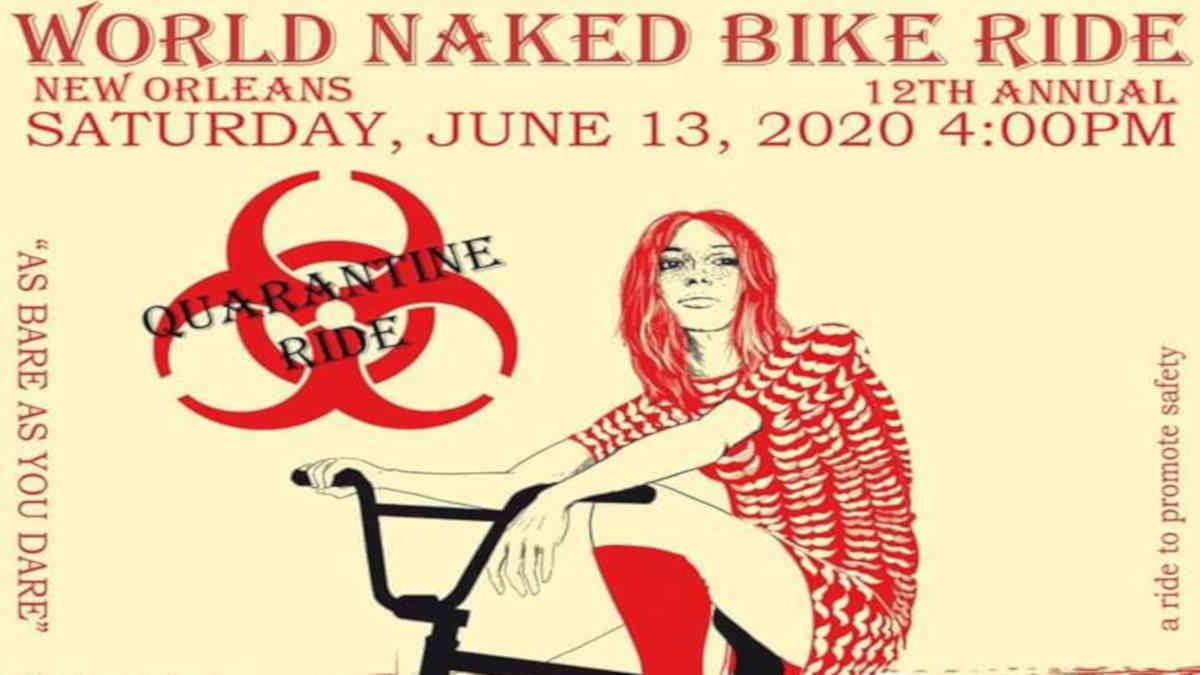 World Naked Bike Ride New Orleans Quarantine Ride will take place on Saturday, June 13, 2020 at 4:00PM. This year, however, we need to follow the state and city guidelines for social distancing. This means that we will not be congregating in the park to start the ride, nor will we all be following the same route. Instead, ride leaders will be allowed to organize their own rides that should take place on June 13 at or about 4:00 PM.
What You Need To Know
WHERE DID THIS IDEA COME FROM? Shout out to WNBR member Jason Givens who sparked this idea with his social distancing ride in April. We owe Jason some ride swag as soon as we have some.
HOW IS THIS GOING TO WORK? It's easy. You're going to dress or undress to whatever state of fun and flamboyancy you decide. The ride is still, "AS BARE AS YOU DARE", and you are in full control. Body paint with slogans are encouraged. You'll get ready as you see fit and at 4:00 PM on Saturday, June 13, you'll go for a bike ride.
WHO IS A RIDE LEADER? You are! Everyone can plan their individual rides. You can organize group rides that follow the guidelines for social distancing. You can organize group rides with your exposure group. (Your exposure group are the people you are already exposed to every day, like your immediate family.) Everyone can ride.
WHAT ARE WE PROMOTING? WNBR New Orleans is a ride primarily focused on cycling safety. The ride demonstrates the vulnerability of cyclists on the road and is a protest against car culture. We want to be seen and not injured or killed! The ride is a protest and an event of free expression.
WHERE WILL WE START? You can start wherever you are. Groups can meet in common parks as decided by ride leaders – including in Mickey Markey Park for those in that area.
WHERE WILL WE RIDE? Where ever you like. While we usually make a parade of it, the idea is to be seen by the public to raise awareness about the fragility of cyclists in a world built for automobiles. We recommend common bike paths and rides of about an hour, at your own pace and comfort level.
HOW WILL WE RIDE? Groups that intersect or start in the same place should keep safe distance and observe all ride and safety rules as well as all laws. Riders should ride single file, at safe distance, or two abreast when safety permits. Masks and helmets are encouraged.
Ride leaders should tell us here about their planned ride so that we can let spectators and the media know where to expect you. Ride leaders should post their final ride plans to the list by Saturday, June 6. Please take photos and videos and send them directly to Sebren or Shane who will post them.
For more information visit: https://www.facebook.com/events/2312598595709907/
Related Events