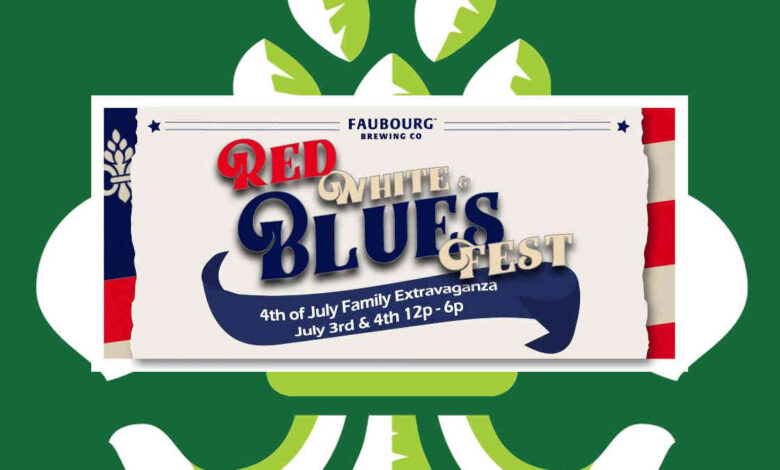 On Saturday, July 3 and Sunday, July 4, 2021, from noon until 6pm, the Faubourg Red, White & Blues Fest will take place at the Faubourg Brewing Company located at 3501 Jourdan Road in New Orleans. This festival will truly be a 4th of July Family Extravaganza featuring Walter Wolfman Washington, Little Freddie King, great food and even a Kids zone featuring a 17ft waterslide. The Faubourg Red, White & Blues Fest is free to attend!
The story of Faubourg Brewing Co. is a long, twisting tale that began as Dixie Brewing in 1907, when Valentine Merz opened the doors of his brand new brewery at the corner of Tulane Avenue and Tonti Street. From day one, locals loved that the South's largest, most innovative brewery was right here in their hometown — and the neighborhood beer of New Orleans was born.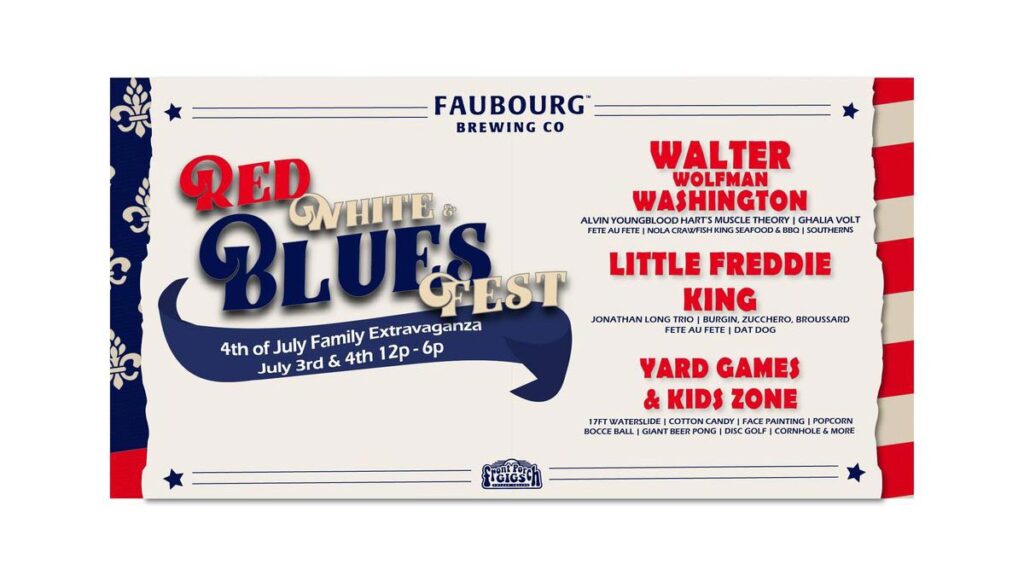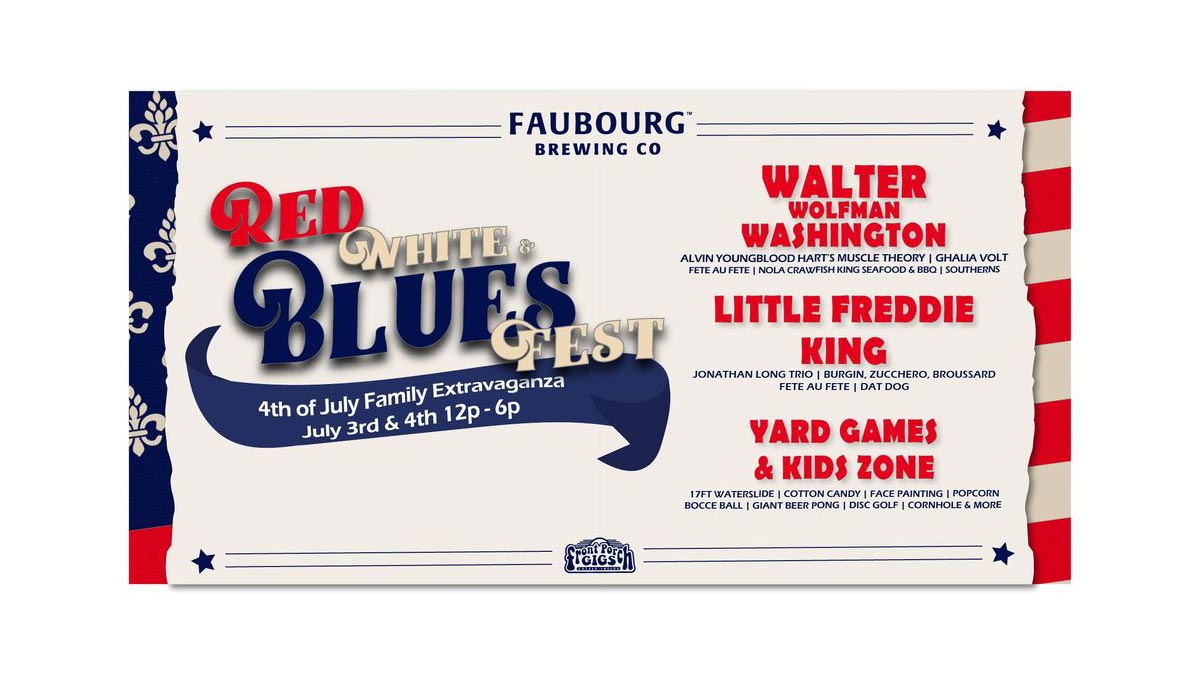 Faubourg Red, White & Blues Fest Details
Schedule of Events:
Saturday, July 3rd, 12pm-6pm
Music Line Up:
12:30pm – Ghalia Volt
2:30pm – Alvin Youngblood Hart's Muscle Theory
4:30pm – Walter "Wolfman" Washington
Food Vendors: Fete au Fete, NOLA Crawfish King Seafood & BBQ, Southerns
Sunday, July 4th, 12pm-6pm
Music Line Up:
12:30pm – Burgin, Zucchero, Broussard
2:30pm – Jonathan Long Trio
4:30pm – Little Freddie King
Faubourg Red, White & Blues Fest Food Vendors: Fete au Fete & Dat Dog
Yard Games & Vendors:
Waterslide, Face Painting, Cotton Candy, Popcorn, Popsicles, Cornhole, Bocce Ball, Volleyball, Spikeball, Ladder Toss, Giant Beer Pong, Giant Jenga, Yardzee, Disc Golf, Yard Dominoes, Spindle, Yard Tic Tac Toe, Yard Checkers, Kids' Games, & More! If you don't see a game you like, you can bring your own!
Please note this is not a ticketed event. Event is free with beer, food and merch for sale. Open to all ages and dog-friendly.
The Faubourg Red, White & Blues Fest will not be taking table reservations. All tables are first-come, first-serve Friday-Sunday. BYO lawn chairs, blankets, & umbrellas is encouraged.
Learn more about the Faubourg Red, White & Blues Fest –
here
.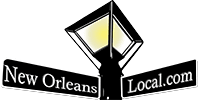 New Orleans Local is your best resource for the latest events happening around the city. If you like the theater, we've got you covered with all sorts of great safe events and lots of virtual events. Whether you are looking for festivals, parties, theater, charity events or events for kids, we have everything you need to be in the "know." Our Calendar of Events welcomes any organization or business to submit events and happenings – HERE – to help let our community know what is happening around town. Everybody knows about Mardi Gras, but do they know about the latest charitable event, local marathons, holiday events, or reveillon dinners? Submit your event with a great photo, so we can let people know what events you want to help to promote in the New Orleans area. Laissez Les Bons Temps Rouler!