The Joan Of Arc Parade 2020 kicked off the Carnival Season in New Orleans on Monday January 6th, Twelfth Night. This day also marks Joan Of Arc's birthday. Some parade revelers started lining the streets around six. The parade started at 7 pm on Bienville and N. Front, took a right turn on Chartres then turned on Ursulines and then went down Decatur passing the Jan Of Arc statue. It was a beautiful night to start the Carnival season and Joan of Arc's birthday with this family and whimsical parade.
What The Parade Looked Like
As you can see from our YouTube video on top of this page this is a medieval-themed walking parade. The Joan Of Arc Parade is inspired by Joan of Arc's time in 1400s France. You get to see knights, angels, peasants, kings and queens, jesters, stick horses, saints, priests, judges, and several representations of Joan. During the 2020 parade marchers handed out small wooden swords, Joan of Arc dolls as well as inspirational notes and chocolate doubloons. The Joan Of Arc Parade 2020 also featured live medieval music, brass bands, drumming, bagpipes, and large-scale puppets and props representing various chapters in Joan's story. The Joan of Arc parade celebrates Joan of Arc life in unique, artistic and educational ways. The first Joan of Arc parade took place in 2008.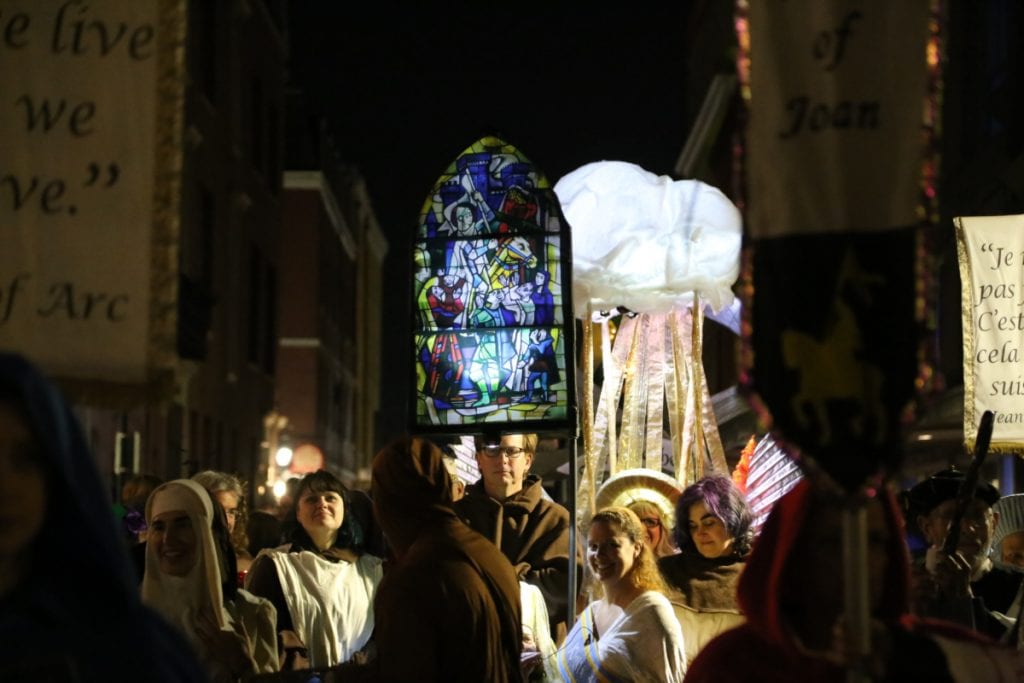 Joan Of Arc And The City Of New Orleans
Joan of Arc freed the citizens of Orleans, France, from a British siege in her first victory in 1429. This is how she got the name "The Maid of Orleans." The parade always passes by the New Orleans' Joan Of Arc statue on Decatur street. It was a gift the City of New Orleans from France in the 1950s. The parade also honors our city's French history and heritage. 2020 also is the 100th anniversary of Joan Of Arc becoming an official saint.
For more information visit: https://joanofarcparade.org/