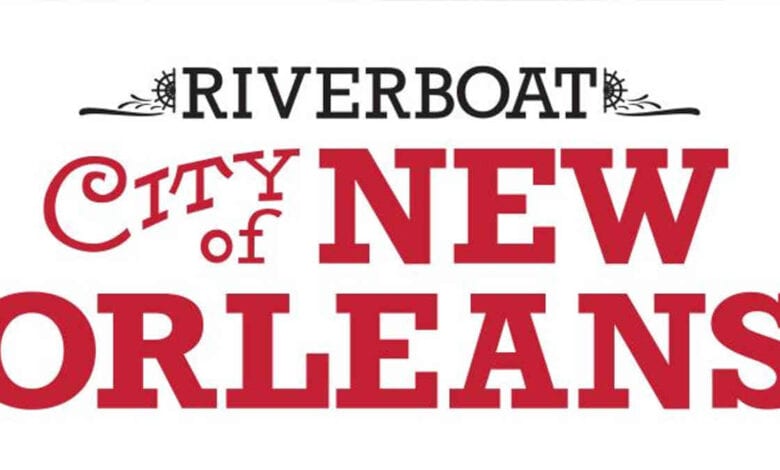 Will you be Rollin' On The River to Ring in The New Year? Don't miss out on one of the most beautiful ways to enjoy ringing in the New Year in New Orleans on the Riverboat City of New Orleans. The Riverboat City of New Orleans is the newest addition to the Mississippi River. Guests can stroll the multiple decks, explore the beautiful refinished interiors and savor the cruise with panoramic views of the Mississippi River and the sites on her banks.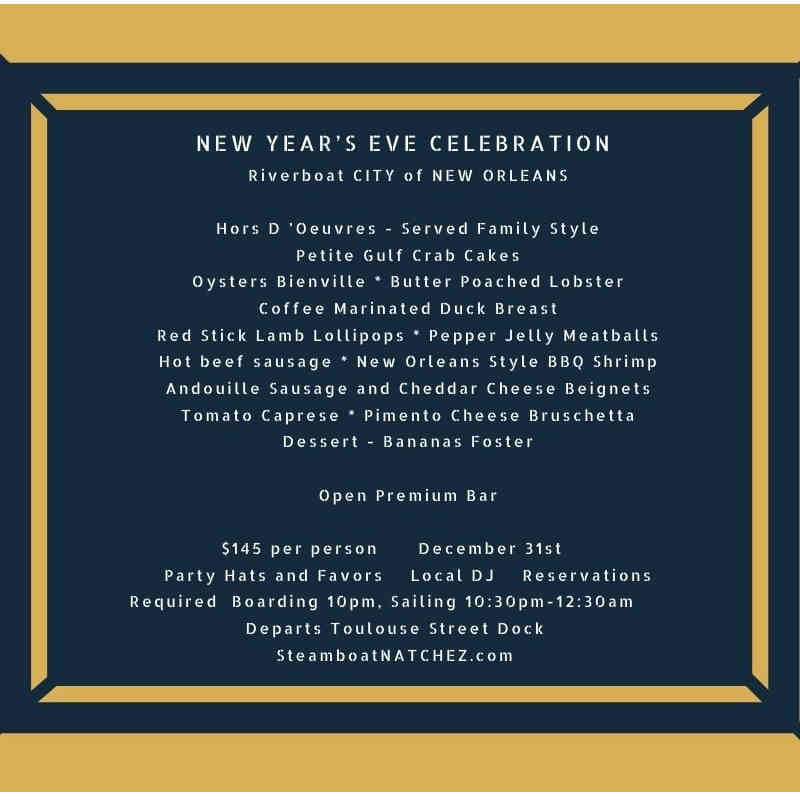 New Years Eve Celebration On Riverboat City Of New Orleans Menu
Hors D'Oeuvres – Served Family Style
Petite Gulf Crab Cakes – Served with green peppercorn remoulade
Oysters Bienville – Oysters on the half shell baked with shrimp and mushrooms in a rich cream sauce
Butter Poached Lobster – Lobster medallions with fennel slaw in marinated cucumber
Coffee Marinated Duck Breast – Grand Marnier and blueberry gastrique
Red Stick Lamb Lollipops – Annatto marinated lamb lollipops with a mint chimichurri
Pepper Jelly Meatballs – Hot beef sausage
New Orleans Style BBQ Shrimp – Andouille Sausage and Cheddar Cheese Beignets, Served with Creole mustard aioli –  Tomato Caprese
Fresh mozzarella, grape tomatoes, fresh basil, balsamic reduction
Pimento Cheese Bruschetta
Dessert – Bananas Foster
Fresh sliced bananas sautéed in butter, brown sugar, vanilla, cinnamon and rum. – Served warm atop vanilla ice cream, Open Premium Bar
Menu created and prepared by Executive Chef Steve Wells and Sous Chef Byron Fennidy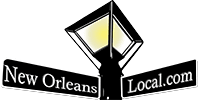 New Year's in New Orleans is a wonderful time of year. There is so much going on from parties everywhere to lots of great food. It truly is the most wonderful time of year. When it comes to what to do during this time, look no further than New Orleans Local. We will let you know everything going on for everyone during all of the New Year's Celebration during holidays. Check out our calendar –
HERE
.