What To Do With Dad On Father's Day
Father's Day is this weekend (Sunday, June 16).  Think outside the tie and try something different this year. He probably already has tons of ties from previous Father's Days. Also, don't make him stand at the grill and cook for everybody on his special day. We have a few ideas that he will love and not expect!
1. Take Him To An Escape Room
How about a scary adventure the entire family can enjoy for Father's Day? The Game Room at Mystere Escape Rooms will give dad an experience he will never forget. Dad will discover a host of rare mystical artifacts from all over the world. From the darkest parts of Africa to the farthest reaches of the Amazon, across the islands of the South Pacific, and to all four corners of the Earth. The artifacts include a Werewolf Anatomical Research Case, an ancient Egyptian sarcophagus, an 1800's Vampire Hunting Kit and the remains from a Fiji Mermaid. Explore the room together with dad and discover its secrets to open the hidden escape door. Outwit Morto, the puppet clue master, by finding numerous clues and solving his riddles in order to find the key to escape.  Dad and his team mates  will have to explore the room to find the hidden escape door. If you think that's what dad needs, book today: https://escapethemansion.net/book-now/
2. Take Him Shopping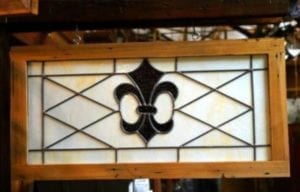 Finding a gift for dad is always hard and trying to plan something special he would enjoy for Father's Day can be a challenge. You know, when you ask him what he would like for Father's Day, you will get the same answer, you get for every other Holiday: "Oh I don't need anything!" Why not take him to Ricca's Architectural Sales. Here, he will find whatever is missing to complete his latest unfinished project around the house or in the garage. No matter what he is looking for, he will most likely find it at Ricca's! At Ricca's Architectural Sales, he will get everything a home improvement project might require. They gave lots of antiques and salvaged items such as knobs, locks, hinges, stained glass, ironwork, shutters, mantels, and doors.
3. Take Him On A Swamp Tour
Does dad love the outdoors? A Swamp Tour might just hit the spot. They can be fun and educational for the entire family.  Your could take him on an airboat to check out the wildlife and the beautiful scenery. Alligators will be out in full force this time of year.  If Alligators aren't really his thing a city or even a spooky cemetery tour will give your Father's Day surprise an unexpected twist. For mare information about city and swamp tours visit Louisiana Tour Company. They offer a wide variety of  highly  customizable city, swamp and even plantation tours.
4. Take Him On A Limo Ride
Pretty much all dad's love cars. Show him New Orleans, in a Limo or party bus (in case dad wants to bring his buddies) for Father's Day. You could take him to his favorite watering hole or just cruise around the city and check out the sites. He can have a beer or his favorite a cocktail while being chauffeured around New Orleans. If a limo isn't special enough for dad get a Rolls Royce for Father's Day.  If you are interested in getting a Limo, Rolls Royce or Party bus visit Alert Transportation and book your vehicle today!
5. Take Him Cajun Dancing
Even though he probably won't admit it, but most dads love to dance. Take him out Louisiana-Style and let him show off his Cajun Waltz skills. Mulate's Cajun Restaurant, in the Warehouse District, features live Cajun music and dancing along with great home-cooked Cajun food seven days a week. This legendary restaurant is recognized throughout the world as the King of Cajun Dine and Dance halls.  Mulate's is a place where Cajuns come to celebrate their heritage and the world comes to join them in their celebration. This might just what dad would love for Father's Day.
6. Get Help From The Experts
If none of our suggestions sound appealing to you, you can always get help from the experts this Father's Day. New Orleans VIP Experience  is tour agency that, just like the name suggests, specializes in making your city excursion an exclusive adventure. They can make happen whatever you would want from sporting events, to fishing trips, to backstage music passes,  to exclusive parties, to Cajun excursions, and so much more!