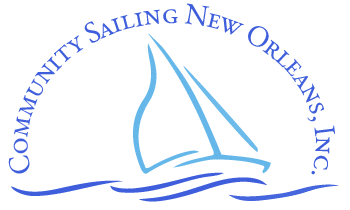 Our Mission & Vision
CSNOI shall positively impact lives by providing accessible educational opportunities and the promotion of health on Lake Pontchartrain for all in the population of the region regardless of age, background, and abilities, including, as a core mission, serving the low and moderate income and minority communities in metro New Orleans by providing access to a community asset that has been historically inaccessible to those large segments of the population.
CSNOI shall enhance the Greater New Orleans community by utilizing the development of sailing skills as a platform to develop independence and self-confidence, improve communication, foster teamwork and acquire deep respect of the marine environment.
Visit their website click -> HERE
Reservation Policies
Welcome to our Boat Reservation Calendar! This is where Access Pass Holders can reserve a boat to go sailing. A few reminders:
No single-handing. Skippers must have a guest over 12 years old who can act as your Crew.
Please follow our current operating hours/procedures, including making your reservation at least 2 hours in advance. Community Sailing New OrleansStaff have the right to alter/delete a reservation that falls outside the below hours or is made less than 2 hours in advance:

March 1st – December 20th
Wednesday-Friday: 12 pm – Half an Hour Before Sunset.
Saturday 10 am – Half an Hour Before Sunset
Sunday: 12 pm – Half an Hour Before Sunset

Same-day reservations must be made no later than 4 p.m., and this applies to sailing year-round. Reservations made after 4 p.m. do not guarantee the sailing center will be open. Ex: if you want to sail at 6:30 p.m. on a Saturday, your reservation must be made by 4 p.m. that same day.
If you need to change/cancel your reservation, you may do so on the Reservation Calendar or by calling our main office. Captains can select the reservation they created, and use the event setup to adjust date/time. To cancel your reservation, please make it "private." This will remove it from the calendar. Please cancel reservations with as much notice as possible.
Use your name and type of boat you would like to reserve as the title! This lets us know who is coming in case we need to contact you.
Reservations that are a "no-show" after 30 minutes of the reservation start time will be canceled.
Reservations can only be 2-hours per outing unless special permission is granted by the office.
Any questions, please call us at 504-233-3292 (main office) or email us at [email protected].