---
Seafood Gumbo is a very unique tradition in New Orleans. There are so many different recipes and each type has a unique flavor and ingredients. There's Seafood Gumbo, Chicken Andouille Gumbo, Turkey Gumbo, and Duck Gumbo. In Seafood Gumbo, the most popular seafoods incorporated into the recipe are shrimp, crabs, and oysters. It is a staple on Fridays during Lent among the Catholic community.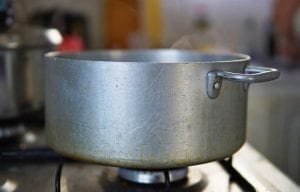 The one thing that you have to know when it comes to gumbo, any type of gumbo, is that everyone has a magical ingredient. It may be a special combination of spices or a homemade andouille sausage, but there will be something that makes each gumbo taste slightly different.
Everyone needs a place to start if you want to create a gumbo, so why not take a look at The Original Cajun Restaurant's Recipe – Mulate's Restaurant's Seafood Gumbo Recipe. Mulate's is famous for preserving the food, music and culture found in the small towns that line the bayous of south Louisiana. The restaurant is filled with Cajun Music that is the perfect backdrop to the wonderful Cajun food that you can enjoy from Seafood Gumbo and Barbeque Shrimp to Blackened Fish and Catfish Poboys.

What You Will Need – The Ingredients
4 qt water
3 lb. medium shrimp, shell on
2 medium onions, diced
1 small bell pepper, diced
1 cup dark roux
2 lb. claw crabmeat
12-24 oysters
1 tbsp. salt
1 tsp. cayenne pepper
4 cups cooked white rice
Experience a small piece of our rich Cajun heritage with our wonderful Seafood Gumbo Recipe. Kerry Boutte, Mulate's Cajun Restaurant
How It's Done – Directions
In a large pot, bring water to a boil. Boil shrimp for 10 minutes. Let stand 3 minutes. Remove shrimp from stock with a strainer. Peel shrimp and discard the shells. Add onions and bell pepper to stock. Bring to a boil. Add roux, stirring constantly until melted. Let boil for 30 minutes. Add shrimp, crab meat, oysters, and seasonings. Let simmer for 5 minutes more. Turn the heat off and let the gumbo rest for 20-30 minutes. Serve over white rice. This dish serves about 8 to 10 people.