The Historic New Orleans Collection Antiques Forum 2023
August 3

-

August 6

$150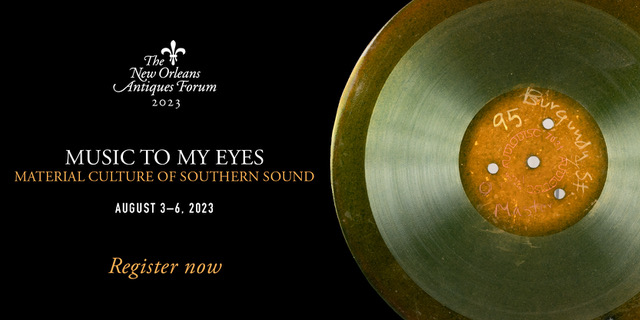 From our earliest instruments through mid-twentieth-century recording devices, music has been essential in southern homes, churches, and communities. Attendees of the 2023 New Orleans Antiques Forum will be immersed in the objects and art that embody the development of "southern sound." Sessions will explore the material culture of parlor entertainment, First Nations social dances and storytelling, musical furniture, early country and western costumes, nineteenth-century opera in the French Quarter, and much more. Tom Savage, director of educational travel and conferences at Colonial Williamsburg, will return as forum moderator, and Dr. Nick Spitzer, producer of American Routes, will host a champagne reception.
Registration opens to THNOC members on Tuesday, May 30, at 9:30 a.m. (CDT) and to the general public on Monday, June 5, at 9:30 a.m. (CDT).
Registration Information
Registration for the 2023 New Orleans Antiques Forum is limited and opens to THNOC members on Tuesday, May 30, at 9:30 a.m. (CDT) and to the general public on Monday, June 5, at 9:30 a.m. (CDT). Single-day registration is available for Friday, Saturday, or Sunday, or attendees can register for the full forum for a discounted price. The champagne reception is included for all attendees. Tickets for optional activities must be purchased separately.
Registration Options
Forum Registration
Single-day Friday sessions $150
Single-day Saturday sessions $150
Single-day Sunday sessions $50
Full Forum $300 (save $50)
Young participants (ages 21–30) enjoy half-price tickets for single-day admissions.
Optional Activities
Preconference Activity (limited to forum registrants) $150
Brunch at Arnaud's $85
Parking
Parking is not included with forum admission. A discounted rate of $15 per day will be available to forum participants. Information about how to access this rate will be included in your registration confirmation.
Hotel Accommodations
Discounted rooms are available at the Hotel Monteleone, 214 Royal Street, just a few blocks from THNOC. To receive the discounted rate, make your reservations by following this link before July 1, 2023. or call the hotel at (800) 535-9595 and identify yourself as a participant in The Historic New Orleans Collection Antiques Forum. Hotel parking is available for an additional fee.
Optional Activities
Preconference Activity: Backstage at the Museum(s)
Thursday, August 3 • 2–7 p.m.
$150 per person, food and beverages included
The music of New Orleans and the Gulf South region is world famous, rich in history, and foundational to the area's culture, traditions, and economy. This "backstage pass" will provide participants with exclusive access to objects and experiences that help tell the stories of our music and musicians. This experience is only available for participants of the Antiques Forum.
Participants will meet at the Williams Research Center (WRC), home to more than a million objects in the holdings of The Historic New Orleans Collection. Our experts will present a carefully curated selection of artifacts of interest to forum attendees including items belonging to the Boswell Sisters, Louis Moreau Gottschalk, and new acquisitions from the estate of Chris Owens. Also on view will be the only known photograph of Buddy Bolden, stunning dance cards from long-ago Mardi Gras balls, and antique instruments, including a drum used by four-war veteran Jordan Noble and a clarinet owned by jazz legend Sidney Bechet.
Participants will enjoy refreshments in a private historic courtyard at the WRC (weather permitting) after viewing the objects.
Next, participants will be shuttled to the Jazz Museum on Esplanade Avenue where the museum's director and music curator will host an afternoon behind the scenes at the museum. Participants will have a chance to preview an exhibition on jazz musician King Oliver, view rare objects from the museum's holdings, and enjoy a private concert of "antique" music by world-class musicians.
Finally, participants are invited to join Jazz Museum supporters and VIPs at the opening reception for the King Oliver exhibition before returning on the shuttle. Participants will receive a drink token for the cash bar at the event.
Attendees will meet at the Williams Research Center at 2 p.m. Shuttles will depart the WRC at 3:30 p.m. and arrive at the New Orleans Jazz Museum at approximately 4 p.m. The shuttles will depart the Jazz Museum at 7 p.m. and make stops at the WRC, the Premium Parking lots on Decatur Street (if requested), and the Hotel Monteleone.
Celebratory Brunch at Arnaud's Restaurant
Sunday, August 6 • 12:30–2 p.m. $85 per person
Celebrate the conclusion of the 15th New Orleans Antiques Forum. Socialize, meet the speakers and staff, and enjoy classic Creole cuisine in one of the city's most prestigious restaurants.
Visit The Historic New Orleans Collection for more information.
Related Events