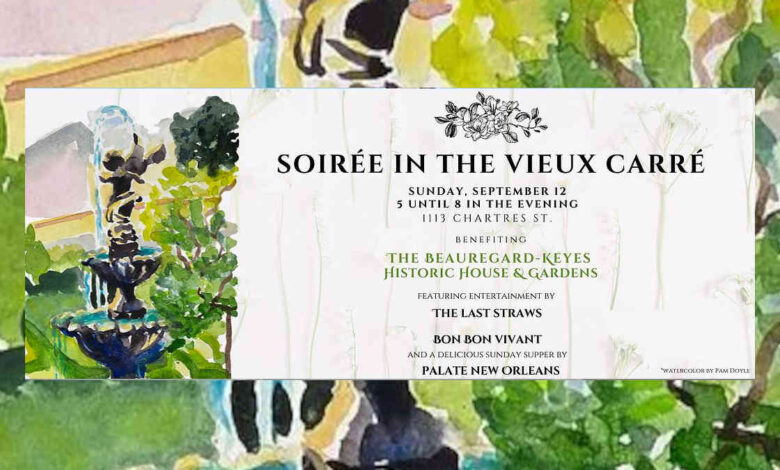 The annual fundraising event for the Beauregard-Keyes Historic House & Gardens returns on Sunday, September 12, 2021 with the Soiree in the Vieux Carre. This fundraiser helps raise awareness and support  for the preservation and maintenance of the Beauregard-Keyes Historic House & Gardens located in the French Quarter. This year's celebration will take place from 5 until 8pm at the Beauregard-Keyes house located at 1113 Chartres Street. The event features a movable feast of fabulous food, cocktails and entertainment throughout the historic interior and exterior courtyards. Bon Bon Vivant and The Last Straws will perform outdoors at the Soiree in the Vieux Carre and a delicious Sunday supper will be provided by Palate New Orleans.
We depend on our community for support and want our patrons to be in a safe environment for a festive evening of fellowship. Soiree' just feels like more fun on a Sunday afternoon! ~ Soiree' chairs Hal Williamson and Dr. Dale LeBlanc
SOIREE' IN THE VIEUX CARRE DETAILS
Soiree in the Vieux Carre tickets and sponsorship categories range from $250 per couple to $15,000 with benefits commensurate with each level and may be purchased in advance from bkhouse.org based on availability. Supporters 40 and under may secure two tickets for $150. For additional information, call 504-523-7257.
Annie Irvin, BK executive director, said Covid protocols will be strictly enforced, and attendees will be required to mask up and show proof of vaccination or negative Covid testing results 72-hours prior to the Soiree'. "Our historic property is a living, on-going preservation project that requires painstaking accuracy and authenticity and use of skilled craftsmen for repairs and construction," commented Irvin. "Our annual fundraiser is essential, as well as support from foundations, corporations and individuals, is paramount to our survival and ability to offer varied programming."

About: Beauregard-Keyes Historic House & Gardens was built in 1826 and purchased by noted author Frances Parkinson Keyes in 1948 and restored under her loving care. The Soiree', along with grants, donations, and other fundraising events will help generate the more than $400,000 needed for on-going restoration and future capital improvement projects.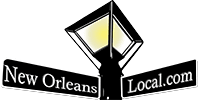 New Orleans Local is your best resource for the latest events happening around the city. If you like the theater, we've got you covered with all sorts of great safe events and lots of virtual events. Whether you are looking for festivals, parties, theater, charity events or events for kids, we have everything you need to be in the "know."  Our Calendar of Events welcomes any organization or business to submit events and happenings – HERE – to help let our community know what is happening around town. Everybody knows about Mardi Gras, but do they know about the latest charitable event, local marathons, holiday events, or reveillon dinners? Submit your event with a great photo, so we can let people know what events you want to help to promote in the New Orleans area.  Laissez Les Bons Temps Rouler!