Hancock Whitney Zoo-To-Do
May 6, 2022 @ 6:00 pm

-

11:00 pm

$175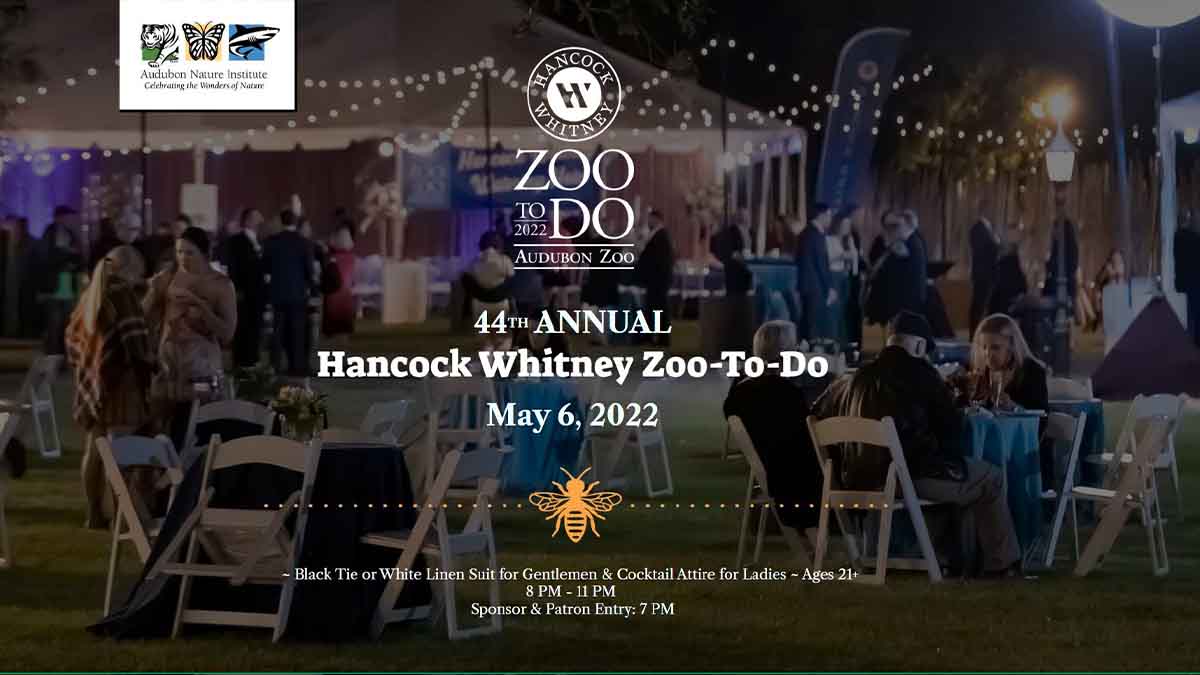 Answer the call of the whooping crane at this year's Hancock Whitney Zoo-To-Do!
Tickets will go on sale now: Click HERE
Hancock Whitney Zoo-To-Do on May 6 will feature a more intimate setting than in years past. Sponsor and Patron Admission begins at 7 p.m., and the party goes until 11 p.m. Hancock Whitney is once again the Title Sponsor for the adults-only fundraiser that features delectable cuisine from local restaurants and Audubon Catering and premium cocktails.
Party with Pollinators: Help Audubon Zoo Blossom
Your Support of Zoo-To-Do events will celebrate pollinators' brilliant diversity and importance to healthy ecosystems and human wellbeing. Your generosity allows Audubon to contribute to wildlife conservation efforts for critical species like pollinators. Thank you for ensuring that the New Orleans community and visitors from across the world will continue celebrating the wonders of nature at Audubon Zoo for generations to come!
All proceeds from the 2022 Hancock Whitney Zoo-To-Do support Audubon Zoo!
Special thanks to our Title Sponsor: Hancock Whitney
Conservation Champion Sponsor: Chevron
Luxury Vehicle Raffle Sponsor: Lexus of New Orleans
Hancock Whitney Zoo-To-Do Sponsor and Patron packages or tickets can be purchased online or by calling (504) 861-5107. Sponsor and Patron package orders received after April 25 will be available at Will-Call beginning at 6:00PM on May 6, 2022. Online ticket sales close at 5:00PM on Thursday, May 5, 2022. Walk-up tickets will be available at Zoo-To-Do between 6:00PM – 8:00PM on Friday, April 29, 2022.
To be listed in the invitation, please purchase by February 15, 2022. To be listed in the program, please purchase by April 18, 2022.
Hancock Whitney Zoo-To-Do is an adults-only event; you must be 21 to enter. Children, including babies, are not permitted. Louisiana law prohibits the possession or consumption of alcoholic beverages by any person under the age of 21, unless accompanied by his or her parent or spouse over the age of 21. 
Proper attire is required: black tie or white linen suit for men and cocktail attire for women. 
According to IRS guidelines, only contributions over the value of dining and entertainment are tax deductible. The non-deductible value of Hancock Whitney Zoo-To-Do is $60/ticket. This is a rain or shine event. Should you be unable to attend, please consider your contribution a donation; there will be no refunds.