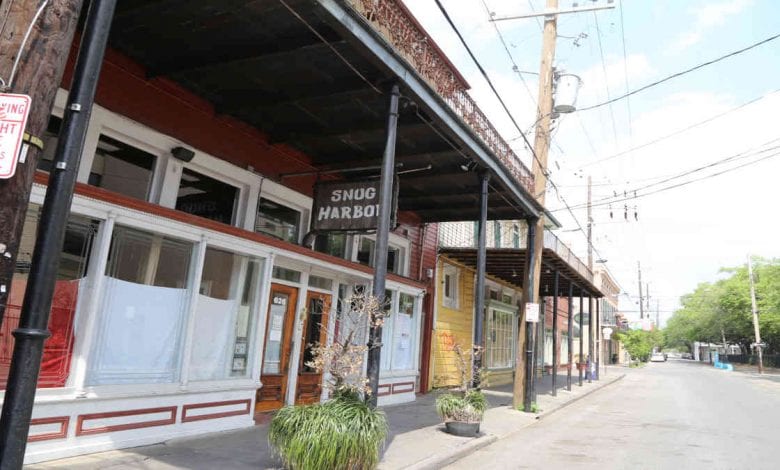 In a time of crisis, New Orleans always comes together. This has been true in the past and it is especially true right now. While many are looking for work, others have so much to do, they are overwhelmed. If you need help right now, there are resources out there for you. Here are some examples how we are helping each other in these trying times:
Helping Healthcare Workers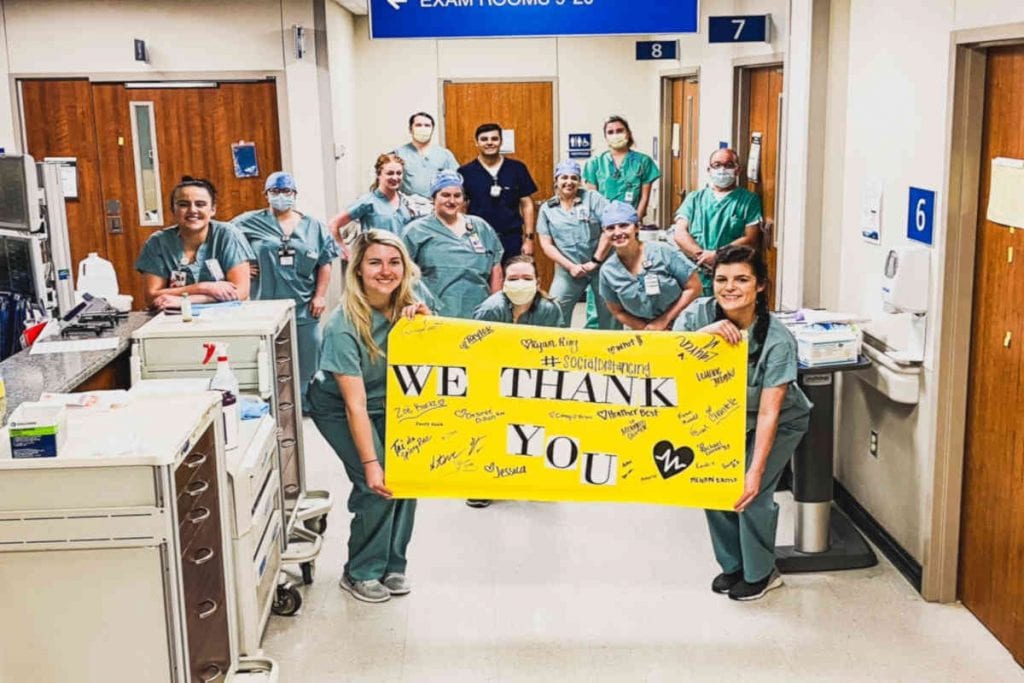 BE A HERO. THANK A HERO – Al Copeland Foundation works to support Louisiana's COVID-19 front-line heroes
Right now, the Al Copeland Foundation is partnering with suppliers to deliver essential care packages with items individually identified by Louisiana hospitals to courageous first responders working tirelessly in the fight against COVID-19. Doctors, nurses, EMT's, paramedics, firefighters, and policemen and women from across the state bravely show up for work each day with little time to take care of their own needs. The Al Copeland Foundation has launched the "Be A Hero. Thank a Hero" campaign to provide a level of comfort in an overly chaotic work environment for these real-life heroes.
"After working long, grueling shifts, they often are left with little or no time to refuel. We are listening to the needs of the hospitals and identifying with our suppliers items to send. We hope that the essential care packages will offer some relief and make a difference in their lives."

Al Copeland, CEO and Chairman of the Al Copeland Foundation.
The Copeland Family kicked off the campaign with a $10,000 donation to provide essential care packages to four area hospitals: Touro, Ochsner Kenner, Ochsner Northshore and Our Lady of The Lake Hospital.
To donate, please go to BeAHeroThankAHero.com.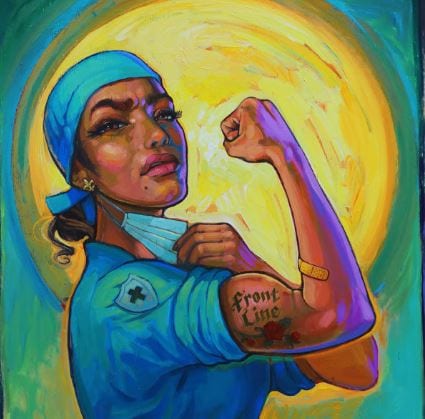 Terrance Osborne
New Orleans artist, Terrance Osborne, is doing his part to help those fighting on the front lines of the COVID-19 pandamic. His latest work is called "Front Line." It is meant to honor doctors and nurses along with grocery store workers and everybody else who is working to keep the city safe. The piece was inspired by the popular World War II work "Rosie the Riveter" and shows a health care provider in a similar pose.
Osborne said he is planning to donate 1,000 prints of the work to local hospitals.
For more information visit: https://terranceosborne.com/product/front-line/
Helping Artists & Musicians
Creative Responds Relief
In light of the COVID-19 crisis, Platforms Fund has suspended its normal granting program in order to provide $2,000 individual emergency relief grants to local creators. The Andy Warhol Foundation for the Visual Arts has allowed all Regional Re-granting Program sites, of which Platforms Fund is one of sixteen, to re-allocate their annual $100,000 grants to establish and administer COVID-19 emergency relief funds in their communities. This initial support seeded the Creative Response Relief Fund, which in addition to Antenna and Ashé Cultural Arts Center, now includes the efforts of Junebug Productions and the Weavers Fellowship, pooling resources to distribute a total of $190,000 in support within the greater New Orleans region.
For more information visit: https://creativeresponse.works/collaborative-relief-fund/
Contemporary Arts Center
The CAC is committed to support performing and visual artists in our community, Click the link below to find a page which is updated daily with new resources and opportunities . Newly-added entries will be displayed at the top of each section.
For more rescources visit: https://cacno.org/covid19
If you know of a helpful resource or opportunity that is missing from this list, please send it to us at [email protected].
The Howlin' Wolf and The New Orleans Musicians' Clinic
Right now the Howlin' Wolf and The New Orleans Musicians' Clinic are offering food vouchers to musicians, which can be used for pre-made meals available for curbside pickup noon to 2 p.m. every Monday, Wednesday and Friday at The Howlin' Wolf Den. Claim your vouchers by emailing [email protected].
The Music & Cultural Coalition Of New Orleans
Some musicians, street performers, artists, and other members of the cultural community are having difficulty accessing them, whether it be due to lack of documentation, ineligibility, or capacity limitations. The CCNO says they are working to help make sure no one falls through the cracks.
If you need help visit: https://maccno.com/
Helping Hospitality Workers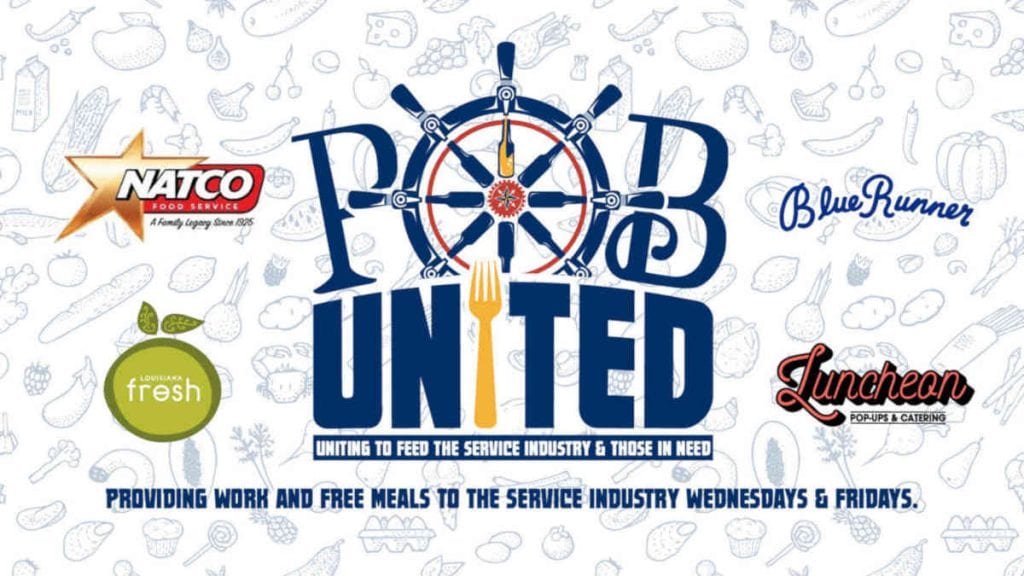 PORT ORLEANS LAUNCHES NON-PROFIT "POB UNITED"
Port Orleans Brewing Co. is partnering with NATCO Food Service, Louisiana Fresh Produce, and Blue Runner Red Beans to serve freshly prepared food for pick-up for service industry employees. The free meals will help those in need until they are able to get back to work.
"I am grateful to be able to provide some assistance to those who have given so much of themselves to make New Orleans what it is today—a city full of love and hospitality."

Port Orleans Brewing Co., Zach Strief
The money raised through POB United will be used to purchase goods from NATCO, Louisiana Fresh, and Blue Runner and will employ local chefs with their teams to cook the meals, thus providing them with a paycheck, while providing meals for others. Approximately 500 free meals will be distributed every Wednesday and Friday through the end of May at Port Orleans Brewing Company, located at 4124 Tchoupitoulas St.
For more information visit: www.portorleansbrewingco.com
Gayle Benson Community Assistance Fund
The New Orleans Saints and Pelicans owner Gayle Benson has donated 1 million dollars – creating a fund together with the Greater New Orleans Foundation. The money will support service and hospitality workers.
For more information visit: https://www.gnof.org/benson/