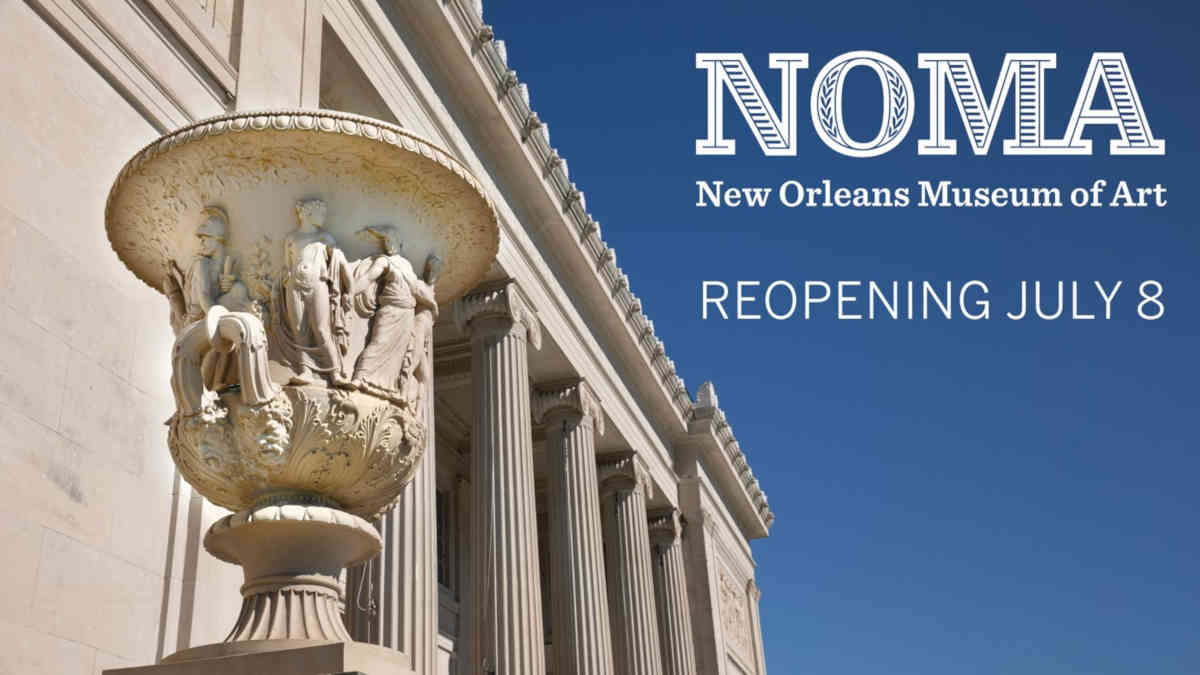 Have you missed the New Orleans Museum Of Art (NOMA) the last couple of months? Good news NOMA announced on its website it will reopen on Wednesday, July 8. The Besthoff Sculpture Garden is already open to the public Wednesday through Sunday.
NOMA Community Support
Through the month of July, NOMA will serve as a donation drop-off location for Second Harvest Food Bank. If you donate non-perishable items you will receive a 15% discount at the NOMA Museum Shop. You can make drop-offs Wednesday-Sunday 10 am–5 pm, starting on July 8.
Healthcare workers and first responders are free through December 31, 2020. This includes admission to the Besthoff Sculpture Garden.
Every Wednesday admission is FREE for Louisiana residents, courtesy of The Helis Foundation. (This does not include admission to the Besthoff Sculpture Garden.)
What You Need To Know Before You Go
For now, NOMA is implementing online timed ticketing for visitors and members. Buy your ticket HERE. This means after you bought your ticket, you will receive an email with an order confirmation with an e-ticket attached. Please give your name and show your e-ticket (printed or on your phone) at the Visitor Services desk upon arrival. NOMA is operating on limited capacity (50%) and no social gatherings will be allowed. Gallery attendants will monitor social distancing and foot-traffic flow.
When entering NOMA you will have to wear a mask. If you forgot your mask, you will be able to purchase one upon entry. Since bag check rooms are closed right now, plan ahead and only bring a small handbag with you. If you are not feeling well, especially if you have a fever, please stay home and visit NOMA at a later date when you feel better.
NOMA will be open Wednesday through Sunday, 10 am to 5 pm. The first hour (10 a.m – 11.a.m) will be reserved for seniors and immuno-compromised visitors.
For more information visit: https://noma.org/