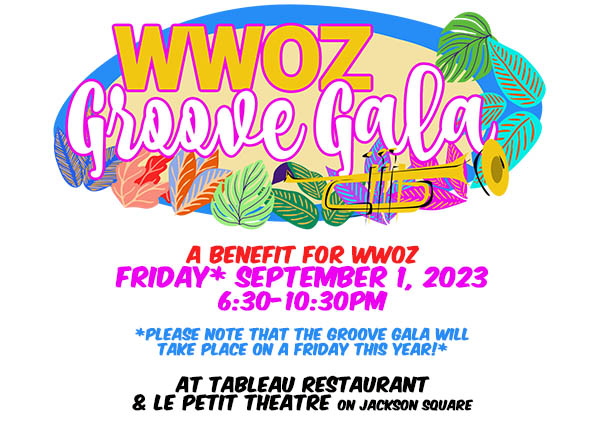 September 1, 2023 |
6:30pm-10:30pm
This is not your average gala! Leave your tuxes and gowns at home to join us in your favorite festival attire to celebrate WWOZ!
Catch music at three Groove Gala Fest Stages spread over two floors of Tableau and in the Courtyard
Revel in fine flavors of gourmet food provided by Dickie Brennan & Company's Tableau restaurant
Enjoy beverages from three open bars
It's a festival, so of course, we will have WWOZ Mango Freeze
All of this before heading into Le Petit Theatre for the Main Stage Showcase
Live Auction – Your chance to bid on unique WWOZ experiences and art
Wrap up the night with dessert and dancing to grooves spun by one of your favorite WWOZ DJs
Tickets click-> HERE
Interested in learning about Groove Gala Sponsorship?
Email [email protected] for more information.
Thank you to our hosts and sponsors:
Groove Gala Chairperson:
Bruce Wainer
Every Groove Gala ticket purchased is a gift to WWOZ that helps keep our turntables spinning and New Orleans music fans grooving the world over.
Thank you!