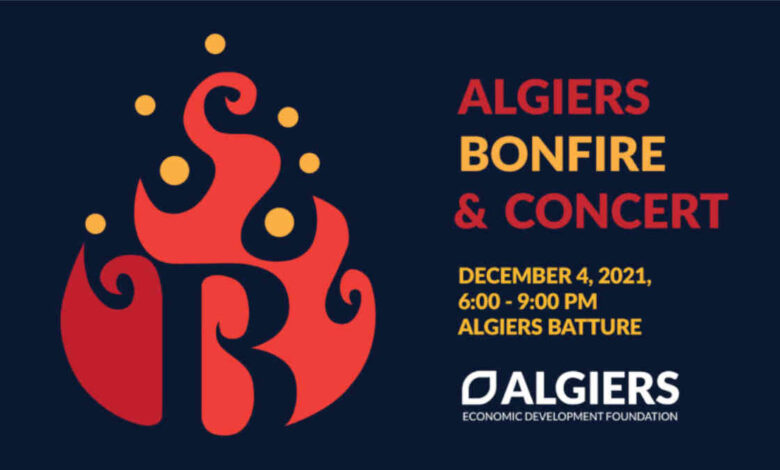 Let the bonfires begin…… On Saturday, December 4, 2021, starting at 5:30pm the bonfires will take place at the Algiers Bonfire & Concert. The Algiers Bonfire and Concert is Algiers' biggest annual holiday celebration and New Orleans' only official holiday bonfire. Each year it draws over 10,000 attendees from all over Louisiana and beyond. 
Listen to musical performances, eat food from local vendors, and shop at the holiday craft market. The star of the event however, is the 30' sculptural bonfire, designed by NOLA Burners, which is then set ablaze. Easily accessible with the Algiers ferry, and with the New Orleans' skyline as the perfect backdrop, this event cannot be missed!
Get your holiday shopping done with our Algiers holiday market, in partnership with Bounyful Market and StayLocal! Specialty holiday cocktails provided by Happy Raptor Distilling and beer from Southern Eagle.
This year, we have the wonderful Casme headlining, DJ Rik Ducci, All Saints Church Choir and LB Landry Jazz Ensemble!

Algiers Bonfire & Concert Details
Date/Time:
Date: Saturday, December 4, 2021 Time: 5:30 PM – 9:00 PM CST
Location: 
201 Morgan Street, New Orleans, LA 70114
Link: https://www.facebook.com/events/847763852608806/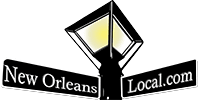 New Orleans Local is your best resource for the latest events happening around the city. If you like the theater, we've got you covered with all sorts of great safe events and lots of virtual events. Whether you are looking for festivals, parties, theater, charity events or events for kids, we have everything you need to be in the "know."  Our Calendar of Events welcomes any organization or business to submit events and happenings – HERE – to help let our community know what is happening around town. Everybody knows about Mardi Gras, but do they know about the latest charitable event, local marathons, holiday events, or reveillon dinners? Submit your event with a great photo, so we can let people know what events you want to help to promote in the New Orleans area.  Laissez Les Bons Temps Rouler!