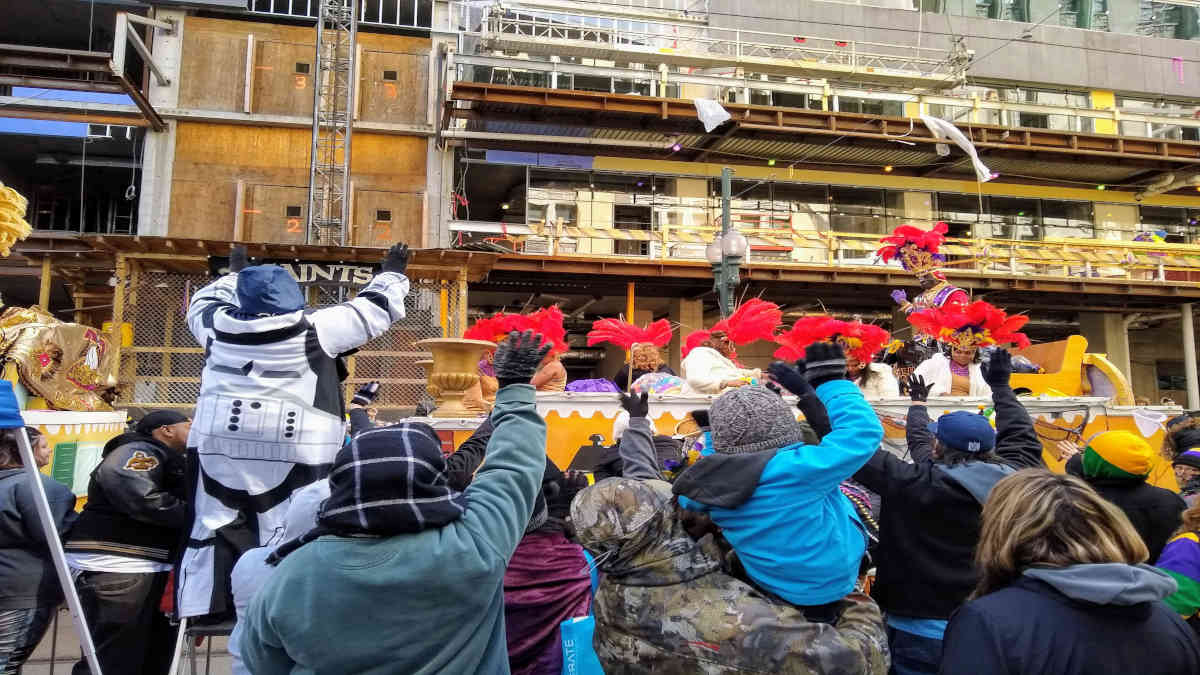 Heading out to the parade route is so much fun! It does not matter if you are on the Uptown route, in the French Quarter, in Metairie or any of the other parade routes around New Orleans or surrounding cities. There are a few regulations you need to know about before you go. We would also like to remind you to be courteous to fellow parade revelers. Here are a few things you should keep in mind:
Parade Route Regulations
You cannot rope off areas of the neutral ground, public sidewalks, or other public property. It is prohibited by law. If you plan on building structures on the parade route such as viewing stands or bleachers, you will need to get a permit. Check with your local authorities. You will also need a permit for shade tents that are bigger than 10′ X 10′. You cannot have fully enclosed tents, or tents with side panels on the parade route. Tents need to be put up at least six feet from the street curb. They cannot be placed on the neutral ground and you cannot leave them overnight. All ladders must be structurally sound and also be placed at least six feet from the street curb. Don't leave them overnight or they will get thrown away. If you are planning on bringing a grill, make sure it is at least six feet away from the street curb. Never put hot coals in public trash cans or on the neutral ground. Also take your grill back home with you and don't leave it overnight.
For more information visit: https://ready.nola.gov/mardi-gras/what-to-bring/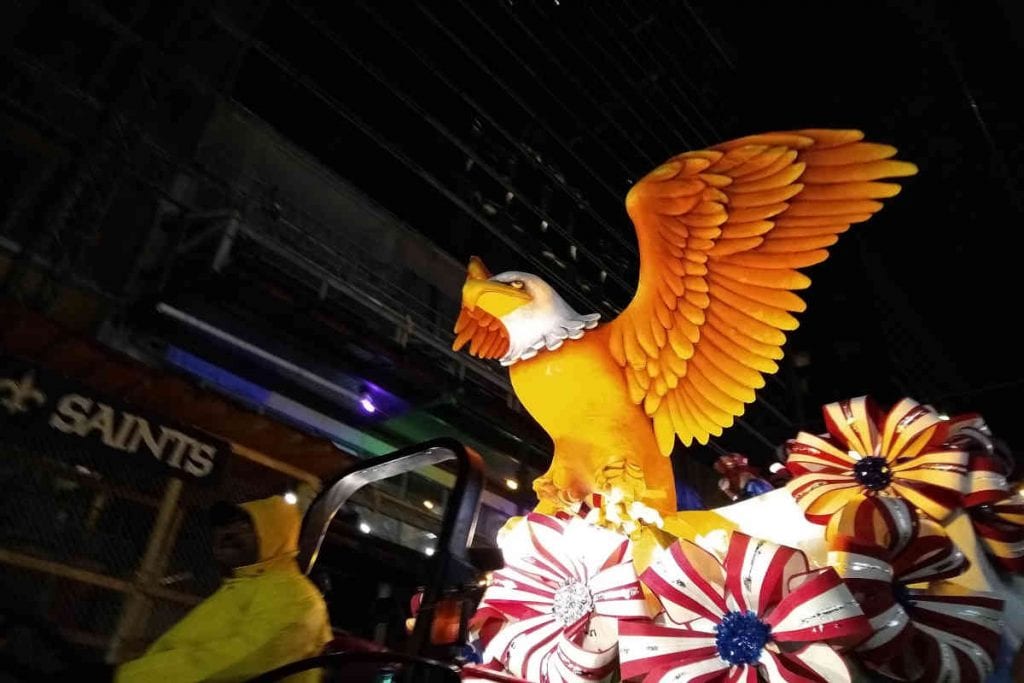 Parade Route Etiquette
Pace yourself when it comes to drinking on the parade route. If you start the day with shots, you will most likely miss a lot of the real fun and also you could embarrass yourself. What happens in New Orleans, goes on Youtube. Also, keep in mind there will be lots of children on the parade route. Carnival season is family time. When you catch a nice throw, consider giving it up to some of the kids, as the reward may be even better than the bead. Kids should have the most fun during the Carnival season. You can always catch another one. Do not try to catch a throw that isn't intended for you. Yes, we have seen grown-up trying to take beads and other items from little children on the parade route. Try to stay away from the Mardi Gras ladders. They are for smaller kids so they have a chance to catch some beads. When finding your spot on the parade route, be courteous and do not just stand in front of groups who may have been there for hours. If you want a prime spot, head out early. Do not move other people's stuff. Also, it is a myth that you have to take your shirt off get throws……again, remember the kids around you. Do not pick up beads from the ground, especially if they land in a water puddle, as you never know what you may get. The streets of New Orleans can get rather nasty during the Carnival season. They can also get stuck under the wheels of the floats on the parade route. There is plenty to catch! The number one rule of the Carnival season is have fun and enjoy and let others have fun and enjoy!