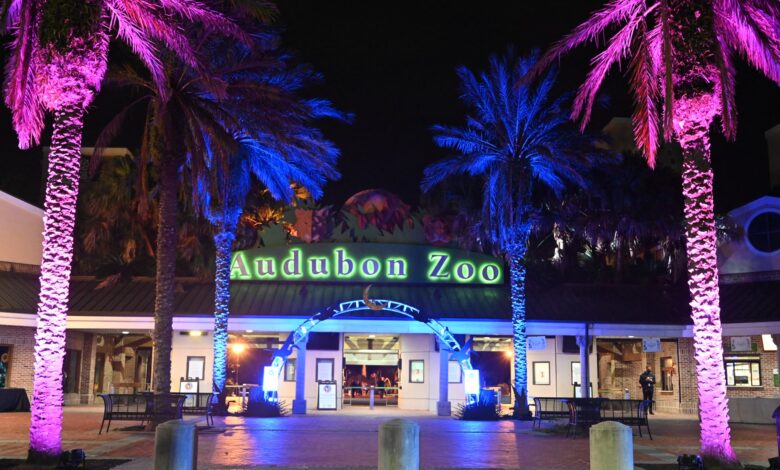 April 28, 2023 |
Hancock Whitney Zoo-To-Do
Tickets click-> HERE
Headline Entertainment:
The Phunky Monkeys
Featured Entertainment:
Vivaz
Geovane Santos Duo
Jose Fermin and Merengue4-FOUR
Purchase Sponsor & Patron Tickets
Hightail It to Audubon Zoo: Celebrate Spider Monkeys
Celebrate Audubon Zoo's Spider Monkey Habitat Expansion and Conservation Efforts!
Black Tie or White Linen Suit for Gentlemen & Cocktail Attire for Ladies – Ages 21+
8 PM – 11 PM
Sponsor & Patron Entry: 7 PM
Sponsor/Patron Benefits
$12,500 Conservator Sponsor
$7,500 Curator Sponsor
Gayle Benson Automotive Family of Dealerships
Burkart Family
Blue Cross and Blue Shield of Louisiana
Michele Reynoir and Kevin Clifford
Bart & Cherise Farris
Jerome S. Glazer Foundation, Inc.
The Gustaf W. McIlhenny Foundation
The Eugenie & Joseph Jones Family Foundation
Michele Reynoir & Kevin Clifford
Sholas Medical Consulting, LLC T.
T. Parker Host
Valero Energy Foundation
View Raffle Rules of Entry
CAPTRUST New Orleans
Mathilde and Richard Currence
Henry Street Fund
The Eugenie and Joseph Jones Family Foundation
Linda & Gordon Kolb and Holt & Gordo Kolb
Christopher Villere
Virginia Boulet & Alvin R. Albe, Jr.
Bayou Tree Service
Bellwether Technology Corporation
Bowling Christiansen Law Firm
Caesar's Entertainment
Entergy New Orleans, LLC
GVH Field Strategies, LLC
Jones Walker LLP
Beth and Hugh Lambert
NOLA Couture
Search Influence
Kitty & Stephen Sherrill
Anne and Sandy Villere III
$5,000 Keeper Sponsor
Conservation Champion
Friday, April 28, 2023
Audubon Zoo
DONATE AUCTION ITEMS
-Entertainment-