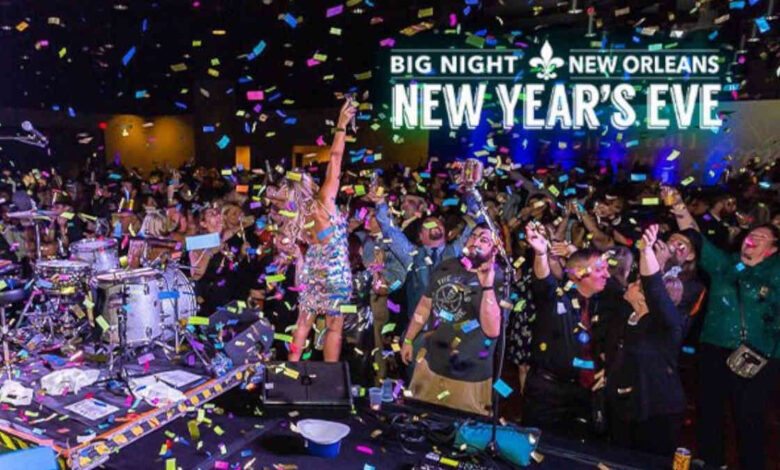 What are you doing for New Year's? How about going to the biggest New Year's party around? Six hours of partying, awesome band lineup, Huge DJ Lineup, Midnight Celebration, Party Favors, Great Food, and so much more.
Date: December 31, 2021
Time: 9:00 pm – 1:30 am
Location: Hyatt Regency New Orleans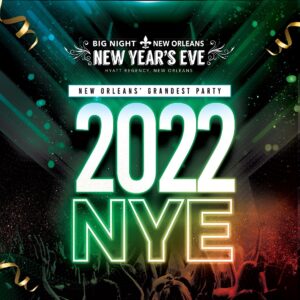 We've been waiting a long time for this (we missed you last year!) so we're looking forward to opening the doors to the ballrooms at the Hyatt Regency and welcoming you back for all of the bubbles and bling, cocktails and confetti, music and merriment that Big Night New Orleans is known for!
Big Night New Orleans Ticket Details
Tickets for Big Night New Orleans 2021-22 are on sale now and will go quickly!​
​Groups sales are available now! Contact us
TICKET OPTION I: All-Inclusive "Main Event" ticket options:
​Main Event "(No Food)" Ticket – 9PM event entry:
​​Main Event "(After 10:30PM entry)" Ticket:
​​**NOTE: MAIN EVENT TICKETS are standing room only. There is no seating in Main Event!
​​TICKET OPTION II: "VIP" Ticket – 9PM event entry:
​​Try something a little more special: the "VIP" upgrade
The VIP Ticket grants full access to ALL "Main Event" party areas and amenities, as well as access to multiple, elegant VIP party areas featuring the following premium upgrades:
TICKET OPTION III: Velvet Rope Ticket – 8 Block Restaurant 8PM event entry:
​This pinnacle ticket option has proven to be very popular for people attending Big Night New Orleans who want the utmost in food, beverage, service and ambiance.
The Big Night New Orleans Velvet Rope program includes full access to all other Main Event & VIP event areas and their amenities.
Click here for detailed information on the Velvet Rope ticket option dining & beverage selections.