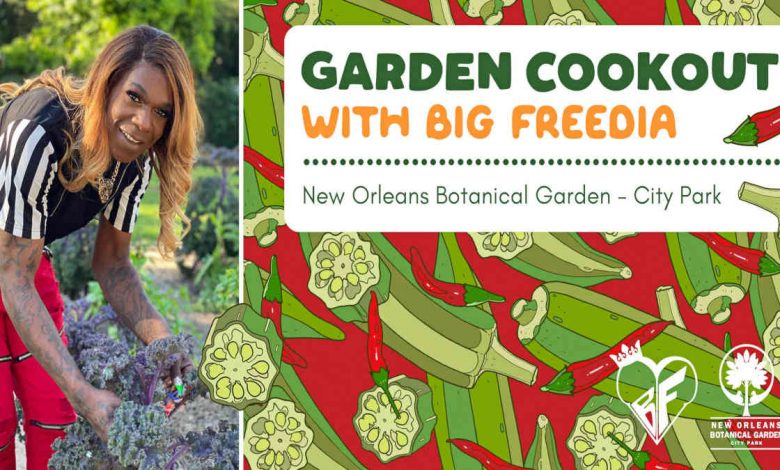 Did you know that Big Freedia loves cooking? Now you get a chance to come and see what Big Freedia's cooking up in the City Park's Botanical Garden. Big Freedia and crew will be cooking dinner for you under the stars in the beautiful Botanical Garden at City Park every Thursday through July.
What You Need To Know About Big Freedia's Cookout
In order to maintain social distancing, tickets are available in groups of 2 or 4.
Tickets for Garden Cookout with Big Freedia cost $75. You will get (1) three course meal, one (1) Big Freedia's kitchen signature cocktail and collectible cup, and a meet and greet and photo with the Queen Diva herself. There will also be cash bar for additional beverage purchases.
Your ticket price also includes a $10 donation to maintain and preserve the New Orleans Botanical Gardens at City Park.
Get there on time, doors open at 7 PM through the Rotary Gate of the Botanical Garden.
Cocktail hour is 7-8 PM. 8 PM begins a live cooking demonstration with Big Freedia, and dinner is served shortly after. All guests must exit the Garden by 10pm.
To stop the spread of COVID- 19, we strongly encourage wearing a mask upon entry/exit, in common areas, and restrooms. A mask is not required once you are seated at your table.
Garden Cookout with Big Freedia is a rain or shine event, but we reserve the right to cancel the event due to inclement weather. In the event Garden Cookout with Big Freedia is cancelled, all tickets will be fully refunded.
Dietary restrictions and substitutions cannot be accommodated. All meals will likely include Fish or Meat, Dairy, and Gluten. Please review the menu on the date of the show before selecting your tickets.
For more information visit: https://www.eventbrite.com/e/garden-cookout-with-big-freedia-tickets-110182645258