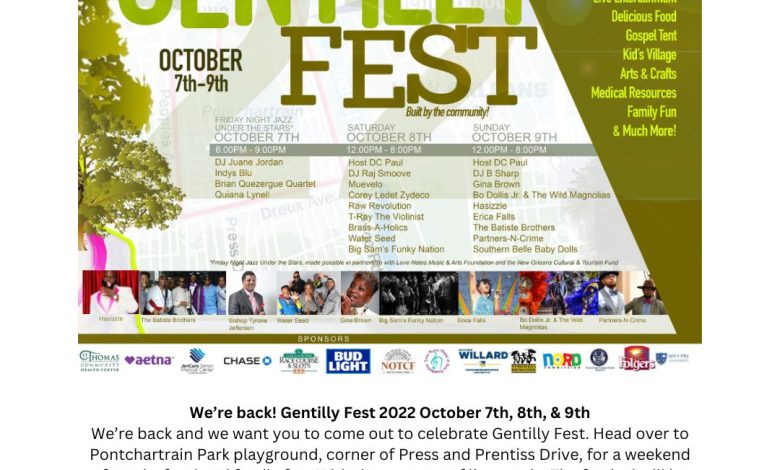 October 7-9, 2022 |
Gentilly Fest celebrates all things "Gentilly," including continuous live music on three stages, sumptuous food from a variety of local restaurants & caterers and fine arts and crafts for sale from many local vendors.
We have activities for children in our Kids' Village including pony rides, a kids entertainment stage, face painting, pottery making, garden crafts and much more…
Gentilly Fest also offers a variety of practical recovery information offered by local organizations and an opportunity for neighbors and friends to come together with their families in a safe, festive environment to build closer relationships with our police & fire departments, elected officials and each other.
Gentilly Festival is a 501(c3) non-profit, community focused organization.
Gentilly Festival Food Vendors
The Wing Spot NO – Flavored Wings, Crawfish Dogs, Crawfish Bread, Chicken on a stick, Pralines, Praline topped treats: Cake, Brownies, Muffins
Café Dauphine/Banner – Deep Fried Seafood, Stuffed Bell Pepper, Lizardi Rolls, Cajun Seafood Eggrolls, Shrimp Remoulade
Bayou Soul Food & Spirits – Yakamein, Grilled Catfish Remoulade PoBoy, White Chocolate Bread Pudding, Bayou Seafood Rolls
Heaven Kitchen Catering – Shrimp and grits, Fried Voodoo wings w/fries & seafood sauce, Bread pudding, peach cobbler
LaDelyo's Creole Catering LLC/Banner – Crawfish Loaded Fries, Creole Gumbo, Crispy Fried Catfish w/Fries or potato salad, Peach Cobbler w/ice cream
Lil Dustin's Italian Ice/Banner – Italian Ice, Deep Fried Oreos w/ice cream, Crawfish Nachos, Grill Shrimp Foil Pack
Holy Cross Lutheran Church/Banner – Hot Dogs, Fries, Chilli, Cheese, Sausage
Greater N. O. Teen Challenge/Banner – Snowballs, Funnel Cakes, Nachos & Cheese
Soule Cafe – Red Beans & Rice, Spinach dip, Beignet Fries/Bites, Veggie Spring Rolls, Fried shrimp w/fries
Soul Sistas Provisions LLC – Chicken & Sausage Gumbo, Seafood Fries, Philly Steak with Fries, Seafood Mac & Cheese
J.T.L.C. Turkey Wings & Things Jeff's Tender Love & Culture, LLC – Turkey wings (fried), French Fries, Dipping Sauce
Geaux Nuts'N New Orleans & NeNe B Sweets – Glazed Pecans & Cashews, Fried Bread Pudding with Praline, Praline Brownie, Cake jars, Peach Cobbler & Ice Cream
Big Bertha BBQ & Seafood – Crawfish Monica, BBQ ribs, pulled pork, chicken& turkey legs, Brisket, and smoked sausage
Morrow's – Oyster Morrow, Cajun Crawfish Pasta
Lenora's Catering, LLC – Gumbo Ramen
Monday – Salmon Burgers, Sweet Potato Beignets
Let Us Cater For You – Fried Ribs, Swamp Dip, Hot Link/w fries, Ghetto Burgers w/shrimp&fries, Seafood rice
Foodies – Okra w/Shrimp & Fried Fish, Cornbread, Bread Pudding
Tigers Creole Cuisine – Fried Chicken and Greens
Mainstage Friday Night Kickoff: Jazz Under the Stars
Indys Blu 6:15-6:45
Brian Quezergue Quartet 7:00-7:45
Quiana Lynell 8:00-9:00
Mainstage Saturday, October 8, 2022
Host DC PauL 12:00 – 7:00
DJ Raj Smoove 12:00 – 6:00
Muevelo 12:00 – 12:45
Corey Ledet Zydeco 1:05 -1:50
Raw Revolution 2:10 – 3:10
T-Ray the Violinist 3:30 – 4:15
Brass A Holics 4:35 – 5:20
Water Seed 5:40 – 6:40
Big Sam Funky Nation 7:00 – 8:00
Mainstage Sunday, October 9, 2022
Host DC PauL 12:00 – 7:00
DJ BSharp 12:00 – 6:00
Gina Brown 1:00 – 1:45
Bo Dollis & the Wild Magnolias 2:05 – 3:05
HaSizzle 3:25 – 4:10
Erica Falls 4:30 – 5:30
The Batiste Brothers 5:50 – 6:50
Partners N Crime (P-N-C) 7:10 – 8:10
Friday Night Jazz under the stars, made possible in partnership with Love Notes Music & Arts Foundation and the New Orleans Cultural & Tourism Fund
GOSPEL TENT SCHEDULE 2022
SATURDAY – OCT.08,2022
1:00-1:30 St Raymond-& St Leo
1:40- 2:15 Craig Adams & Voices of New Orleans
2:30-3:00 Akia Nevills
3:15- 4:00 Watson Memorial (WB)
4:15- 4:50 First Grace United Methodist
5:00- Greater St, Stephen FGBC
SUNDAY – OCT.09,2022
12:45- 1:15 Inspirational Gospel Singer
1:20-:200 Men of Bethel Coloney South
2:15-2:40 Edna Karr Choir
2:45-3:15 Pentecost Baptist
3:20-400 Created to Worship
4:00- Bishop Tyrone Jefferson & Abundant Tabernacle
Craig Adams
Bishop Tyrone Jefferson & The Tabernacle