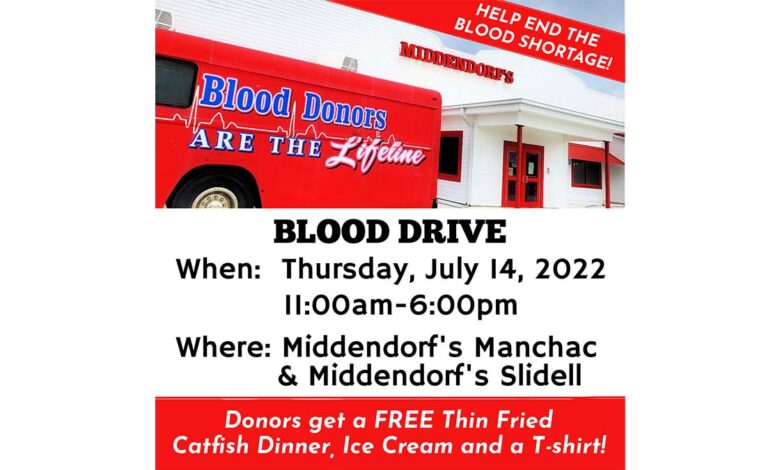 Middendorf's Blood Drive – FREE THIN FRIED CATFISH FOR BLOOD DONORS
To mark Middendorf's 88th Anniversary this month, the seafood restaurant will host Blood Drives to help their communities in Tangipahoa and St. Tammany Parishes.
The Blood Drives are scheduled for Thursday, July 14, 2022, 11:00am-6:00pm at Middendorf's Manchac and Middendorf's Slidell. All donors will receive a FREE Thin Fried Catfish Dinner, a FREE pint of Blue Bell Ice Cream, a FREE Blood Center T-shirt and the BEST FEELING EVER for helping others.
"Every one of us has so much going on that it's tough to add one more thing to the to-do list. By
hosting the blood drives at our locations in Manchac and Slidell, we hope to make it more
convenient and timesaving for donors," said Middendorf's Owner Karen Pfeifer. "The Blood Center
always does a great job of organizing everything, we just have to help get the word out, and get
busy making a lot of Thin Fried Catfish for the generous, life-saving donors. We are very thankful to
all of them, and we are more than happy to do our part."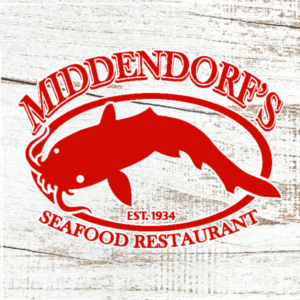 Donors are encouraged to make an appointment.
• BLOOD DRIVE – MIDDENDORF'S SLIDELL
https://www.tbcdonors.org/donor/schedules/drive_schedule/45778
• BLOOD DRIVE – MIDDENDORF'S MANCHAC
https://www.tbcdonors.org/donor/schedules/drive_schedule/46432
The direct links to register can also be found on Middendorf's website
(MiddendorfsRestaurant.com). For more information on donating blood, visit TheBloodCenter.org.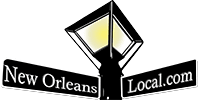 New Orleans Local is your best resource for the latest events happening around the city. If you like the theater, we've got you covered with all sorts of great safe events and lots of virtual events. Whether you are looking for festivals, parties, theater, charity events or events for kids, we have everything you need to be in the "know." Our Calendar of Events welcomes any organization or business to submit events and happenings – HERE – to help let our community know what is happening around town. Everybody knows about Mardi Gras, but do they know about the latest charitable event, local marathons, holiday events, or reveillon dinners? Submit your event with a great photo, so we can let people know what events you want to help to promote in the New Orleans area. Laissez Les Bons Temps Rouler!