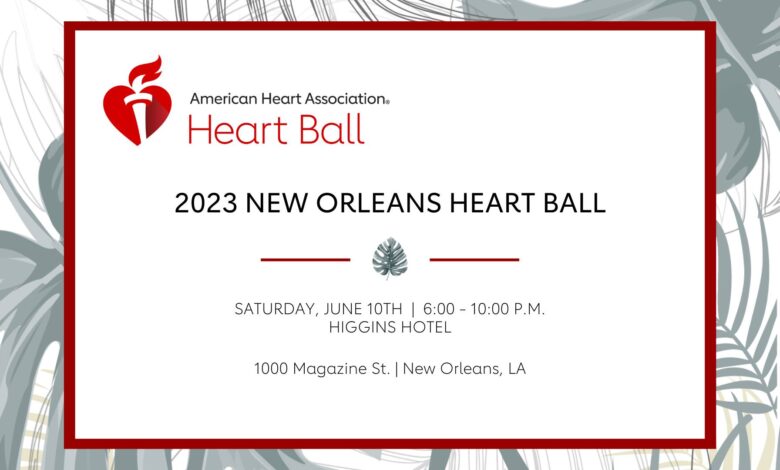 June 10, 2023 |
The Higgins Hotel New Orleans
Together, we are relentlessly focused on the heart of our community. Through the Heart of New Orleans Heart Ball campaign, we celebrate our collective success in driving change, funding science and improving behaviors – no matter where, or how, we gather. That means taking our efforts beyond the ballroom, working every day to help every heart.
In more than 150 communities across the country, Heart Ball supporters unite with a shared purpose to raise the critical funds we need to ensure our work continues. Throughout our campaign we celebrate our milestones, we thank our sponsors and we honor our heroes. We come together to achieve something bigger than ourselves. We live fierce and fight for all.
Tickets click-> HERE
To learn more about our year-round campaign, including leadership and sponsors, visit our campaign site.
For more information or questions about this event, please contact [email protected].
COVID-19 Protocols
The American Heart Association is creating mask-friendly environments at all our events. Please do not attend the event if you are not feeling well or have symptoms, irrespective of your vaccine status. If you have a condition that weakens your immune system or take certain medications, you may need to take extra precautions even if you are fully vaccinated, as instructed by your doctor. The AHA encourages you and everyone you love, care for, or care about to be vaccinated and boosted.
Professional Photography On Site
By attending the event, you consent to be filmed, photographed, broadcasted or otherwise recorded. You also give the American Heart Association, Inc. your consent to use your name, recording, photograph, likeness, voice, actions, silhouette, appearance, and any statements made by you, in any publicity, publications, promotional and marketing material, advertising, and any other print materials, webpages, electronic or other media or communication published or distributed by the American Heart Association, Inc., in perpetuity and without compensation or notice.
The Higgins Hotel New Orleans, Curio Collection by Hilt
1000 Magazine St, New Orleans, LA 70130, USA
Tickets click-> HERE