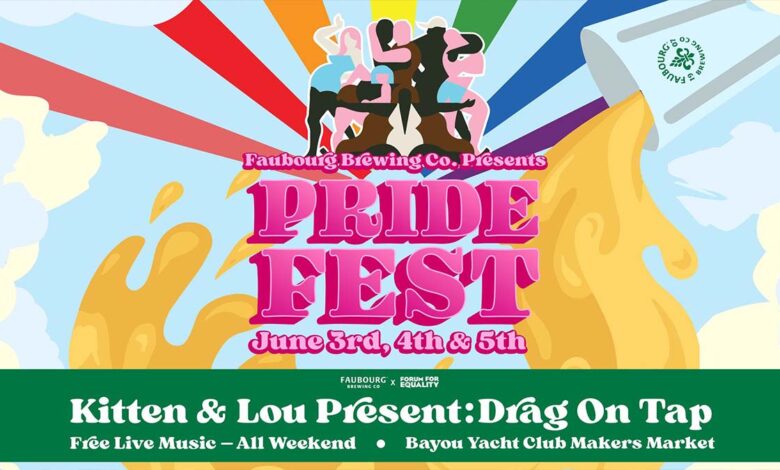 ALL ARE WELCOME at Faubourg's FREE Pride Fest! Come celebrate with a special lineup of events all weekend long! Friday there will be Drag on Tap (Drag Show), Saturday there will be live music by Lilli Lewis, Ever More Nest, Bruisey Peets, Jump School, And Sunday there will be Loose Cattle, J Rees Trio, Joy Clark and John Boutte. Plus, there will be lots of vendors including Queens Snoballs, Poppin Groumet Popcorn, Dad's Dominoes, Gumbo Stop, Decorated Jewelry, Bayou Yacht Club Makers Market, Stonewall Sports, and so much more. Open to all ages and it is dog-friendly. Proceeds from Merchandise sold from the Faubroug store will benefit the Forum for Equality (Louisiana LGBTQ human Rights organization). Learn more – HERE.

Pride Fest Details
Friday, June 3:
4-6pm: Happy Hour feat. $4 Pints!
6:30pm-7:30: Drag on Tap presented by Kitten N' Lou – Family-friendly drag show!
Hosted by Laveau Contraire with Tarah Cards, Qween Quan & Woody Shticks
Reserve a picnic table for the show! $50 gets you and your krewe a picnic table that seats six people near the front of the stage AND a bucket of beer, six 16 oz. Faubourg Lagers! Interested? Email [email protected] to reserve your table!
Saturday, June 4:
Live Music:
12pm: Lilli Lewis
1:30pm: Ever More Nest
3:30pm: Bruisey Peets
5:30pm: Jump School
Food Vendors: Fete au Fete, Taceaux Loceaux, Da Hot Box, It's NOLA Baaaby, Poppin Gourmet Popcorn, Spun Fun Cotton Candy & Queens Snoballs
Vendors:
11-5pm: LA Dept of Health TelePrEP
11-8pm: Forum for Equality
11-8pm: Stonewall Sports
11-6pm: Bayou Yacht Club Makers Market (vendors below)
Sunday, June 5:
12pm: Loose Cattle
1:30pm: J Rees Trio
3:30pm: Joy Clark
5:30pm: John Boutté
Food Vendors: Fete au Fete, Da Hot Box, It's NOLA Baaaby, Cocina Rico NOLA, & Queens Snoballs
Vendors:
11-8pm: Forum for Equality
11-8pm: Stonewall Sports
11-6pm: Bayou Yacht Club Makers Market (vendors below)
Sat & Sun Makers Market Vendors:
Breathe Enlight
Hot Cat Goods
Pet Wants French Quarter
Mitzi Wear
Dad's Dominoes
Sweet Jane Jackets
Gumbo Stop Gallery
Decorated Jewelry, LLC
Paper Snapdragon
Ben Collongues Photography, LLC
Elspeth's Airs Natural Perfumes
Florinda
Betsy But Mainly Garcia
Magnolia Studios
DomChanel Art
Sassy Banana Design Co.
We are proud to partner with Louisiana's LGBTQ human rights organization, Forum for Equality, with all net proceeds from Pride merch sales benefiting this incredible organization.
Shop our newest Pride gear!
Our outdoor beer garden and great lawn feature three bocce ball courts, a 9-hole disc golf course, corn hole, giant Jenga and many more yard games. You can even bring in your own chairs, blankets and umbrellas.
Please note: This is not a ticketed event. Live music is FREE and beer, food and merch will be available for purchase. Please no outside food or drinks.
Open to all ages and dog-friendly.
Location:
Faubourg Brewing Co.
3501 Jourdan Rd.
New Orleans, LA 70122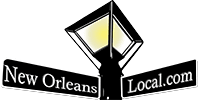 New Orleans Local is your best resource for the latest events happening around the city. If you like the theater, we've got you covered with all sorts of great safe events and lots of virtual events. Whether you are looking for festivals, parties, theater, charity events or events for kids, we have everything you need to be in the "know."  Our Calendar of Events welcomes any organization or business to submit events and happenings – HERE – to help let our community know what is happening around town. Everybody knows about Mardi Gras, but do they know about the latest charitable event, local marathons, holiday events, or reveillon dinners? Submit your event with a great photo, so we can let people know what events you want to help to promote in the New Orleans area.  Laissez Les Bons Temps Rouler!