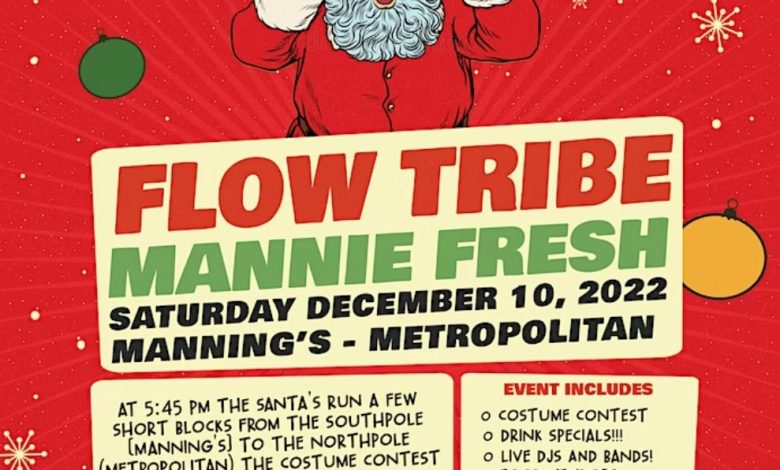 December 10, 2022 |
Running of the Santas returns to the Warehouse District for an unbelievable day of events! DRINK SPECIALS AT ALL LOCATIONS!!!
South Pole – 2:00pm at Manning's. A HUGE party with drink specials and GREAT Music! Doors open at 2pm. VIPs get FREE BEER at Manning's! Costume contest and prizes!
At 6pm, the Santas will "RUN" from the "South Pole- Mannings" to the "North Pole – Generations Hall" (only a few blocks). The "Runners" will assemble on Lafayette Street at the corner of South Peters. A portion of the proceeds benefits "That Others May Live" Foundation.
LIVE MUSIC BY CATEGORY 6 at GENERATIONS HALL (aka "North Pole") starting at 6pm!!!
GENERAL ADMISSION TICKET
• Includes admission to Manning's & Generations Hall WITH Live entertainment by FLOW TRIBE & MANNIE FRESH
• Cutest Santa and Best Costume Contests
• Outstanding drink specials
• Charitable donation to "That Others May Live" Foundation
VIP TICKET
$75.00 (Only 50 of these Tickets Available at $75 and then prices increase)
• Open Bar Package at Generations Hall from 6:00-10:00pm
• Free Beer at Manning
• Live entertainment by FLOW TRIBE & MANNIE FRESH starting at 6pm
• Cutest Santa and Best Costume Contests at Mannings
• Outstanding drink specials
• Charitable donation to "That Others May Live" Foundation
• Exclusive access to the VIP Lounge at Generations Hall
Tickets click -> HERE