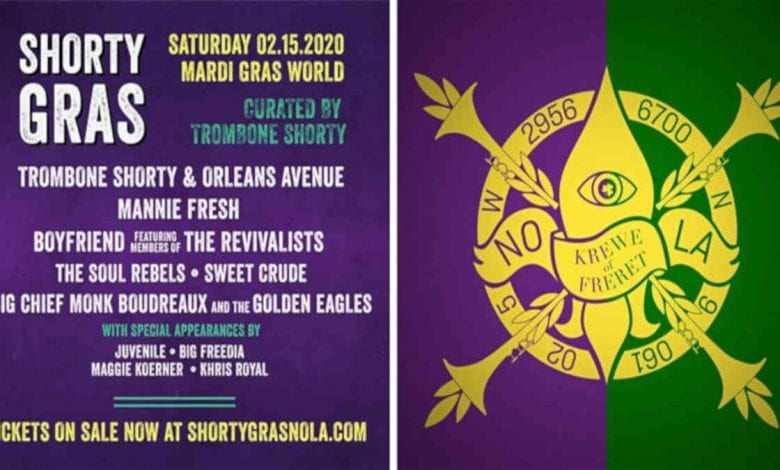 This year, the Krewe Of Freret is teaming up with Trombone Shorty for Shorty Gras. The Krewe of Freret and Trombone Shorty will present a "Music Of New Orleans" themed parade on February 15th 2020. Trombone Shorty is the Krewe's 2020 parade Marshall. Shorty Gras will take place at Mardi Gras World after the parade.
For more information visit: https://www.kreweoffreret.org/
"We are so excited to welcome Trombone Shorty to our Krewe. Music is an essential component of Carnival, and now we are making it a signature element of our Krewe's identity."

Captain Bobby Hjortsberg of the 2020 parade theme New Orleans Music: 300 Years and Counting.
What To Expect At Shorty Gras
This year's signature float will feature a gigantic animatronic Trombone Shorty. They say this will be the largest float prop ever attached to a Mardi Gras float. The Krewe will have other signature floats also built by Kern Studios you don't want to miss. Besides magical floats expect to see the city's best marching bands in the parade which will follow the traditional Uptown route. The precession will come to an end at Mardi Gras World for the first annual "Shorty Gras" concert and ball. Obviously, Trombone Shorty and Orleans Avenue will perform at the ball. Other artists include Mannie Fresh, Boyfriend feat members of The Revivalists, The Soul Rebels, Sweet Crude, Big Chief Monk Boudreaux and the Golden Eagles.
Also expect appearances by Juvenile, Big Freedia, Maggie Koerner, Khris Royal and more!
Tickets for Shorty Gras start at $50. Click HERE for more information.