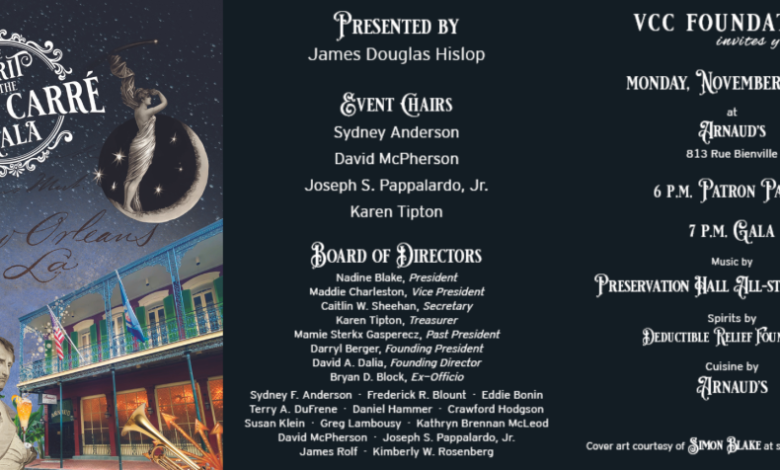 November 6, 2023 |
Arnaud's, 813 Bienville St, New Orleans, LA Cocktail Attire Requested
Patron Party 6 p.m. featuring music by & Alexis Parker
Gala 7 p.m. featuring music by Preservation Hall All-Star Quartet
Tickets click-》 HERE
Mark your calendars and join us at the Spirit of the Vieux Carré Gala on Monday, November 6, 2023 at Arnaud's. Stay tuned as we unveil all the exciting details of the evening!
This year, lovers of the French Quarter from all over the city showed up to protect the Vieux Carré Commission and the tout ensemble of this important neighborhood. This neighborhood is more than a place where people live, work, and play. The buildings of the French Quarter tell the stories of those who came before us. They showcase the amazing craftspeople and art of our past. They are the physical representation of our books, stories, tourism economy, and cultural heritage.
We would like to cordially invite you to join us at the Spirit of the Vieux Carré Gala on Monday, November 6th at Arnaud's where we will show the Vieux Carré Commission and the entire French Quarter how much they mean to us. With your gracious support, we will continue to support the VCC and preserve this neighborhood so that it is always a source of inspiration for caretakers, neighbors, visitors, and future generations.
Tickets click-》 HERE
2023 RAFFLE
Windsor Court, Brennan's, and GW Fins have come together to offer a staycation!
Go on an elegant escape with your best guy or gal! Enjoy a 2-night stay in a Premium Suite at this quintessential four-star New Orleans hotel. They recently completed a $15 million renovation including modernizations to the property and its 316 guest rooms and suites, all of which offer private balconies or bay windows with Mississippi River or city skyline views. Onsite amenities at the pet-friendly palace include an on-the-go eatery, fine dining fare – from afternoon tea to weekend brunch, a classic cocktail lounge featuring live jazz, a 65-foot saltwater pool with a cabana-style bar, and a full-service, luxury spa.
Eat out both nights or for brunch! Along with your stay at Windsor Court, you will get a $100 Gift Card to Brennan's and a $100 Gift Card to GW Fins! These restaurants are easily walkable from your hotel room and are two of our most famous and most delicious neighborhood dining options.
The raffle winner will be announced at our Spirit of the Vieux Carre Patron Party & Gala. Must be present to win.
Purchase Raffle Tickets
$30 – 1 ticket
$50 – 2 tickets
$100 – 8 tickets