---
Mardi Gras is a very important time of year in New Orleans. We have lots of great parades like Endymion, Muses and Rex that parade throughout the city with marching bands, stilt walkers and flambeauxs. Where do the New Orleans locals go for their Mardi Gras Throws every year?
Beads by the Dozen
Location: 333 Edwards Avenue, New Orleans, LA 70123, Hours: M-F 9am-5:30pm, Saturday 10am-3pm, Website: http://www.beadsbythedozen.com/
Beads by the Dozen is open year round which means they have throws for all of the holidays from New Year's until Christmas. If you are having a football party, they have NFL and College beads that are perfect. If you need second-line umbrellas for you wedding, they have those too in every color of the rainbow. But, of course, Mardi Gras is the most popular time of the year for Beads by the Dozen. You can browse over 15,000 square feet of items which is a whole lot of beads, plush toys, play swords, bouncy balls, and unique gift items. Plus, they always have new items coming in and they are always on top of the latest and greatest throws. What makes this Mardi Gras Store even better….you can shop and purchase online.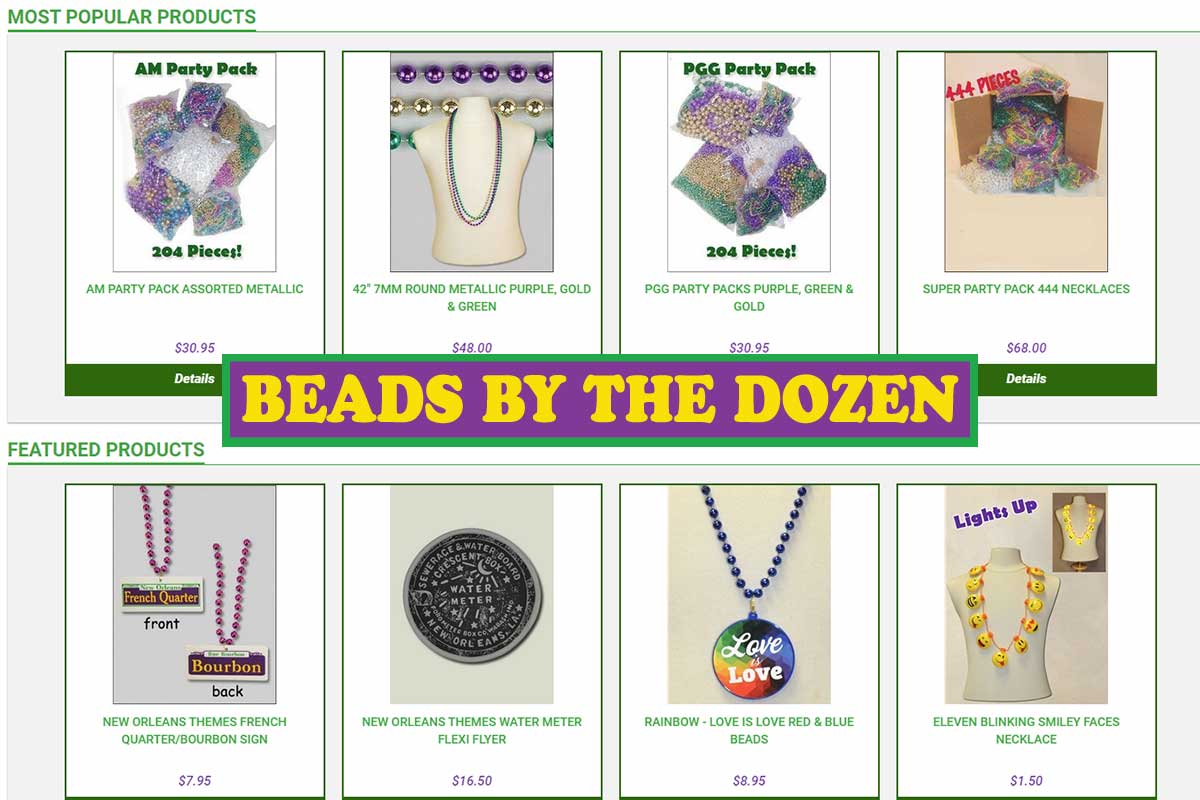 Jefferson Variety Store
Location: 239 Iris Avenue, Jefferson, LA 70121, Hours: M-F 9am-5:30pm, Saturday 9am-3:30pm, Website: http://www.jeffersonvariety.com/
The Jefferson Variety Store is exactly what their name says…it has a variety of items. However, this store is the best place to go for fabrics. In one the back room, you will enter a warehouse of fabrics of all textures and sparkles and also appliques. It is the perfect place to go to create that unique Mardi Gras Costume. They also sell glass Mardi Gras Dolls, fun hats, plush toys and beads. You can also purchase items from their online catalog.
Plush Appeal
Location: 2811 Toulouse Street New Orleans, LA 70119, Hours: M-F 9am-5:30pm, Saturday 11am-2pm, Website: https://mardigrasspot.com/
Plush appeal is most famous for their stuffed animal throws; however, they do offer a variety of other items as well including clothing, sunglasses, earrings and even purses. So, whether you are looking for a dozen plush flowers in purple, green and gold, or a Mardi Gras football, plush appeal has a great selection. You can also shop some of their items online.
Red, White, And Blue Thrift Store
Location: 5728 Jefferson Hwy, New Orleans, LA 70123, Hours: M-S 9am-6pm, Website: http://redwhiteandbluethriftstore.com/new-orleans-east-bank-la/
You may not be surprised, but many of the thrift stores in the city sell beads and plush toys in pre-packaged bags. You will find Mardi Gras Krewe members heading over to these stores way before February to stock up on great priced plush toys. So, if you are looking for a great deal on your plush throws from the Red, White, and Blue Thrift Store, shop early.
Arc of Greater New Orleans
Location: 925 LaBarre Road, Metairie, LA 70001, Hours: M-F 9am-4pm, Website: https://arcgno.org/
This is one of our favorite places to purchase Mardi Gras Beads in the city of New Orleans. For over 30 years, ArcGNO has created jobs for individuals with intellectual disabilities by collecting, sorting and re-packaging Mardi Gras Throws. The organization's programming and activities focus on community integration, health and wellness, and advocacy. Through new experiences, this organization helps individuals to reinforce positive life skills and to encourage a healthy living. You can stop by their retail location and make your purchases and you can even purchase online. These are definitely some great deals as you can get a 30lb sack of 48″-60″ long beads (about 20 dozen) for $55.00. What is even more important, you are supporting a great organization.
Do You Have Friends With Kids?
We all probably spoil our kids with toys. Which means, we purchase lots of great stuffed animals that keep our children happy for about 3 to 5 minutes before it goes in the toy chest, never to be seen or heard from again. These brand new toys are perfect Mardi Gras throws. Call your friends or ask your own children to go through their toys. You may luck out and save a little bit of money on your plush toys.