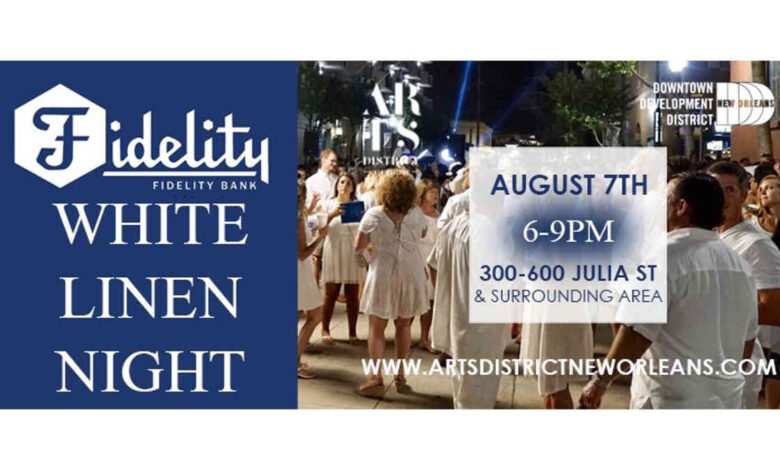 On August 7th, 2021, from 6-9pm, the annual White Linen 2021 will take place on the 300-600 Julia Street Blocks and Surrounding area. White Linen is sponsored by Fidelity Bank this year and the Arts District of New Orleans (ADNO) is organizing the lovely event. Art Galleries, Museums, restaurants and bars will all be participating. And of course, guests are encouraged to wear white linen.  Each gallery will be debuting new exhibitions with world-class art installation from talented artists. 
art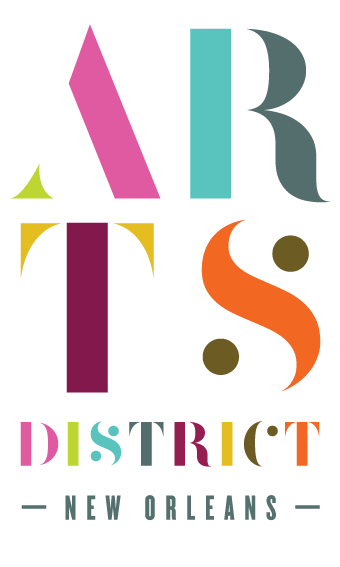 White Linen Night has been part of the Arts District calendar for 27 years. While the events of the last 15 months have presented some challenges for this year's event, we are grateful that with this new partnership with Fidelity Bank, we are able to welcome guests back to the district for the event we all know and love; a night of food, drink, fun, and most importantly ART. Join us for the art walk from 6-9 p.m. and then keep the party going into the night at the CAC, or drink and dine at the many incredible eateries and watering holes in the beautiful Arts District. ~Leslie-Claire Spillman, ADNO President
White Linen 2021 Gallery Details
Ariodante Gallery, 535 Julia St.
Amy Sartin Carlisle- Featured artist
Lisa Normand- Jewelry
Nancy Susaneck- Lagniappe Artist
Gary Schiro- Crafts
Arthur Roger Gallery, 432 Julia St.
Group, BLACK BEAUTY
Christopher Saucedo, Requiem MMI
Beata Sasik Gallery, 541 Julia St.
Beata Sasik, New Work
Callan Contemporary, 518 Julia St.
Michael Kessler, Shifting Filters
Contemporary Arts Center, 900 Camp St
BEHIND EVERY BEAUTIFUL THING: Encountering
Bodies, Wrestling the Human Condition
Degas Gallery, 604 Julia St
Michael Guidry, Bonne Fortune
Michael Hedges, Bonne Fortune
Gallery 600 Julia, 600 Julia St
Carol Hallock, Gone Bananas
Gryder Gallery, 615 Julia St
Dapper Bruce Lafitte and GRYDER present New
Orleans/New Wave: A Celebration of the Life of
Diego Cortez (Part I)
Italian American Cultural Center, 537 S Peters
Luke Fontana, New Work
JONATHAN FERRARA GALLERY, 400A Julia St.
Jenny Day, Not Mirrors, Portals
Trenity Thomas, Alternatively Free
LeMieux Galleries, 332 Julia St.
Group, And Now for Something New, Vol. 3
M Contemporary, 614 Julia St.
Frederick Guess, New Paintings
James Strombotne, Tamarind Institute Prints (1960's)
Martine Chaisson Gallery, 727 Camp St.
Hunt Slonem, Verre et Lumière, (Glass and Light)
new glass and sculptural work
Octavia Art Gallery, 700 Magazine St. (Suite 103)
Alia Ali, Patterned Paradigms
Ogden Museum of Southern Art, 925 Camp St
Louisiana Contemporary 2021 presented by The Helis Foundation
SPILLMAN | BLACKWELL Fine Art, 866 Camp St
Kimberly Witham, This Mortal Coil
Stella Jones Gallery, 201 St. Charles Ave.
Halim Flowers & John Lister, Meeting of Two Kings
About Arts District of New Orleans
The Arts District of New Orleans (ADNO) is a burgeoning hub for New Orleans' young professionals and
creatives. ADNO strives to connect all aspects of the visual arts, culinary arts, musical arts, and the art of
travel to make New Orleans a recognized destination for the arts. ADNO has 16 contemporary art galleries,
four world class museums and institutions presenting visual and performing arts, a rotating outdoor public
sculpture collection, stunning murals throughout the area, and a number of cafes, bars and renowned
restaurants. For more information, visit http://www.artsdistrictneworleans.com.
About Fidelity Bank
Founded in 1908, Fidelity Bank is an $800 million in assets mutual financial institution chartered by the state
of Louisiana. Fidelity Bank provides a full array of banking services, with high integrity and personalized
service to communities throughout Southeast Louisiana. Fidelity Bank's mission is HERE FOR GOOD. Visit
Fidelity Bank or www.bankwithfidelity.com.