Uncategorized
Chewbacchanal – The Offical After-Party of the Intergalactic Krewe of Chewbacchus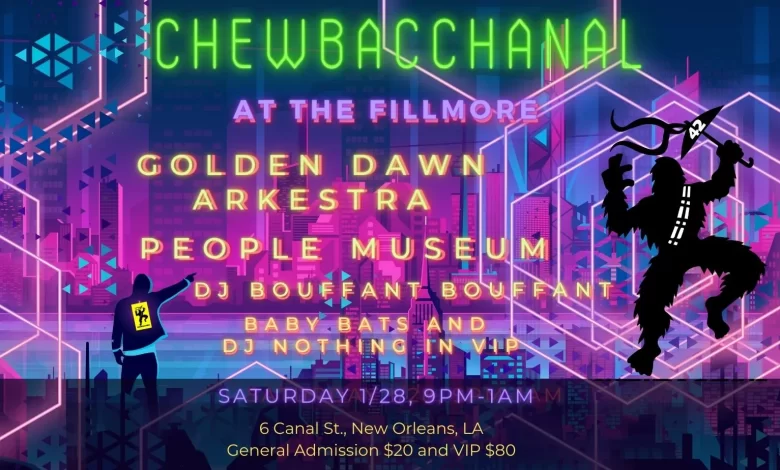 January 28, 2023 |
9PM @ The Fillmore
LET THE WOOKIEE WIN and party with the nerds, aliens, geeks, and weirdos of the Intergalactic Krewe of Chewbacchus at the annual Chewbacchanal!!!
The public is invited to join the Intergalactic Krewe of Chewbacchus after the parade for the best party in the galaxy, THE CHEWBACCHANAL, at the Fillmore New Orleans from 9pm-1am.
The sublime music, aerialists, and dancers of the GOLDEN DAWN ARKESTRA will be gracing the stage, along with the electronic/brass fusion, dance-trance-inducing grooves of PEOPLE MUSEUM, and party machine DJ BOUFFANT BOUFFANT. Performing exclusively in VIP are the dark synth pop sensation BABY BATS and Chewbacchus favorite DJ NOTHING.
Golden Dawn Arkestra | People Museum | DJ Bouffant Bouffant
And exclusively in the VIP Room, BABY BATS and DJ NOTHING
NON-MEMBER Tickets available at the door and online
VIP add-on includes access to express VIP entrance, BG's Lounge, drink specials and a complimentary selection of food, as well as a VIP seating area in the main hall. VIP area in BG's Lounge also features exclusive entertainment.
ALL HAIL THE SACRED DRUNKEN WOOKIEE!!!
*Entrance to the Chewbacchanal is included in Chewbacchus annual dues. The public is encouraged to costume and party with us too!!
Tickets click-> HERE