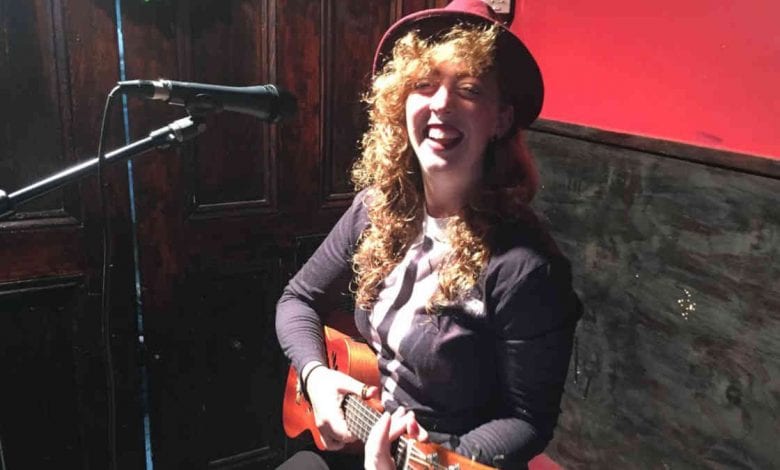 Jillian Goods was performing at Apple Barrel every Friday. She sang at The House Of Blues, Hi -Ho Lounge and she also sat in with other musicians. Altogether she had about 3 to 4 gigs a week. We sat down with Goods to find out how the COVID-19 pandemic has impacted her life. Listen to our podcast:
"I had more gigs coming up since being back [in New Orleans]." The COVID-19 pandemic and the closure of bars restaurants and music venues brought all of Good's gigs to a halt. "All of a sudden just nothing."
For now, Goods has been working on rehearsals and will head back to the studio at the end of May to record some singles. "It's exciting to have a set project other than my own self motivation to find something to do with my life right now."
Goods says she has received a lot of support from friends and family as well as people who like her music. And, playing just for herself has also been a somewhat cathartic experience.
Since Goods does not have to perform when her gigs are scheduled, she is enjoying the freedom to play at her own rhythm allowing her to focus more on her own creative efforts. "Now that I have all the time to do whatever I want to, it's bringing back that magic," said Goods.
What the pandemic will do to music and musicians in New Orleans in the future is hard to say. "I know everything is going to be at 25% capacity, but there is also going to be a lot of people who are in a rush to get out and really excited and then there are other people who are way too nervous to leave their house. So I don't really know where that ratio is going to be."
Also Goods believes that "there is a lot of really good music being written right now. I would expect a lot of new recordings and new projects." So while it might be a while till we can enjoy live music again, really good new music could be coming out of the COVID-19 pandemic.
A Little Background
First Goods came to New Orleans right after Katrina helping with the cleanup. She returned to the city in 2016 and has been living here off and on ever since.
Goods is originally from Newark, Delaware. She has lived all over the U.S. including Alaska, Yellowstone, Colorado and New Orleans. "I was on a road trip and I saw these people playing in the street just really fell in love [with the city]. There is just so much music here." That's when Goods decided she wanted to be a musician. "I just went out and bought a guitar," remembered Goods.
Breaking into the New Orleans music wasn't easy. "When I first came here I was really intimidated because I really wanted to do it, but I did not have total musical confidence in myself yet because I wasn't really good at the guitar yet." Goods, who describes her genre of music as "blues with strong folk and even Gypsy influences", says she went through a lot of open mics. Not only did the performances help her build her confidence, but she also got to meet a lot of people. Eventually, she started working at the House Of Blues. The job there motivated her to get her first band together. "Yeah, I have come a really long way, it feels really good."
To find out more about Goods latest projects visit: https://www.facebook.com/JillianKayMusic/