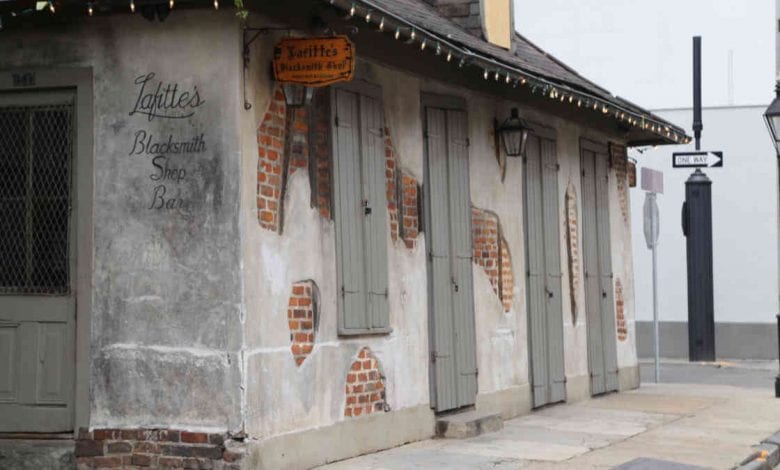 The iconic Lafitte's Blacksmith Shop is located in the French Quarter at 941 Bourbon Street, right at the corner of St. Philip Street. According to local experts, it is considered to be the oldest structure used as a bar in the United States. Nowadays, Lafitte's Blacksmith Shop and bar is popular with locals and tourists alike.
Lafitte's Blacksmith Shop – A Little History
Lafitte's Blacksmith Shop was built sometime between 1722 and 1732 by Nicolas Touze. Touze's inspiration came from the French Provincial Louis XV and Briquette-Entre-Poteauxe style architecture in French Louisiana. 
The structure carries the name of Jean Lafitte who was a privateer and smuggler that also fought heroically for the United States in defense of New Orleans in the War of 1812.
The building survived two great fires at the turn of the 19th Century that were due to slate roofing.
Locals believe that the property was used by the Lafitte brothers, Jean and Pierre, as a New Orleans base for their Barataria smuggling operation between 1772 and 1791. Allegedly, they used the building to sell their, most of the time, illegally obtained goods. Pierre Lafitte was a blacksmith and he was an associate of Rene Beluche, a captain and privateer. At the time, the property was owned by the family of Simon Duroche a.k.a. Castillon and Beluche. Castillon was a rather record-shy adventurer and entrepreneur. Captain Beluche is said to have commanded his ship "Spy" in Lafitte's Baratarian fleet.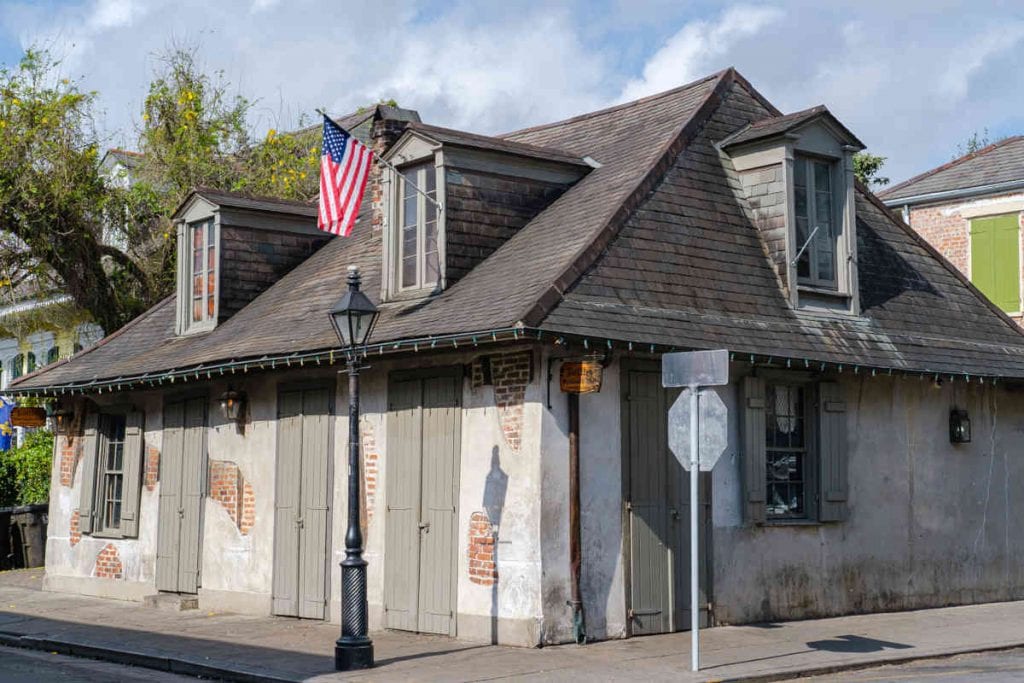 The history of Lafitte's Blacksmith Shop is, one could say, a gumbo of truth and possibly fiction with French, Spanish, African, Cajun and American embellishments. This makes the history of Lafitte's Blacksmith Shop such a unique, but very typical, New Orleans story.
Today, Lafitte's Blacksmith Shop is a fun bar that offers beer, frozen drinks and wine. The bar is open daily starting at 10 am. Some say the bar is haunted. It just may be….at least according to locals.
For more information and hours visit: http://www.lafittesblacksmithshop.com/Homepage.html
Never miss anything happening in the city: https://neworleanslocal.com/