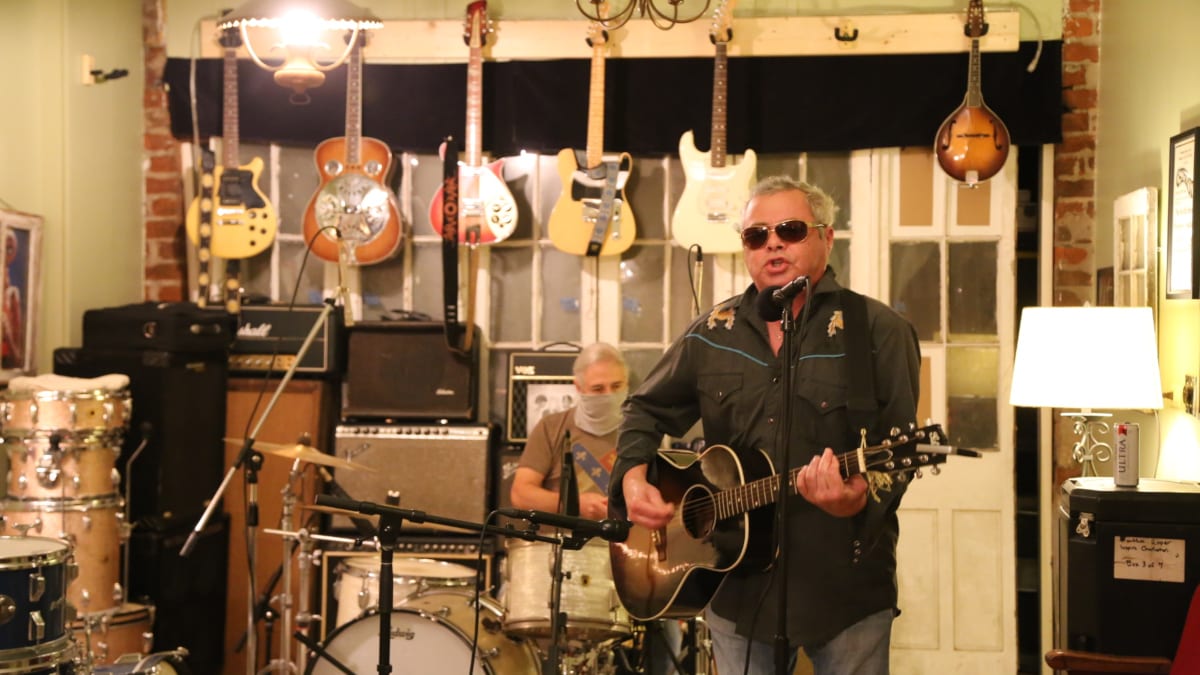 Right now musicians, not only in New Orleans, but all over the world are struggling. They are all trying to figure out how to survive now, and how to adapt to what will happen to their profession in the wake of the COVID-19 crisis. The worst part is that nobody really knows what the new normal will actually look like. We met with Drummer Kevin Aucoin and singer/ songwriter Joe Tullos in their studio on Dauphine Street to find out how working musicians are handling the crisis right now.
Listen to our podcast where both talk about what it is like to be a musician right now and how the industry has changed and will change in the face of the crisis:
"Music is still a way of life. If it wasn't for music God help us right now."

Kevin Aucoin, Drummer
A lot of musicians from New Orleans and all over the world have been going online performing to lift spirits and to help one another. "There have been performances that have helped fellow musicians like myself financially….yeah it is a great thing and it always has been a great thing especially in this city," Drummer Kevin Aucoin told us.
Aucoin has been a fulltime musician for over 20 years. He has been performing the last 15 years on average 6 nights a week, sometimes 10-12 gigs a week. This all came to a screeching halt on March 16, when New Orleans Mayor Latoya Cantrell filed with the Civil District Court prohibiting large gatherings due the the severity of the COVID-19 outbreak. Orleans Parish was and still is one of the hardest hit areas when it comes to infections and deaths.
"We will figure out how to make this all work in the long run. I have faith," Aucoin hopes.
Aucoin has been playing traditional Cajun-French Louisiana music for about 40 years. Before the Stay-at-Home order was put in place he was playing with "The Cajun Drifters" with Bruce Daigrepont at the Tropical Isle's Bourbon Pub, the only on Bourbon St. that consistently offer live Cajun music. There is only one other place in New Orleans that used to play live Cajun music every night which is Mulate's Cajun Restaurant. Aucoin performed there three nights a week with Bayou DeVille. He has not been able to work since March 16.
"I have been lucky I got grants from different organizations nationally and locally so that's been great." Aucoin said. MusiCares is one of the organization that has established a COVID-19 Relief Fund for Musicians. The organization also helped out a lot of New Orleans musicians after Hurricane Katrina. "But this is very different animal, this is them now trying to help musicians throughout the entire United States."
Even when restaurants finally reopen, that still does not mean bands will be back. Restaurants may have to cut the bands for financial reasons since they either need to recover, or won't be as busy as they used to be. Possibly modified social distancing rules also may be a reasons why bands won't be able to play in bars and restaurants for a while. "Barrooms are most likely the last places to open after this is all said and done," Aucoin thinks.
"Everybody is hurting right now and not just here in New Orleans but everywhere," Tullos agreed. "It's horrible for a lot of people, but it's also, I am sorry, but it is also great songwriting fodder to see when things break down this way," he added.
New Orleans has been through rough times before. People came together after Katrina and helped each other out.
"I will say this about this town, my family has been here for over 300 years, we are the most resilient people ever, if anybody can get through this we can do this," Tullos believes.
Aucoin had lost everything in Katrina. He has been using the time he had the last couple of weeks to restore his 1965 Rogers drum set which had been submerged in Katrina water for weeks.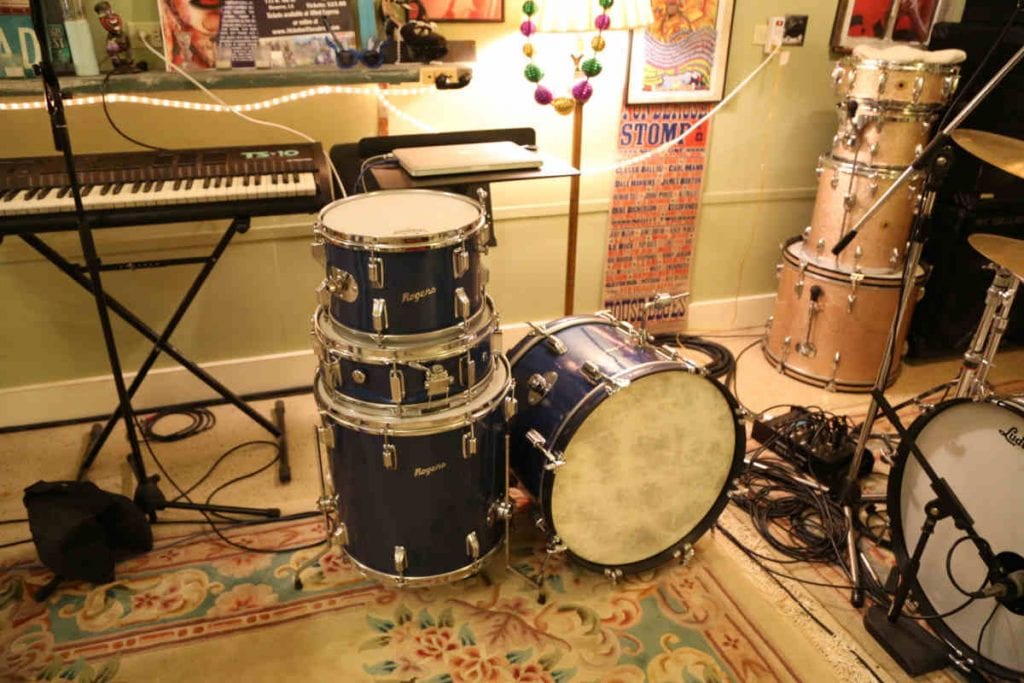 A Little Background
Aucoin and Tullos have been playing music together for about 30 years. Their first band was called "Odyssey". At the time they were 16 or 17 years old. About 10 years later the two reconnected for the "Big Sun" project. The band stayed together for about 10 years with many musicians coming in and out.
"Basically we were Americana before Americana came out," explains Aucoin. '"With 'Big Sun' we were essentially doing what became Americana music," he added. Right now both work on the "River Road Collective" with the Radiators' Dave Malone.
Tullos played and wrote with members of "Blind Melon" and "Knockdown Society" among others.