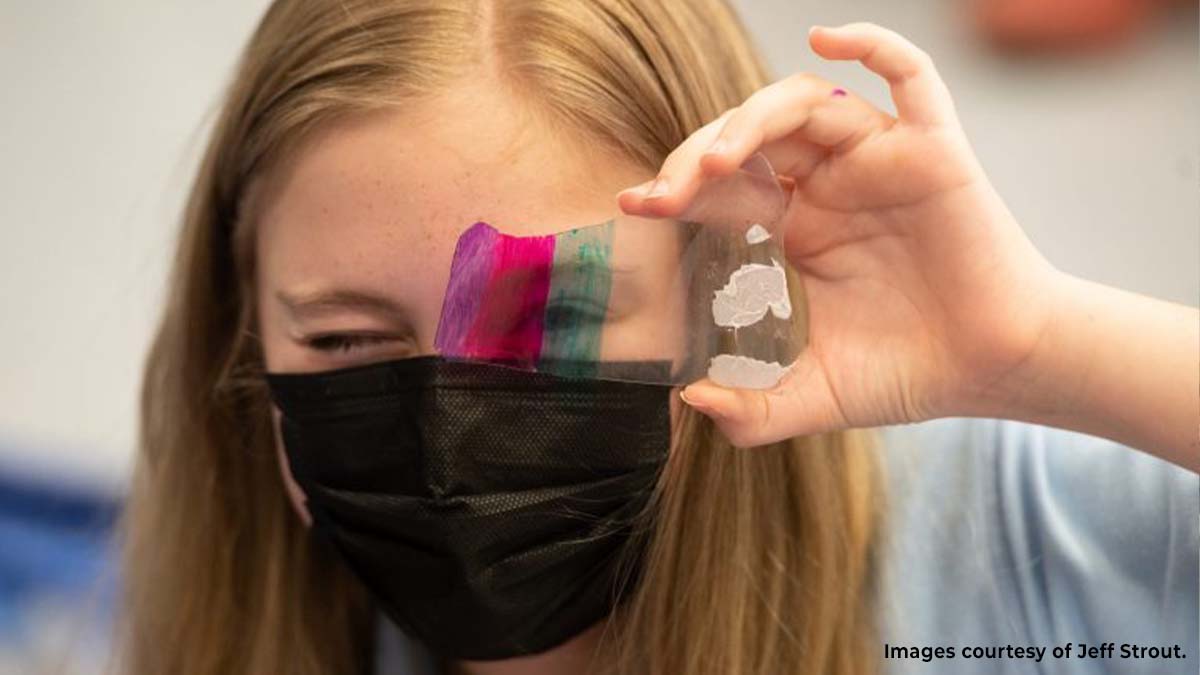 On February 19, 2022, through April 10, 2022, the Second Time, Second Line Recycling project will take place at the Ogden Museum of Southern Art. It is a wonderful opportunity for students in grades 2-5 to explore their environment and relationship to the region with a local artist with the goals of improving critical thinking skills, encouraging self-discovery, promoting a new understanding of their world and instilling a connection to the Museum.
Arts integration and creative exploration is something that we truly value as an organization. It allows students an opportunity to express themselves and connect with various arts forms. We are especially excited about the Second Time, Second Line Recycling Project as it reinforces the value of recycling, which is a globally responsible act. Students have the rare opportunity to repurpose materials while creating a masterpiece in the process! We cannot wait to see their work. ~Principal Xaviera Ingram of Young Audiences Charter School at Crocker in Orleans Parish
Part of Ogden Museum's Artists and Sense of Place Residency Program, Second Time, Second Line Recycling Project features mixed media artist Jacqueline Ehle-Inglefield working with Young Audience Charter School students to introduce new art-making techniques, explore their region and raise awareness about why recycling is important to the environment. The exhibition highlights the work Ehle-Inglefield and the students completed throughout the three-week residency.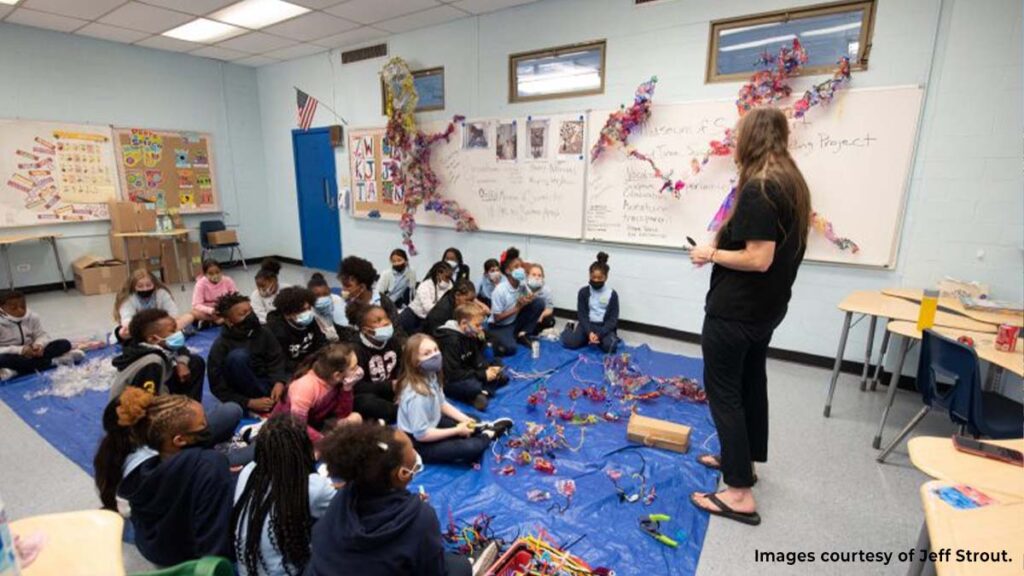 Second Time, Second Line Recycling Project Details
The Second Time, Second Line Recycling Project will involve approximately 200 Young Audience Charter School students from the Kate Middleton and Lawrence D. Crocker campuses. The project will include a free field trip to the Ogden Museum for students to view their work. Learn more about the program – HERE.
The goals of Ogden Museum's Artists and Sense of Place Residency Program are:
To increase students' exposure to the arts and arts literacy through high-quality arts
experiences
To introduce students to new artmaking tools and techniques
To introduce students to a Museum setting and instill a significant connection to the Ogden Museum.
To promote students' understanding of the world around them and an appreciation of their unique region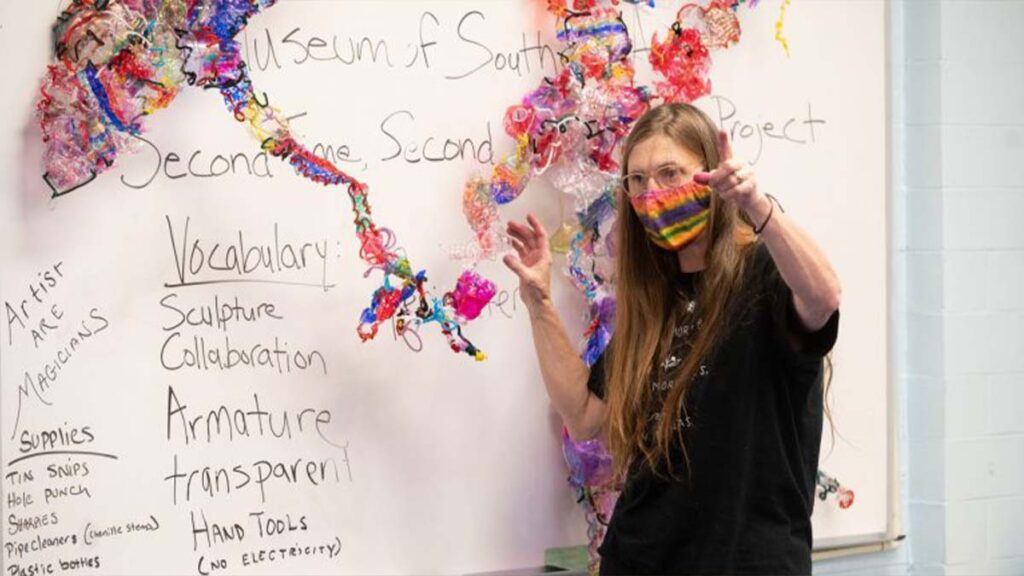 About the Artist
Mixed media artist Jacqueline Ehle-Inglefield received her Bachelor of Fine Arts in Painting and Printmaking in 1992 from Virginia Commonwealth University. In 2014, Ms. Inglefield returned to her native New Orleans to advance her work in sculpting from non-traditional materials and found objects and, in 2015, was a featured artist in the Louisiana Contemporaries exhibition at the Ogden Museum of Southern Art. Employing repurposed plastic as the primary medium, Inglefield calls attention to the effect of man-made waste on the ecology of New Orleans waterways. Her works are held in several private collections.
About Young Audiences Charter School
Young Audiences Charter Schools (YACS), the only arts-integrated charter school network that serves both the Eastbank and Westbank of the Greater New Orleans area, is thinking green with their Recycling Day projects.
At Young Audiences Charter Schools, the arts-integration curriculum reflects recent research from the arts education field that provides significant evidence of the value of the arts in the learning process. Arts Integration combines the arts with the learning of core academic subjects. It supports educational achievement and improved student behavior by giving children both a "springboard" and a "safety net" for learning. This framework raises academic expectations for all creative learners, providing them with the skills, tools, and resources they need for educational success. The arts allow students to be more engaged in education, focusing on each child's abilities and interests to provide support in academic achievement. The arts also provide increased opportunities for parental involvement in school, a key component to education.
The curriculum is organized using state standards, not only to prepare children for required assessments, but also to ensure that they have a solid foundation for high school, college, and future careers. YACS meets the exceptional academic and artistic needs of gifted and talented students with Individualized Education Plans through specialized, small group instruction by certified professionals.
As a Type 1 Charter authorized by NOLA Public Schools and Jefferson Parish Public School System, Young Audiences Charter Schools is currently open to any Orleans Parish learner entering PK4-8th grade and any Jefferson Parish learner entering PK4-11 grade. YACS in Jefferson Parish will add an additional grade level in 22-23 and offer PK4-12.
Opened in 2013, Young Audiences Charter School at Kate Middleton is an open enrollment, arts-integrated charter school in Orleans Parish for PK4-8 and Jefferson Parish for PK4-12. Recent research shows that students at schools with an arts-integrated curriculum scored higher on standardized tests and academic measures than those at other types of schools, including academic magnet schools. (PAIR, 2013) Additionally, students involved in the arts have better attendance, fewer behavior referrals, increased class participation, and are more likely to report a love of learning.
About Ogden Museum of Southern Art
Located in the vibrant Warehouse Arts District of downtown New Orleans, Louisiana since 1999 and open to the public since 2003, Ogden Museum of Southern Art invites visitors to experience and learn about the artists and culture of the American South. Ogden Museum is home to a collection of more than four thousand works, making it the largest and most comprehensive repository dedicated to Southern art in the nation, with particular strength in the genres of Self-Taught art, Regionalism, photography, and contemporary art. The Museum is further recognized for its original exhibitions, public events and educational programs, which examine the development of visual art alongside Southern traditions of music, literature and local craft.
Ogden Museum is open daily from 10 a.m. – 5 p.m. Admission is free to Museum Members and $13.50 for adults, $11 for seniors 65 and older, $6.75 for children ages 5-17 and free for children under 5. The Museum is located at 925 Camp Street, New Orleans, Louisiana 70130. For more information visit ogdenmuseum.org or call 504.539.9650.