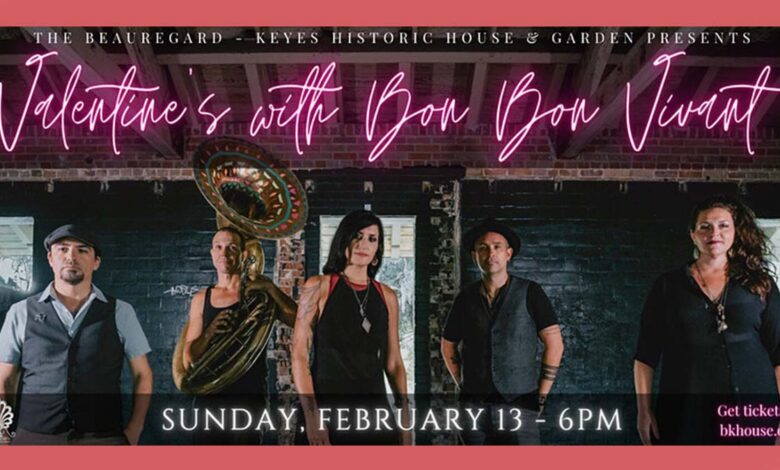 Do you have plans for Valentine's Day Weekend? Why not bring your sweetheart to the Beauregard-Keyes House on Sunday, February 13, 2022, for a romantic evening with the Bon Bon Vivant? Bon Bon Vivant will serenade the guests with some of the greatest love songs of all time and of course their usual upbeat repertoire as well. Now, this a BYOB (Bring Your Own Beverage) event which means you can enjoy the perfect cocktail, bottle of wine, or even a daiquiri if you choose. Don't forget to bring cups and bottle openers with you. Refreshments and treats will also be available.

Valentine's with Bon Bon Vivant Details
Date and time
Sun, February 13, 2022, 6:00 PM – 8:00 PM CST
Location
Beauregard-Keyes House – 1113 Chartres Street, New Orleans, LA 70116
Cost
$40
About The Band:
Bon Bon Vivant is an indie band from New Orleans that electrifies audiences across the country with their signature blend of jazz/ americana/ dark ballads and up-tempo indie dance rock. BBVs original music pays homage to the bawdy New Orleans sound while infusing an indie flavor that leaves a lasting mark on listeners. This genre bending band's original songs are joyous, fierce, honest and heartbreaking as they chronicle life and all it entails through the sounds of the minor keys. Bon Vivant : a person who enjoys a sociable and luxurious lifestyle appreciating food, drink, and music. A live performance of Bon Bon Vivant embodies this spirit of revelry and celebration. BBV honors this philosophy and the city where they live, New Orleans. The band experiments with high energy dance music and dark, sensual melodies with lyrics like "start living now while you've got living left." This music embodies the duality of enjoying the light because the darkness is always near!
A true family band. Helmed by songwriter /front-woman Abigail Cosio and her husband, saxophonist Jeremy Kelley, sister-harmony by Glori Cosio. Abigail's rich lyrics are complemented perfectly by the blood harmonies of the two Cosio sisters creating a hauntingly beautiful soundscape to this already big sound. The bands unique instrumentation is also a thing to watch, a Sousaphone and Accordian make this bands sound stand out among the noise leaving listeners reaching to identify what kind of music this is that they are hearing. With brass horns and a rotating cast of New Orleans musicians coming through, this sound is alive and something to experience.
Per City of New Orleans COVID-19 Guidelines, everyone in attendance must wear a mask and anyone 5 years of age or older must provide proof of at least one dose of an approved COVID vaccine or negative PCR/antigen test within 72 hours.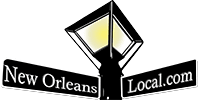 New Orleans Local is your best resource for the latest events happening around the city. Whether you are looking for festivals, parties, theater, charity events or events for kids, we have everything you need to be in the "know."  Our Calendar of Events welcomes any organization or business to submit events – HERE – to help let our community know what is happening around town. Everybody knows about Mardi Gras, but do they know about the latest charitable event, local marathons, holiday events, or reveillon dinners? Submit your event with a great photo, so we can let people know what events you want to help to promote in the New Orleans area.  Laissez Les Bons Temps Rouler!