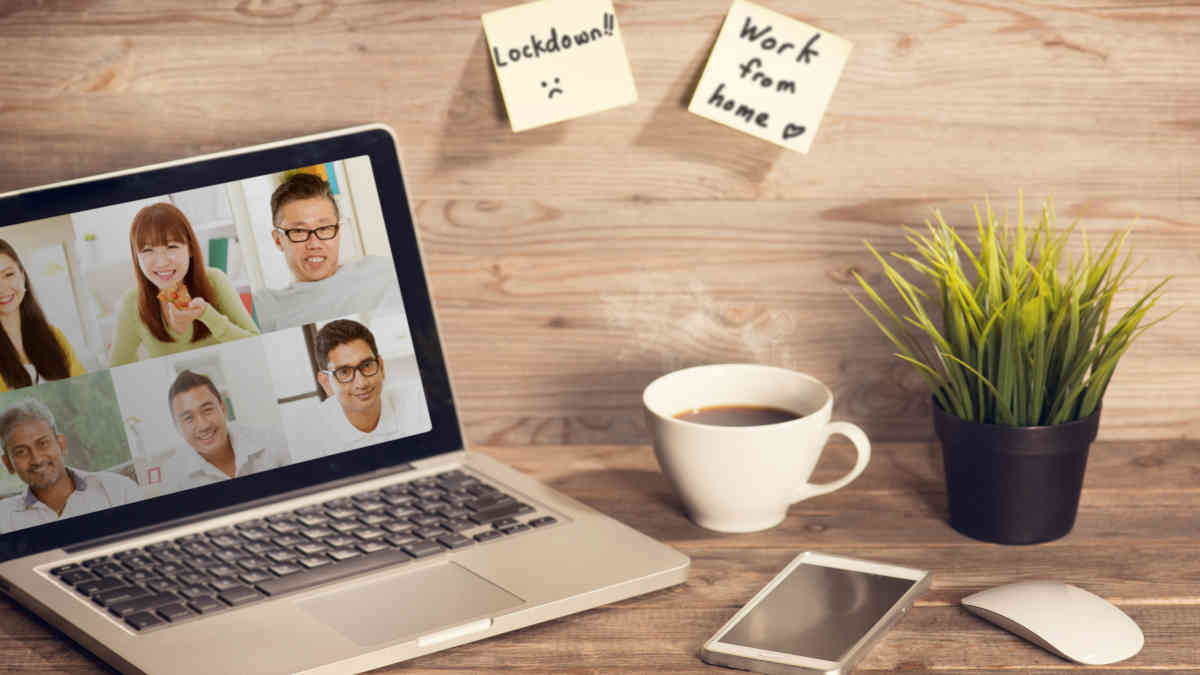 Getting dressed is not optional
All of us have been staying at home and chances are someone in the house is videoconferencing or video chatting. You could be having a meeting with a client or your boss, or the kids can be face-timing while playing. For the most part, only the upper portion of your body is seen by the other person. But, it still can be a little tricky, because now you are on TV and need to follow some TV rules if you want to look your best. If you are attending a Zoom meeting, you may want to put a little bit of thought into your ensemble.
Everybody, ladies and gentlemen, take a shower, brush your teeth and hair as the first step in preparing for your Zoom meeting. This may seem simple, but many of us have really changed our schedules during our stay-at-home time. If you have a morning meeting, get some coffee or tea and a little bit of breakfast. Now, let's tackle the task of what to wear and where to set up.
Ladies – Watch out for cleavage
Obviously, the top is one of the most important elements of your outfit in a Zoom meeting. A V-neck may be great in person, but if the angle of your video conferencing camera is just right, you may show a little too much cleavage. Stick with shirts that are a little more conservative. Consider choosing a solid color shirt. Fabrics with lots going on may be distracting to the viewer and also not as attractive on video. Spruce up your outfit with a scarf and simple jewelry. When selecting your top, consider your background. If you can coordinate your top with a color in your room, it may be the perfect outfit to compliment the room. Now that you have selected your top, you must have a bottom on. You can wear jeans, leggings, shorts, or even a skirt, but you must wear more than underwear. You can even wear your pajama pants, but if you have to get up for any reason or there is a reflection from a mirror or glass, you may want to consider a more professional bottom. Don't forget about makeup if you like to wear it, but if not, you can always use a beauty filter – they can be a life saver. Don't worry about shoes, because even if you are caught without them on, it's acceptable for a Zoom meeting.
Men – Don't forget your pants
You may be tempted to just throw on a t-shirt and underwear only, but you may want to consider a different approach to the Zoom meeting. Men should wear a nice shirt, pants, and maybe even a coat. The shirt can be a polo shirt or even a button down if you prefer. You can forget the tie unless you think it is appropriate for the meeting. Pants are a must. If you have to get up for any reason, before, during or after, the meeting, there is a chance your bottom half can be seen by the meeting attendees. Good news is you don't have to wear shoes. If you haven't shaved in a while, you may want to find a razor, but it may not be a problem depending on whom you are meeting with on Zoom.
Last Tip: Let everybody in your house know that you have an important Zoom meeting. If not, you may have a video bomber in your Zoom meeting who may not have been dressed for the party.